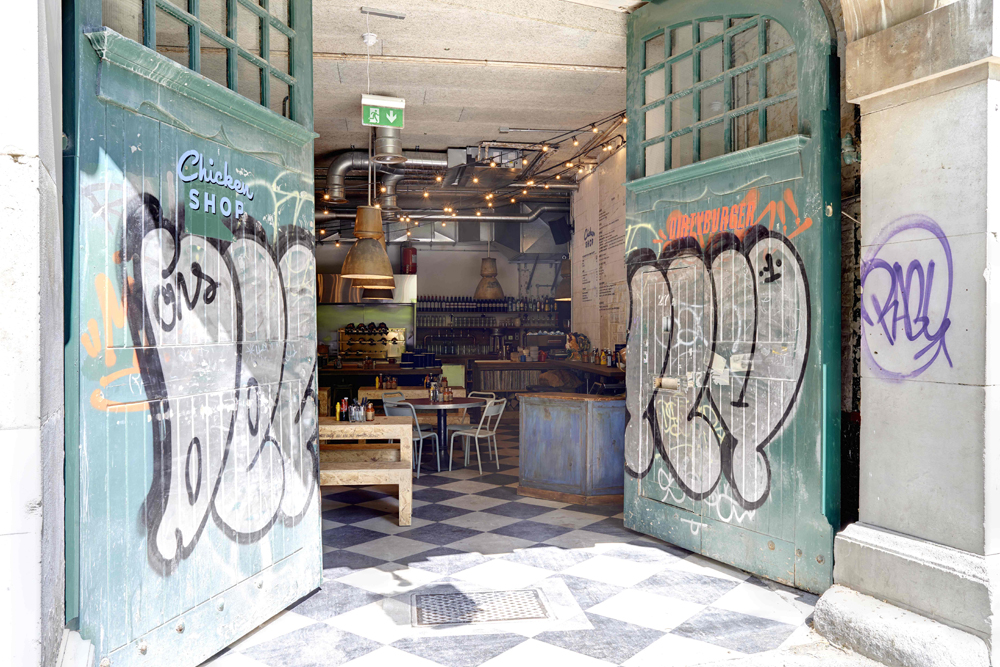 The relentless "Shoreditchification" of East London — whereby the alchemical mingling of start-up geeks, loft-dwelling artists, and bankers has, in parallel, produced an abundance of artisan coffee shops and an Ace Hotel in recent years — continues apace. As this bourgeois caste steadily creeps toward the city's fringes, so, too, does the expanse of farm-to-table restaurants and mustaschioed bartenders serving up Van Winkle­–infused cocktails.

Still straddling the border between rough-around-the-edges authenticity and Alexa Chung-esque posh polish, the neighborhoods of Bethnal Green and Whitechapel are the latest in the throes of a food and drink renaissance. Here amidst the kebab shops are a handful of places whose fare provides a worthy contrast to BYOB curry joints. (Although, it must be said, Taayabs' Punjabi-style lamb chops will remain a perennial favorite.) Here are three recently opened addresses that have arrived to deserved fanfare in 2014.
Dirty Burger / Chicken Shop
Well into the American burger craze, London's coterie of slow-meets-fast food restaurants has recently been joined by a Whitechapel outpost of Dirty Burger / Chicken Shop. Serving up sloppy bacon cheeseburgers, crinkle-cut fries reminiscent of frozen Ore Ida packets, and bourbon-spiked milkshakes, queues outside of this nondescript former carriage house often form during the early hours of the evening.
The poultry side of the affair features free-range birds from a farm in Norfolk that chefs marinate overnight in a signature spicy-sweet sauce and cook rotisserie-style over charcoals upon order. Round out a comfort meal at the "tuck shop" with a bell pepper margarita and Dirty Donut for a wholly satisfying pre-gig supper courtesy of the team behind Soho House.
27A Mile End Road, Whitechapel, E1 4TP, 44 (0)20 3727 6165, eatdirtyburger.com, chickenshop.com
The Typing Room at Bethnal Green Town Hall Hotel
The shuttering of Nuno Mendes' acclaimed Viajante at the Bethnal Green Town Hall Hotel left a Michelin star–shaped void in the neighborhood. But thanks to Noma and Per Se alumnus Lee Wescott, locals and well-heeled guests once again have a destination for a brand of elevated cuisine unrivalled beyond the reaches of The City (of London, that is, not the city at-large).
Though billed "Modern European," Wescott's epicurean signature is something far more layered — and occasionally whimsical — than the vague description suggests. On a recent visit, his selection of refined "Snacks" included savory Courgette and Basil Profiteroles, while a raw beef starter was presented with all the grace and faint austerity of a New Nordic dish, but with confidently pronounced flavors including smoked beetroot and horseradish. Familiar combinations are made fresh under Wescott's watch, including lamb three ways dressed with aubergine and yogurt in an almost unrecognizable, satisfyingly rich amalgam of Mediterranean flavors.
Wescott also oversees the recently revamped Peg + Patriot bar, where the essence of Brick Lane bagels and mustard leaf find their way into one cocktail — just one of many subversively clever homages to East London. True to the area's air of jaunty creativity, many a surprise is promised at this young and still-evolving civic space-come-dining room.
Town Hall Hotel, Patriot Square, London E2 9NF, 44 (0)20 7871 0461 typingroom.com
Satan's Whiskers
Conveniently located a few doors down from a mini cab outpost, this anti-speakeasy — whose penchant for blaring '80s and '90s hip-hop worthy of a slurry singalong — has injected a dose of cultivated booziness in an area where Nikka is in short supply. Its discerning bar staff crafts an ever-rotating menu of cocktails of requisite staples (Penicillin, Airmail) and more concoctions that are unpretentious and sinfully potent. Satan's has swiftly and deservedly earned its "destination" status among those with a taste for true "drank" since opening in January. Quaff to your liver's content, but don't be the guy who winds up butchering the lyrics to Skee Low's "I Wish" after that fifth round Manhattan.
343 Cambridge Heath Rd., London E2 9RA, 44 (0)20 7739 8362, satanswhiskersblr.tumblr.com