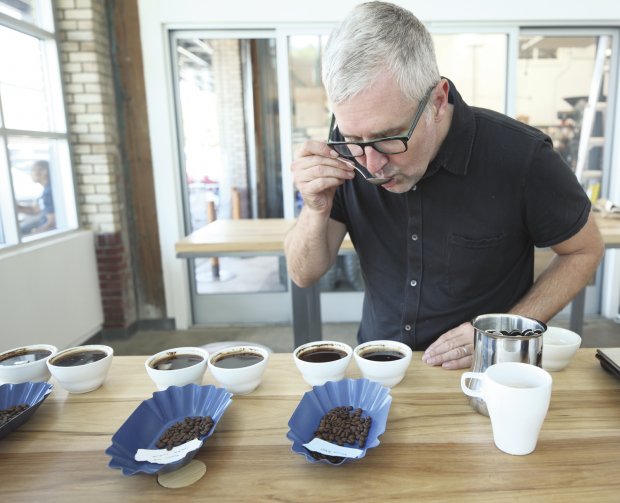 Danielle Sacks is a senior writer at Fast Company, where she just published a colorful story detailing the so-called third wave coffee movement — a decade-old philosophy that places extreme, sometimes obsessive, importance on the farming, cultivating, roasting and brewing of coffee beans. In The Multimillion Dollar Quest To Brew the Perfect Cup Of Coffee, Sacks embeds with the Big Four coffee producers (Stumptown, Intelligentsia, Counter Culture and Blue Bottle) to tell a story that involves private-equity groups, $16,000 coffee makers and a whole bunch of seriously over-caffeinated industry folk. "Baristas die a little on the inside every time someone orders a decaf-soy-vanilla-latte," she wrote in a sharp email exchange on the day the story dropped.
Before you reported the story, how were you making your coffee at home? Did the story change this?
I entered the story thinking I was a coffee snob, only to be humbled that I had much to learn. In my house we drink a blend that I order in bulk from Wisconsin roaster, Colectivo, which we brew on an auto drip machine. We also have a Nespresso machine for lattes and cappuccinos.
I spent several months spending time with third wavers in LA, SF, Portland, Seattle and NYC. Through my reporting I discovered it turns out the dark roast we were getting would be considered "burnt," ordering in bulk was the equivalent of keeping a loaf of bread in your pantry for two months and using a "pod" machine was equally offensive to coffee purists.
I also have a newfound appreciation for Stumptown coffee, which in the past I had always thought was too "fruity." However, now I understand that the fruitiness comes from the cherry the beans (seeds, really) were born in — and likely dried in — and is actually a sign of carefully processed sourcing and roasting. We've also invested in a Bee House ceramic dripper and a Hario Cold Brew Pot. Even though I was a barista in high school, my husband David Gerlach is our in-house barista when it comes to manual and cold brewing. And even though I got reprimanded by third wavers for polluting my coffee with milk, it's one habit I have yet to kick.
What was the main complaint third wave coffee guys had about the current perception of coffee service (at home, to-go) in America? Because I know they like to complain!
Where to begin! It's probably easiest to riff: Darkly roasted coffee is akin to charring a Kobe beef steak. Pouring milk (dare you say 'sugar') in your coffee is like pouring ketchup on a steak. Starbucks has popularized milkshakes, not coffee. Keurig K-Cups are a major step backwards in coffee innovation. And my favorite: baristas die a little on the inside every time someone orders a decaf-soy-vanilla-latte.
Also see: For Blue Bottle Boss James Freeman, It's Siphon Coffee With A Smile
In your story you name the Big 4 in third-wave coffee: Stumptown, Intelligentsia, Counter Culture and Blue Bottle. Who do you see as the next 4?
Up until now this has been a slow percolate kind of business. While the big four have all been around for over a decade, it's taken them each that long to transcend being a regional player. Even Blue Bottle, with $45 million in VC backing, only has 14 locations, compared to Starbucks' more than 20,000. So I think what's most exciting is to see which of these are going to break out of the pack and figure out how to become a viable large-scale business. Counter Culture has taken the purely wholesale route, whereas Blue Bottle is making its bet on retail, a much harder business. Meanwhile Stumptown is also leaning towards wholesale, but with its private equity backing and new president who hails from craft beer and Jones soda, sees packaged cold brew as a supermarket "gateway" product for the masses.
As far as who's next in line there are interesting candidates. The other darling of the Bay Area coffee scene is Philz, which isn't technically "third wave." While it's a coffee-only drink business (they don't sell any espresso drinks), they have built a cult following in the tech community and — not surprisingly — raised eight figures in VC backing. With an energetic, entrepreneurial CEO at its helm, I wouldn't be surprised if they try and scale into a national chain. In recent years, Philadelphia-based La Colombe has also been scaling up its retail presence on the East Coast and doing interesting collaborations with retailers like West Elm. Its co-founder Todd Carmichael told me [that] when he started the business 20 years ago they couldn't find an investor willing to lend them a quarter. Now, he says, they are constantly fielding calls from investors as if overnight, money men are finally seeing the financial potential. Even Twitter cofounder Jack Dorsey is an investor in San Francisco coffee mecca, Sightglass.
There is also an unbelievable amount of entrepreneurship right now in high end coffee that is super exciting. You have roasting collaboratives like the Pulley Collective, in Brooklyn. There are engineers like Steampunk and Blossom One Brewer that are trying to automate better brewing. You have a generation of third wave baristas who grew up at the Intelli's and Stumptowns who are now starting the next gen cafes, like G&B in L.A. There's Briggo, which is trying to build an app-operated autonomous artisanal vending machine in collaboration with industrial designer Yves Behar. Distributors like Joyride that are trying to wean entire offices to kick their K-Cups in favor of better coffee and others like Craft Coffee, now part of incubator YCombinator, that is working to convert the masses. All of this adds up to the entire category gaining steam and becoming more mainstream.
Have you found proof that the multiple rounds of investment in Blue Bottle is paying off for Wall Street investors?
It's such early days for this next chapter of Blue Bottle. Unlike many VC-backed businesses, coffee retail is not a virtual business. It's complicated — finding the right spaces to colonize, working with architects and getting licenses, building regional roasteries, etc. Not to mention, trying to scale an artisanal business that's all about high quality control is unto itself a contradiction. But for the "slow coffee movement" the last eight months for Blue Bottle have been almost dizzying. They made their first two acquisitions (Tonx, an e-commerce bean company and Handsome Coffee Roasters, an LA roaster), locked in their first international location (in Tokyo) and hired a 25-year Whole Foods vet to run its retail operations. All these signs point to a company moving at a new, accelerated speed.
With margins so low with Starbucks' craft coffee offerings, do you see them really going after the Big 4? Or will everybody coexist happily?
As I write in the story, Starbucks doesn't like anybody infringing on its turf. They want it both ways — they'll do as little as possible to gain street cred in the third wave coffee community, but they still want to appeal to the masses, which is the much bigger market. On one hand Starbucks is increasingly pushing its single origin "Reserve" line (brewed on Clover single cup precision brewers), yet its investments and acquisitions of late feel like a coffee company that's leaning more towards fast food (fizzy drinks, drive-thrus). At the end of the day, if they felt like third wave was a gnat worth swatting, they could just purchase Stumptown or Blue Bottle, both of which have investors that will want to monetize their investment at some point. It'll be interesting to see which of these players might end up part of the big green giant.
What has your coffee routine been like today?
I should preface this by saying I'm a ridiculously slow sipper. So I always manage to have a cup of coffee in hand, but I don't actually make that much progress. I drank a quarter cup of Colectivo at home this morning while getting myself and my toddler dressed. Drank another quarter of a cup of Konditori coffee, a local NYC Swedish chain. Then in the afternoon I drank a cold brew with milk from Roogla. I confess, I live within a six-block radius of six ridiculously good cafes. Great for my palate, not so great for my wallet.
Read more about craft coffee on Food Republic: