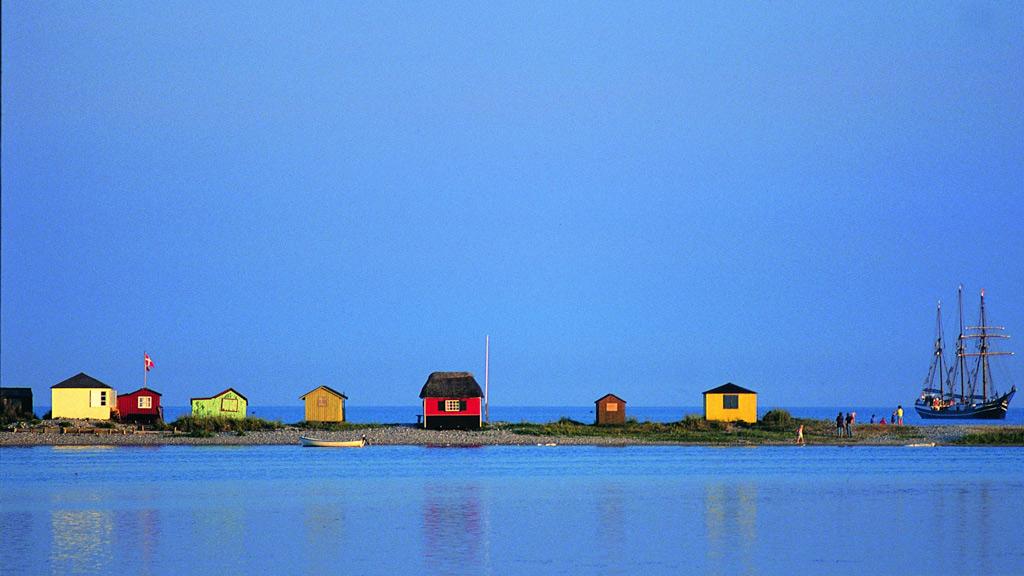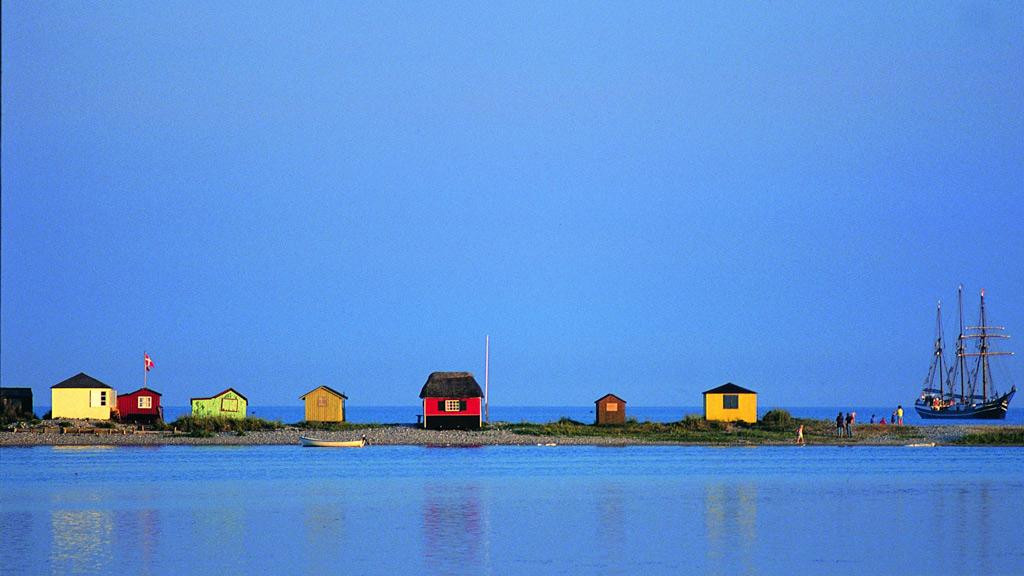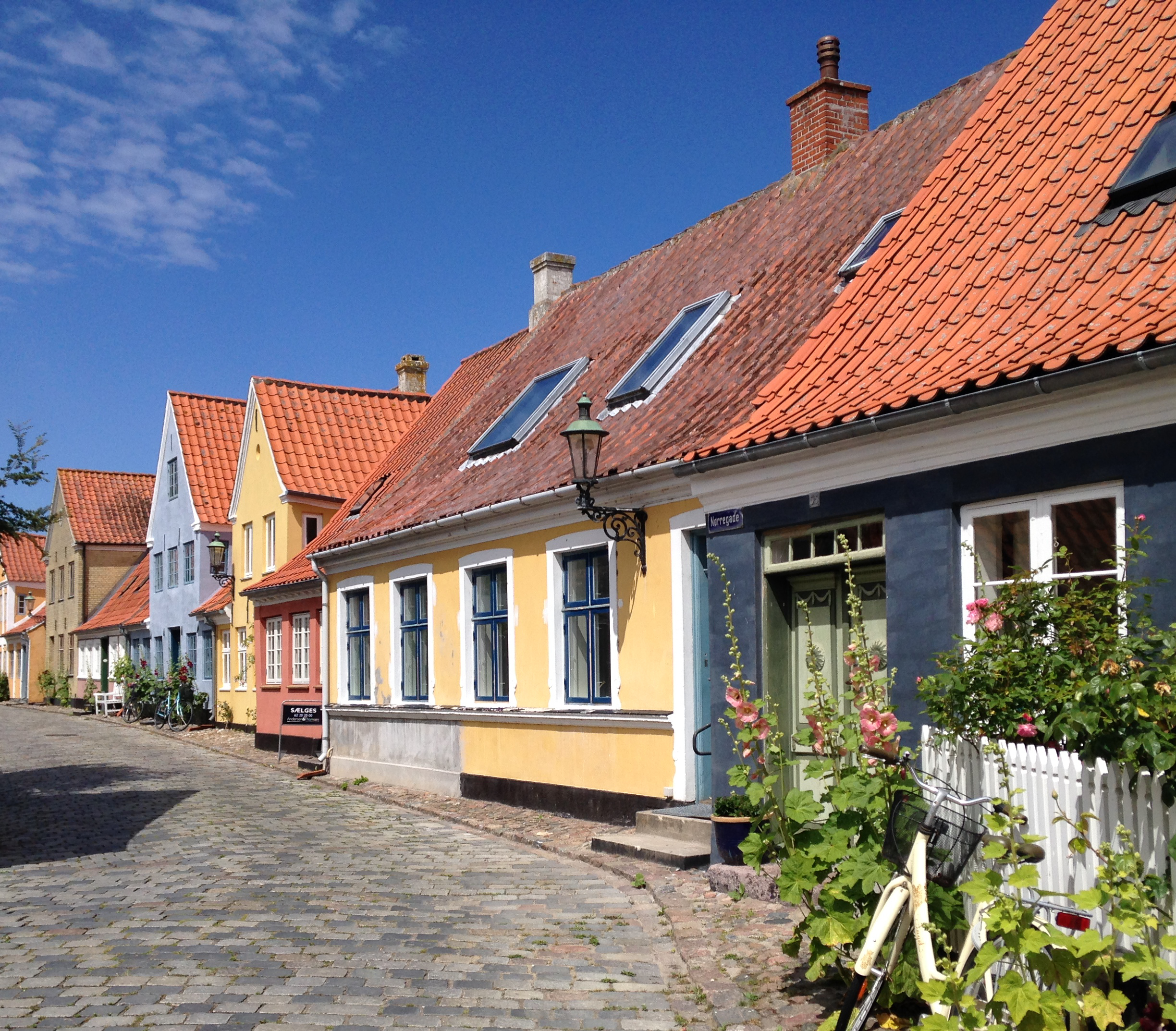 Island hopping doesn't really come to mind when we think of Denmark, but there are a number of idyllic destinations on the larger and smaller isles near Copenhagen. If you're able to extend your trip beyond that city, a world of fairytale villages, dreamy seascapes and simple country meals await on the island of Ærø (yes, that is the right spelling, and like the candy bar) — a pleasant four-hour journey from the capital via traind, then ferry. Here are six reasons to visit.
1. Travel by arty ferry
As one local in the 950-person main village of Ærøskobing explained things, life on the island runs by the ferry schedule. "You know when your mother-in-law is leaving, you know when not to go grocery shopping," he tells me. If you're lucky, you might find yourself aboard a Vores Kunst ("Our Art") boat, whose sides are painted in a pop-art depiction of a ferry cross-section. Even if your vessel lacks this extra touch, the scenery you pass — red-roofed buildings and gently rolling landscapes — might as well be out of a painting. From Copenhagen, take a train to Svendborg ($50), then catch the ferry ($36 round-trip without a vehicle); visit www.aeroe-ferry.dk to book
2. The island has a pretty amazing brewery
Though Ærø used to have many breweries, now there's just one: the excellent Rise Bryggeri. The onetime dairy has a small brewing facility on the ground floor where you can have a tour and tasting, and a cafe upstairs serving lunch and dinner (during the summer season) in what feels like someone's humble dining room. This is simple, hearty Danish country fare. You might feast on braised meat such as pork cooked in apple juice, decadently creamy potato salad, and local smoked cheese. The beers are just as substantial: The Pilsner has more more body and flavor than most, while the red-hued Walnut bock has both nutty and sweet notes, with a smooth finish. risebryggeri.dk
3. You can ride bikes all around the island
Ærø seems designed for biking, with its short distances between attractions, gorgeous scenery and gentle hills. The tourism board distributes free cycling maps of the island you can pick up in any of the villages. Reserve through Bike Erria, which also offers one-day packages including bike rental, lunch, and ferry tickets. From 55 kroner ($10) per day; reserve at www.bike-erria.dk
4. Stock up on Danish food souvenirs
The Old Merchant's Court (a.k.a. DKG, for the Danish name), right on Ærøskobing's main square, sells local food and drinks like Danish sweets, whiskey and beer, rapeseed oil and other products that might just make great souvenirs. There's also a café, with seating for diners in the back courtyard, as well as some onetime outbuildings from the late 18th century that the owner is converting to office space and other uses. dengamlekøbmandsgaard.com
5. The buildings are old and painted with blood
In cobblestoned Ærøskobing, nobody locks their doors, the library is unmanned and the oldest houses date to the 1600s. Simply stroll down the streets around this fairytale town's main square and you'll notice some half-timbered (and often very slanted) old homes, which look like something the witch from Hansel & Gretel would have felt quite comfortable in (especially when you learn some of the reddish doors were painted with actual ox blood).
6. And if you decide to stay the night, here is where you should stay
At Vestergade 44, motherly owner Susanna serves afternoon tea for her guests each day in her inn's lovely back garden. She also offers bitters at breakfast, a traditional (boozy) Danish way to start the day. Upstairs guest rooms, some of which have water views, are decorated with her impressive collection of art and antiques, each room with a different motif. Rooms from 750 kroner ($134); www.vestergade44.com/gb/
More about the food and drink in Denmark on Food Republic: