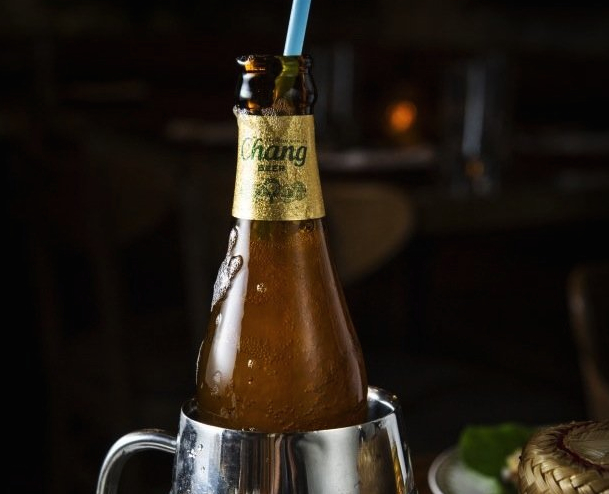 Contributor Chad Walsh writes about wine and other beverages. He is also beverage manager for The Dutch in NYC. For Frozen Drinks Week, he writes in about a semi-controversial subject.
I generally don't recommend freezing wine. Mark Phillips, best known for his PBS wine series Enjoying Wine With Mark Phillips advises freezing leftover wine in water bottles to make it last longer, but I don't often feel like 750mL is too much wine to handle drinking in a day or two. Kierin Baldwin, pastry chef at Locanda Verde, has been known to whip up a beautiful Champagne sorbet, but when thinking about frozen wine, I usually think of accidents and would recommend skipping the whole wine-popsicle thing (what's wrong with just drinking it out of a glass?)
One might expect me to feel the same way about beer, and although purists may blush, frozen beer has been my drink of the summer thanks to a small but nearly perfect restaurant in Nolita called Uncle Boons. Owned by Matt Danzer and his wife Ann Redding — the pair met while they were both working at Thomas Keller's Per Se — it features casual, authentic Thai food — inspired by time spent with Ann's family in Thailand.
Although the food has earned high marks from the city's reviewers and the service is dramatically better than any Thai restaurant I've ever been to, the one thing this place has that few outside of Bangkok or Phuket do is a very special, constantly rotating barrel behind the bar. At first, it seems like a bizarre ornament, and a haunted barrel fits in just fine with the Thai movie posters featuring barebreasted, fanged Kalis – not to mention the totally Thai soundtrack – until the bartender reaches in and removes a Chang beer.
I certainly wouldn't condone making Heady Topper slushies. In fact, the fanatics at Alchemist might ban me from the premises for even putting the words in the same sentence. Considering the heat in Thailand, though, it seems okay to serve a Chang or a Singha completely frozen, but making it drinkable requires some expertise and some special equipment.
The barrel is known as a bia wun (jelly beer), and it is filled with ice, salt, some water and unopened beers. The constant motion keeps the beer from freezing solid, and once the entire thing has achieved the desired consistency, it is carefully opened. At Uncle Boons, the bartenders have the technique – which involves some arm-waving and tapping to prevent it from exploding when the crown cap comes off – down. Don't try this at home. Served out of the bottle with a straw in a steel mug, which will catch the excess as it foams up, it is the perfect accompaniment to Redding and Danzer's often exceedingly spicy fare.
If you can't get to Uncle Boons, both locations of Andy Ricker's Pok Pok (in Brooklyn and Portland), serve bia wun. Go soon, and keep your wine out of the freezer!
See what's going on during Frozen Drinks Week on Food Republic: