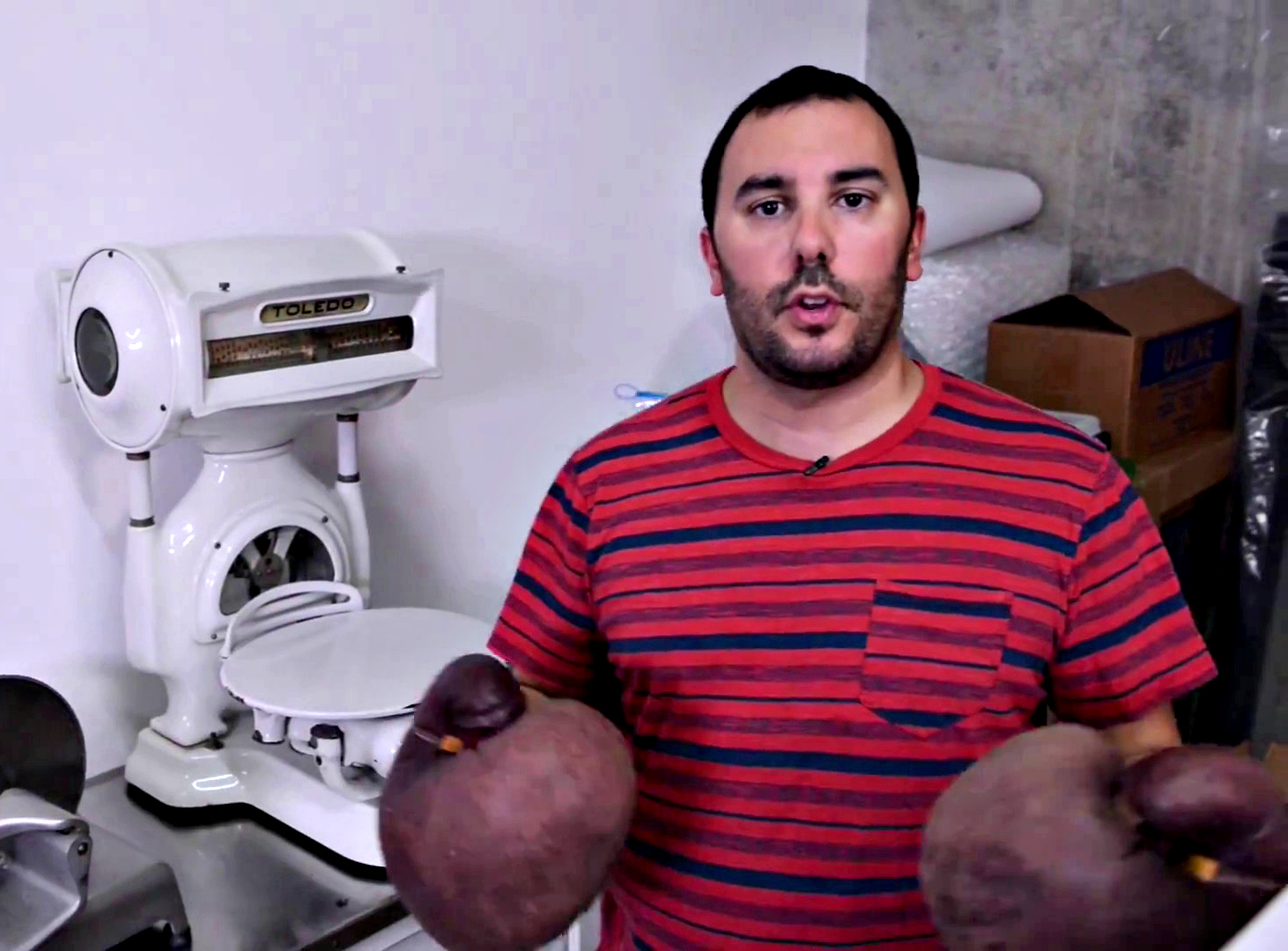 "Every time I walked into a supermarket and saw a pile of avocadoes, I'd always think: grenades," explains Adam Pesapane, better known as PES, the stop-motion animated filmmaker who created the whimsical 2013 Oscar-nominated short, Fresh Guacamole. At a little under two minutes running time, the animated film holds the distinction of being the shortest ever to be nominated in its category. That says nothing about the amount of time that goes into such a painstaking project, in which 9-12 hours of work can yield a mere three seconds of film footage.
But back to that grenade-as-avocado likeness. "That's how I structure these films, almost around a single image." In the case of his next project, Submarine Sandwich, currently being funded via Kickstarter and debuting in late October, that particular standout image was of a boxing glove being pushed through a deli slicer like a sandwich meat. In keeping with an athletic theme, other objects like vintage footballs, tube socks, hockey gloves and boxing bags (mostly sourced from eBay) were gathered up to fill an old deli case for their supprting roles as familiar foodstuffs. As much as he's willing to meticulously grind out the hours for his films, in the kitchen, the animator likes to keep things relatively simple. Watch PES' Kickstarter trailer for the new film below and check out our interview with the pasta-loving animator.
Submarine Sandwich is set in an old-school New York deli. As someone who grew up in New Jersey and lived in New York for some time, did you model it after any particular one?
I specifically wanted to make an Italian deli (versus a Jewish deli). There is one place in New York I used to go to all the time on Ninth Avenue. It was called Manganaro's, which I heard closed. But for me, it's more about working on intuition and feeling and going with that. I'm not intending to create a vintage set, it's just the same old place that it was. It has these timeless, cornerstone pieces — lots of white enamel and metal.
Why are you revisiting food for this film? Is it a common inspiration for you?
Well, I have two other food films — Spaghetti Western and Fresh Guacamole — and it felt right to make a third. But when it comes down to it, I tend to be struck by an image that I really just want to see out there. In this case it was a boxing glove being put in a deli slicer, and I've always loved that idea, that image being brought to life.
Is food one of those things that's constantly on your mind? You look at an object and liken it to some type of food?
Not necessarily. In a lot of my earlier films I used food objects substituted in for regular objects. Then came the idea to switch it up. So, everything that one would eat, is actually another object. So that was the start of the idea for Western Spaghetti. It was an experiment to see what would happen if I were to substitute only the food ingredients with other inanimate objects.
Do you have any favorite food films?
Nothing jumps to mind immediately. I grew up in an Italian-American household, so I guess my focus was on the food that was being cooked right in front of me.
Thinking about the process of making stop-motion animation and the amount of time it can take to produce a few seconds of film, it can be likened a bit to cooking, and the disporportionate amount of time and effort between making a meal — sometimes hours — and eating it.
That's an interesting point. Although I would say that with a film, you put all those hours into it, and then once it's out there, it's out there. It can be revisited and re-seen over and over again, now and in the future. It has that beautiful thing: it can wait for its audience. And I don't think I'm crazy enough to put that much time into a food that someone would eat in like, ten seconds. But I think I am drawn to these food films because I do like to cook.
And do you cook in that way? With complicated steps or recipes?
I've perfected ten or so Italian recipes that I've grown up with or researched. Look, I just like to cook pasta [laughing]. I can put in an hour. I can't do two days. And the films connect with people who like to cook, too. There are these details, like the sound of taking a lid off a pot of boiling water, for example, that one would really only know from actually doing it. When I lived in New York, we were up in Harlem and I'd have a regular sort of "salon" with a bunch of animators. We'd watch and comment on each other's films and I'd cook up a big meal of pasta. And looking back on it, I didn't care so much about the salon part or the critiquing of my films as much as whether or not everyone liked my pasta.
More movies and food on Food Republic: