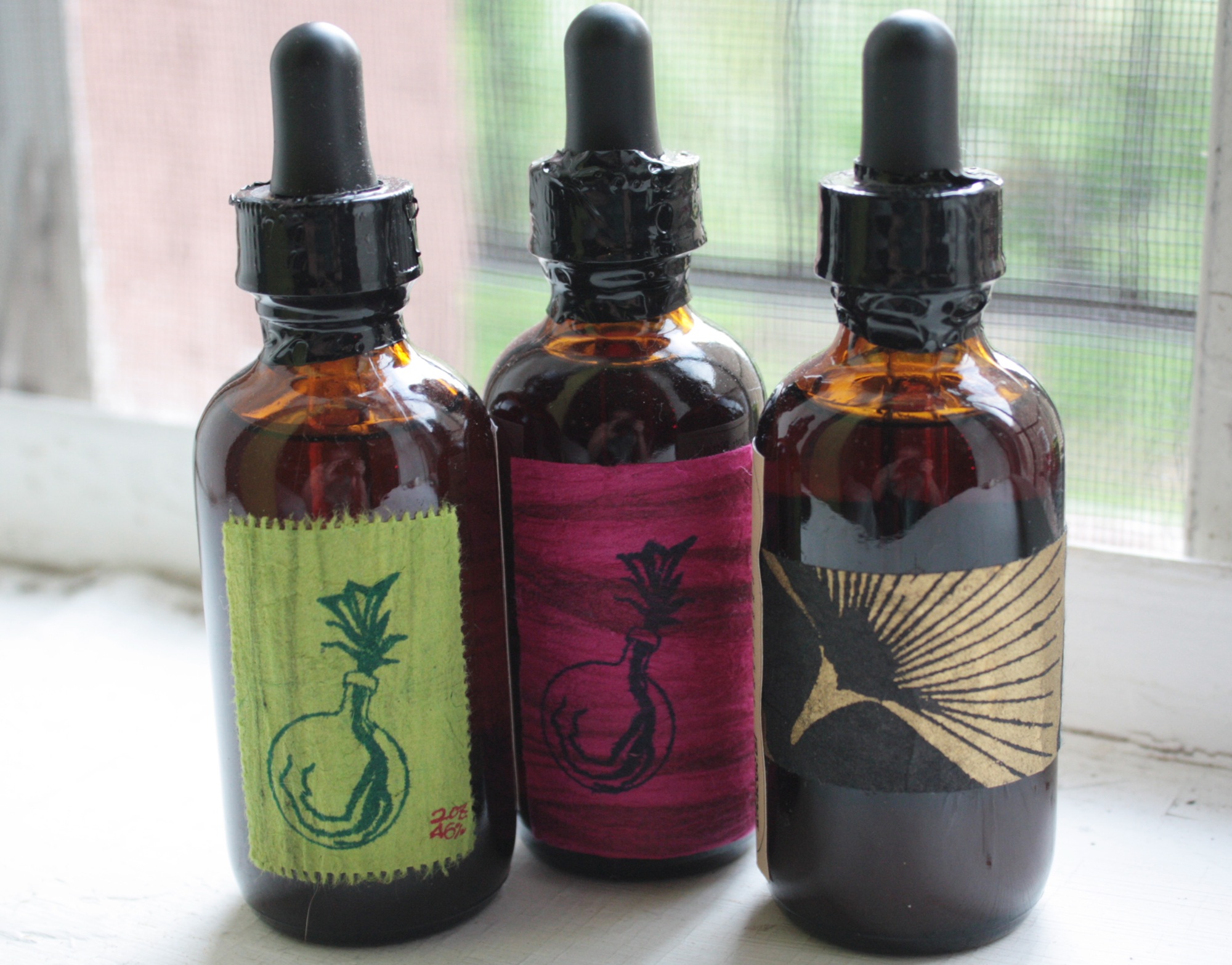 If you have paid any attention to what's going on in bars across the country, you would know that right now bitters are hot – most artisan venues have at least 10 types – some hand-made, a few made in-house, others obscure and locally sourced. One such company that specializes in bitters is Shoots & Roots, a tiny, new company based in New York. But, what makes Shoots & Roots stand out from the rest lies in the source: three botanists who use their knowledge to create truly unique blends.
"As scientists studying the diverse and dynamic relations between plants, people and the environment, we wanted to share our field experiences and scientific findings with others," says Selena Ahmed, who runs the company with Rachel Meyer and Ashley DuVal. "What tastier way to do this than through collecting interesting plants from our explorations, extracting them with optimal lab methods, blending them to tell interesting place-based stories and sharing them with others through cocktails and sodas?"
The three women met through graduate school and started the company as a hobby in 2012, tinkering with tinctures out of their homes. After mastering the art of bitters making, they decided to try and get bartenders and chefs to use them, a feat that could only legally be done if they worked out of a commercial kitchen. Luckily, the opportunity to produce Shoots & Roots at Hot Bread Kitchen in Harlem presented itself, so they moved in and culled their line into 20 blends.
"There are 7,000 plant species estimated to be used for food in the world, that's a lot of different flavors that can go into our beverages," says Meyer. "Most people only get to explore a tiny fraction of those potential flavor experiences."
Each bottle contains at least 10 all-natural ingredients that are there to serve a purpose whether that's the devil's hand flower and chamomile for Demon Flower or the guava, mugwort and anise in the Mount Apo. Because they have so many components, Meyer says they don't have to trust their imaginations alone for the flavors, instead, they rely on data, keywords and what's in season. One of the most recent bitters they have developed is called Pula: Okavango Delta, and it was built based on the phenomenon of rain, or pula, that creates the vegetation for the delta itself.
"When I think of rain, I think of something refreshing and cooling," says Meyer. "So with those qualities in mind, we'll pull from plants that are safe to ingest that we can sustainably access from the region based on the ethnobotanical literature."
To start the company, the ladies launched a Kickstarter campaign where they raised about $17,000, and come June 2014 anyone will be able to buy their bitters online at shootsandrootsbitters.com or in select specialty shops in New York. Use them in cocktails, to flavor a tall glass of sparking water, or in food like chef Romy Dorotan of the Purple Yam in Brooklyn does with the Indigo Saffron bitters and his signature soup. Meyer has used the same blend to heighten paella, a dish that sings with savory essence of saffron. Another offering that goes well with food is the Black Bear's bitters, which has a spicy celery flavor due to the osha root in it, and works well in a salad dressing or aioli. By combining so many unique and, to most people, unknown plants, the botanists are able to create a line of bitters unlike any on the market.
"We are using our bitters to tell the stories of our science and to teach people about what botanists do in the field and the lab," said Meyer. Though, she added, in end they also just taste good. 
           This post is brought to you by our friends at Bridlewood Estate Winery.