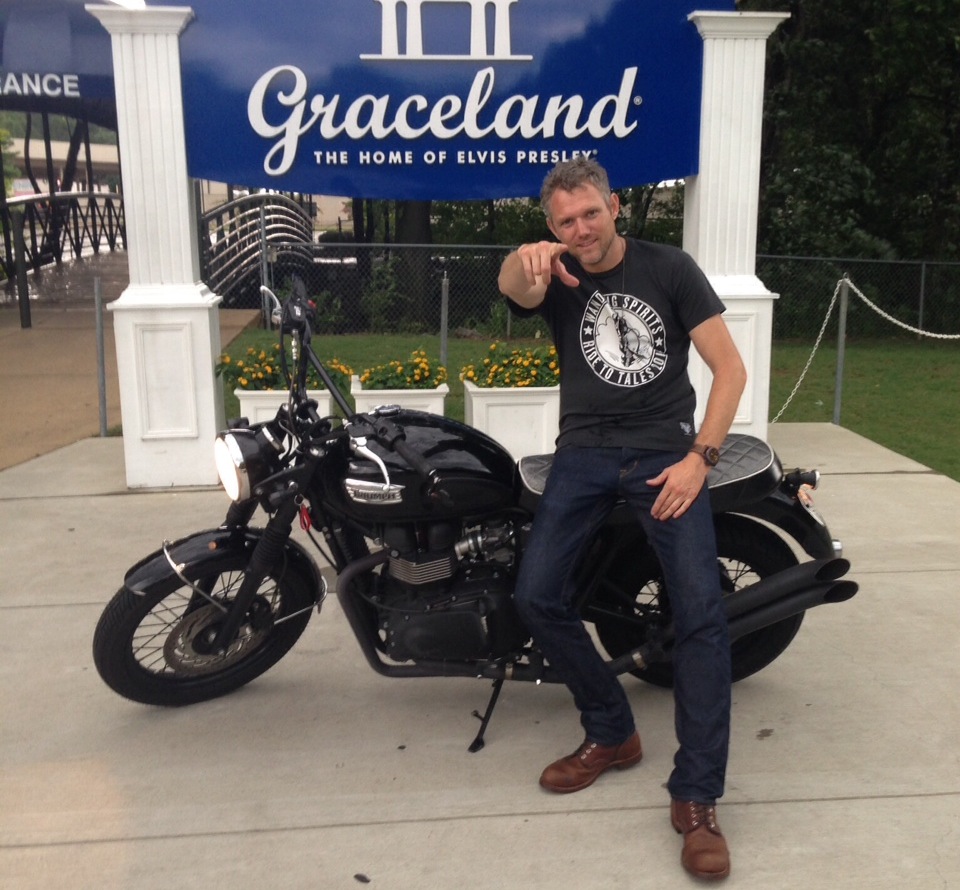 We're well aware that chefs and bartenders love to take some pretty incredible trips – for both work and inspiration. We even have a full column devoted to documenting their travels. Every so often, though, there's a journey that really sets itself apart from the rest. And so when we heard that Colorado's Bryan Dayton was heading to the annual Tales of the Cocktail celebrations in New Orleans via motorcycle with several fellow bartenders – sampling some of the country's finest barbecue and cocktails along the way – we were all ears.
A former winner of GQ's "Most Inspired Bartender in the Country" award and Beverage Director of Denver's Acorn and Boulder's OAK at fourteenth, Dayton planned the week-long, cross-country roadtrip with bartenders Ryan and Randy Layman (Ace, Denver), Dylan Regan (Jimmy's, Aspen) and Sean Kenyon (Williams & Graham, Denver), among others. Ever curious about their food and drink adventures along the way, we shot some questions Bryan's way. Here's what we uncovered.
How did the idea for this trip originate?
My friend Dylan Regan – bartender at Jimmy's in Aspen – and I had been talking about doing a motorcycle trip together for a while. When I finally got a bike, Dylan told me he wanted to ride to Tales. (He had taken a similar trip years ago.) About eight months before the trip, Dylan started the planning. He's the one who really put this together. It was awesome to be a part of it.
How long did the entire trip take?
It took about a week to get to New Orleans. I left a day early, and the rest of the crew – Dylan Regan, Sean Kenyon and Randy and Ryan Layman – met up with me a few hours outside of Kansas City.
Can you name some memorable meals along the way?
We had a few days in Louisville and the barbecue there was by far some of the most memorable food we ate along the way. Marcus' is where we landed, and I tell you, his ribs are the real deal. Oklahoma Joe's in Kansas City is also never to be missed. We stopped in for some ribs, brisket and – of course – burnt ends before we hit the road to St. Louis. Our last dinner of the trip was in Memphis, and we ate at McEwen's – it was great food and wine and we shared a bunch of stuff including some killer steaks and pork chops.
Memorable cocktails?
The cocktails at Planter's House in St. Louis, MO – owned by Ted Kilgore – were great. They were some of the first serious drinks of the trip, which were much needed.
What was your favorite city you visited? Why?
Getting back to Nashville is always great. Tennessee is my home state, and a lot of my family is still there, so it's always nice to get back to spend time with them. And, who doesn't love NOLA?
Where did you all stay during the trip?
We stayed in hotels the whole way there – nothing too special, really. Afterwards, there were only a few from the group who rode their bikes back. The rest (including myself) shipped their bikes back and flew home to Colorado.
What was the highlight of your trip?
There was so much camaraderie throughout the entire trip. This was my first big ride and it was an incredible experience to have so much support along the way. We rode over 2,400 miles and the whole time we were in it together. The group dynamic was awesome – we learned a lot about each other, and about ourselves as individuals. A week-plus is a long time to be on a bike, and you learn a lot about yourself when you're on the road like that.
Lowlight?
I can't say there were any lowlights, other than some occasional bike issues. From breakdowns to oil issues, there were a few instances that slowed us down, but luckily we were able to deal with them along the way. I'd totally do it again. Hell, I'd love to do it right now!
See where other chefs have been traveling on Food Republic: