With the James Beard Awards relocating there next year, and a slew of new, ambitious restaurants setting the scene, it's no shocker that Chicago has become a top culinary destination in, frankly, the whole world. Leading that charge is chef Curtis Duffy, a recipient of the James Beard Foundation's Legacy Award and nominee for Best Chef, Great Lakes Region, at his restaurant Grace, in the city's West Loop neighborhood. There, Duffy offers diners to a choice of two 8-12 course tasting menus named Flora (plant-based) or Fauna (with meat/seafood dishes), where each plate is a beautifully-crafted display of balance and precision — both in terms of taste and appearance.
"We think of each plate like a blank canvas and we strategically lay out those ingredients where they make sense," says Duffy, an Alinea alum. "Once we have a good idea of how we want the flavors to interact, then we start thinking about the aesthetics of the dish. This process can sometimes take weeks." Below, Duffy takes us through a scallop dish currently on the menu that features tamarind, flavors of licorice, coconut milk pudding and a few other surprises for the eyes and the tastebuds. Who's calling Chicago the "Second City" now?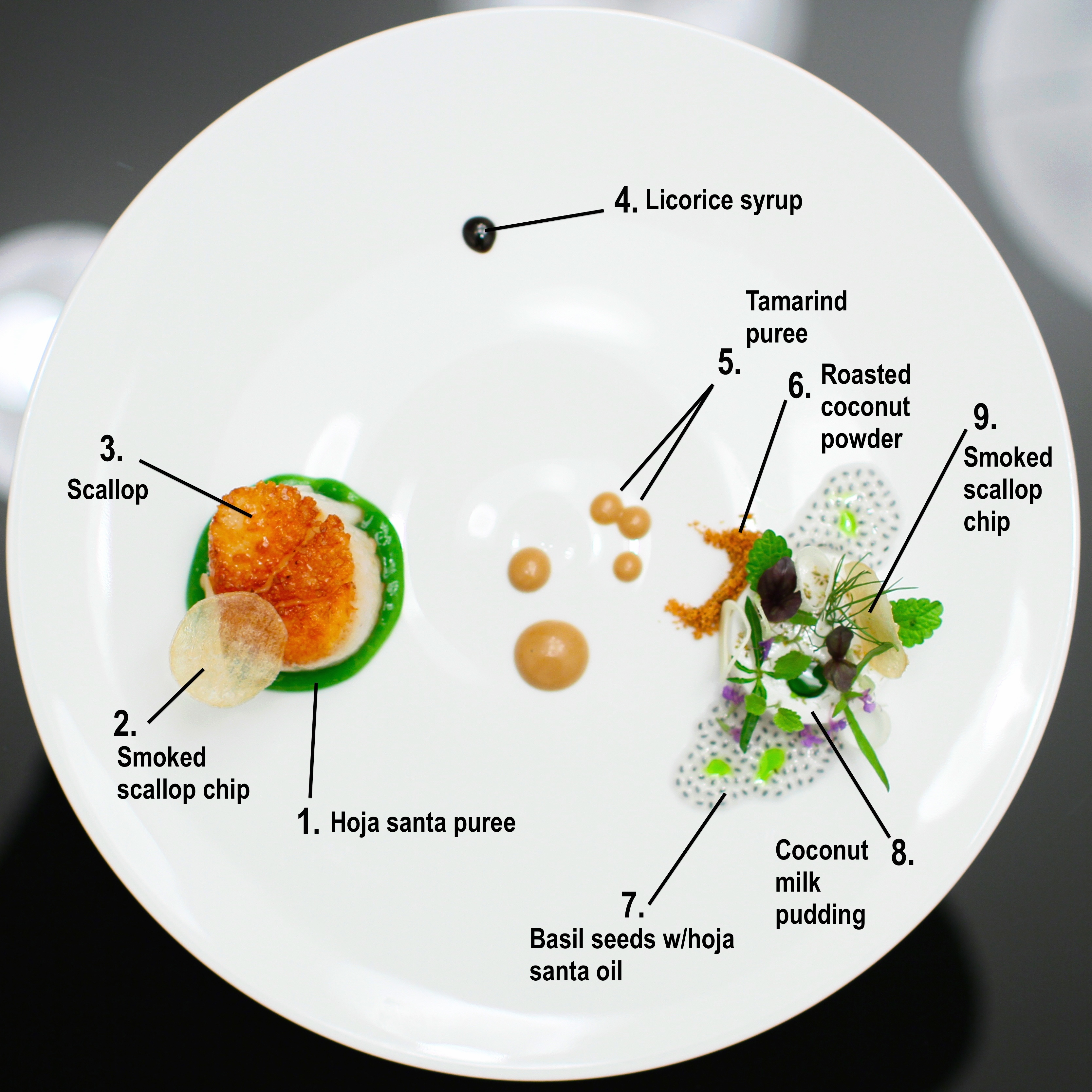 1. Hoja Santa Puree | An aromatic herb. "It adds another level of depth in the flavor realm of fennel/licorice."
2. Smoked Scallop Chip | "We smoke the scallops, then roll five [at a time] very tightly in plastic and freeze them. When they're frozen, we unwrap and thinly slice them with a meat slicer, then dehydrate them until they're crispy."
3. Scallop | "I've always loved the interplay of coconut and anise — fennel in this case. We began playing around with different proteins, and scallop worked from both a flavor and textural standpoint."
4. Licorice Syrup | A flavorful complement to the interplay of anise/fennel and hoja santa.
5. Tamarind Puree | "We needed an acid to balance the plate and rather than reaching for citrus or vinegar, we went to something a little less common: the tamarind."
6. Roasted Coconut Powder | "I can't say my time in pastry hasn't affected me in some way; it opened my mind to a whole set of flavors I hadn't used before."
7. Basil Seeds with Hoja Santa Oil | Here the hoja santa oil also lends a pop of neon green to the composition.
8. Coconut Milk Pudding | "We heat coconut milk, add gelatin to thicken, cool, then chill to set."
9. Smoked Scallop Chip and Herbs | Tarragon, chervil, fennel frond, hoja santa, basil, and anise hyssop.
Grace, 652 West Randolph Street, Chicago, IL, 312-234-9494, Grace-Restaurant.com