Watch The Entire First Episode Of The Epic Meal Empire TV Show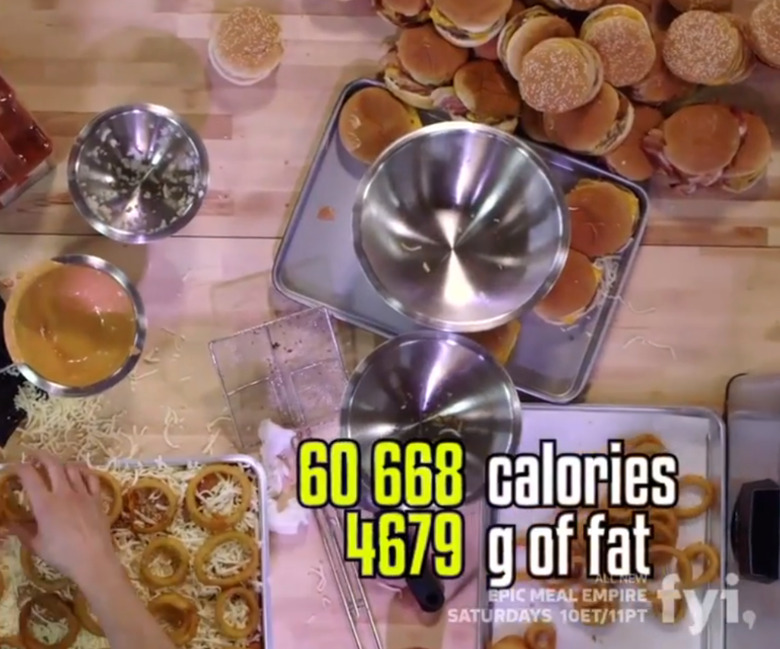 Epic Meal Time is a Canadian cooking show that has in just a few years become a YouTube sensation. They are known for creating extremely high-calorie (nothing you'd ever want to eat) meals with colorful commentary that plays out like Bobby Flay-meets-Ali G.
Earlier this year, the guys got their own TV show – Epic Meal Empire – to air on the newly formed lifestyle network, FYI. While the premiere isn't until tomorrow night at 10 p.m., we've gotten ahold of the entire first episode. In this one, there's much of the cooking debauchery and calorific monstrosities we've become accustomed to, along with some new additions (there's even a girl!)
We're somewhat skeptical here. We were all for the quick-click format of the over-the-top YouTube series and for gazing aimlessly at renditions of cheeseburger lasagna and Instagram-worthy bacon weaves during slow afternoons in the office. But to devote an entire television show to it – airing on Saturday nights, no less – and incorporate novel concepts to an already ridiculous premise seems a little contrived. Regardless, it's worth a look. Let us know what you think in the comments. Let's talk about this.
Watch these Epic Meal Time clips on Food Republic: