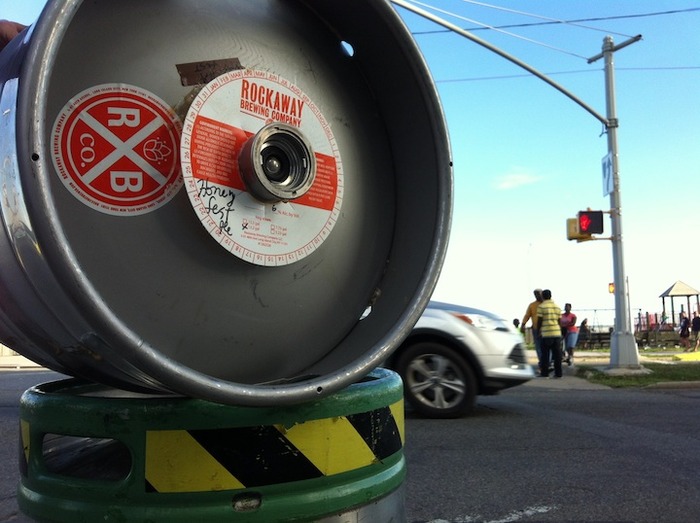 Countless stories have been published about American craft beer collaborations and expansions, but perhaps no single brewery captivates an audience as well as Stone Brewing Company. The 10th largest brewery in the U.S. is about to become a whole lot bigger both here and abroad, announcing two expansion projects: one east of the Mississippi and one in Germany. With at least $85 million dollars invested in the new expansions, it was a little surprising to see Stone launch an Indiegogo campaign to raise $1 million of the total cost through crowdfunding.
What's the incentive? Access to four collaborative brews with three different European breweries, plus a special edition of W00tStout, all in 1.5-liter magnums. If you've been lucky enough to try any of Stone's limited releases, like last year's amazing Always Sunny-themed Dayman Coffee IPA, you probably know what to expect — not a drop of disappointment. In fact, they might even be better than some brews in their regular lineup. At the initial price of $50 a pop, however, the question of how exactly you were helping Stone still probably crosses your mind.
When the fundraiser hit the $100,000 mark, Stone lowered the funding price per bottle to $30. Props to Stone for the good move, but it brought up a bigger question in a Deadspin piece yesterday entitled Crowd-Funded Brewery Campaigns Are Bullshit. The piece questioned the legitimacy of backing an already-established brewery just to obtain a limited release, however coveted. I absolutely love and respect Stone, but I'm not buying that these brews could only exist with a crowdsourcing campaign. There's also an added incentive of 50% off the Stone store or brewpub when you pick up the bottle. Why ask for money now when you're essentially giving away more than you're getting later? 
As much as I want to try the collaborations, I'm also choosing to put my money elsewhere…but unlike Deadspin's Will Gordon, I'm generally very much in favor of crowdfunding campaigns. They're an effective way to help support local breweries that might not yet have the facilities to increase production or distribution outside their city, let alone outside of their street. Plenty of breweries now making waves have benefited from it — Pipeworks in Chicago immediately comes to mind and we have one of the best IPA programs in the country to thank them for — I'm talking about you, Ninja vs Unicorn.
Right now here in New York, Rockaway Brewing and Yonkers Brewing Company both have the goods but not the capacity to sell at retail in a major way and if you've tried Rockaway's ESB or Yonker's Honey Blonde respectively, you know what I mean. Crowdfunding would help them build out their taprooms and increase production and distribution. No pressure to support these specific campaigns of course — I'm just die-hard when it comes to small (awesome) New York craft breweries. Check out crowdfunding sites like Indiegogo and Kickstarter and search for "breweries" to help them get off the ground and into bars and stores. Cheers to supporting local, no matter how you choose to do it and yes, this means I totally support San Antonio, TX-based Freetail Brewing Company's Beer Delivery Lamborghini campaign, as long as it means we can get some up here!
More Weekend Drinking Assignment on Food Republic: