Templeton Rye Is More Than Great Whiskey, It's American Folklore In A Bottle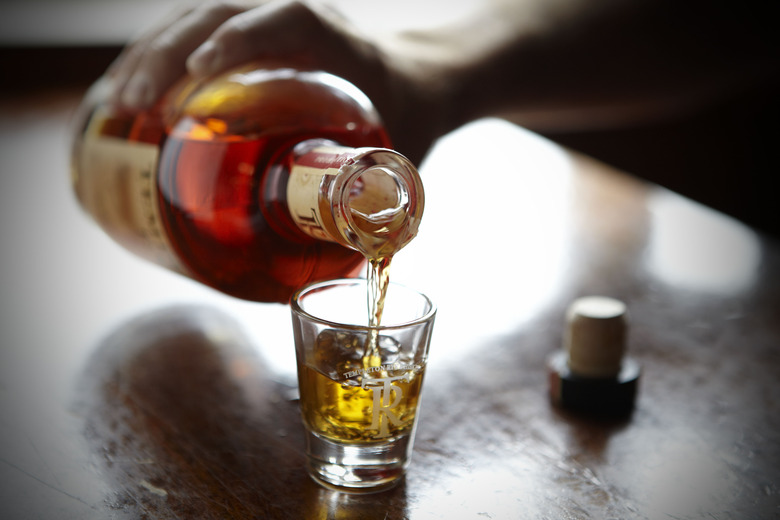 We may receive a commission on purchases made from links.
When you think of the quintessential American spirit, what comes to mind? From a historical standpoint, rye whiskey has to be a leading contender. As author Bryce Bauer relates in his new book, Gentlemen Bootleggers: The True Story of Templeton Rye, Bootleggers, and a Small Town in Cahoots, the story of rye is essentially the story of the American heartland.
Bauer's book focuses specifically on Templeton Rye, a Prohibition-era brand that was said to be famous mobster Al Capone's drink of choice. In recent times, the label has been resurrected by a group that included Bauer's own father. You can probably find it at your local spirits shop.
The brand name refers to the rural town of Templeton, Iowa. Bauer grew up nearby hearing stories about bootlegging from the town elders. Like many parts of the American Midwest, Templeton was founded by German Catholics, who tended the rye fields and turned the stuff into booze.
At the beginning of the 20th century, distilling was going strong in Iowa. Then, a confluence of events caused enormous social change in these communities: World War I brought high levels of anti-German sentiments. Prohibition outlawed booze. And a farm crisis hit the Midwest in the 1920s. Bootlegged rye became one of the principal industries in Templeton, and it was so popular that the name "Templeton rye" came to refer to all the liquor coming from the town. During the farm crisis, Templeton rye was employing people and keeping their families financially afloat. By 1933, when Prohibition was repealed, Templeton rye had become a regionally known brand.
Bauer's book uses historical archives to reveal the stories surrounding the principal actors in Templeton rye production and distribution. The book, while informative, is occasionally a little — pardon the pun — dry. It shows, however, that rye is truly an American classic. Not only was the spirit first developed in this country — corn-based bourbon came later — but its history is one of criminal activity, ethnic tensions, resourceful scrappiness and boozy barn dances. What's more American than that?
Thirsty for some Templeton rye? Try it in a classic Manhattan, or an Old-Fashioned — splash a sugar cube with Angostura bitters, then mush it up with a spoon in a rocks glass. Add a large square ice cube (or a few smaller ones), top with three fingers of rye, and stir. Raise your glass to the American Midwest for giving us our best national spirit.
Read more about rye whiskey on Food Republic: