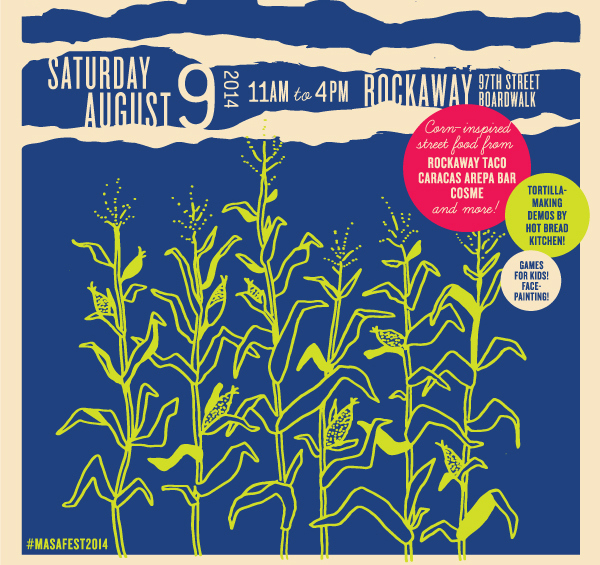 Without masa harina, there would be no tortillas. Without tortillas, there would be no nachos, enchiladas, huevos rancheros, breakfast tacos, steak tacos, fish tacos…no tacos, period. No arepas, pupusas, tamales or sopes, either. Embrace this crucial ingredient, learn its importance in all our lives, then let's go get tacos.
Here's how corn becomes masa dough: dried corn is soaked in water and slaked lime (calcium hydroxide). The resulting product, called nixtamal, has the husks of its kernels removed and is cooked into hominy, or ground into a dough and dried and re-ground into masa.
Got that? Masa is an essential element in Mexican cuisine and to celebrate the importance some chefs are getting together to throw Masafest on August 9 on the Rockaway Boardwalk at 97th Street. The first part of the event runs from 11 a.m. to 4 p.m. and includes cooking demos and vending from Caracas Arepa Bar, Rockaway Taco and the forthcoming restaurant Cosme.
Masafest concludes with Masafeast, a ticketed, masa-centric dinner on the boardwalk prepared by Mexico City's Gabriela Cámara (Contramar/Merotoro), New York's Ignacio Mattos (estela) and friends. Proceeds from the dinner benefit Graybeards (a Rockaway Beach Sandy Relief organization) and Misión Integral (a Oaxaca, Mexico biodiversity organization).
Tickets are $125 and are available at: masafestfeast.eventbrite.com