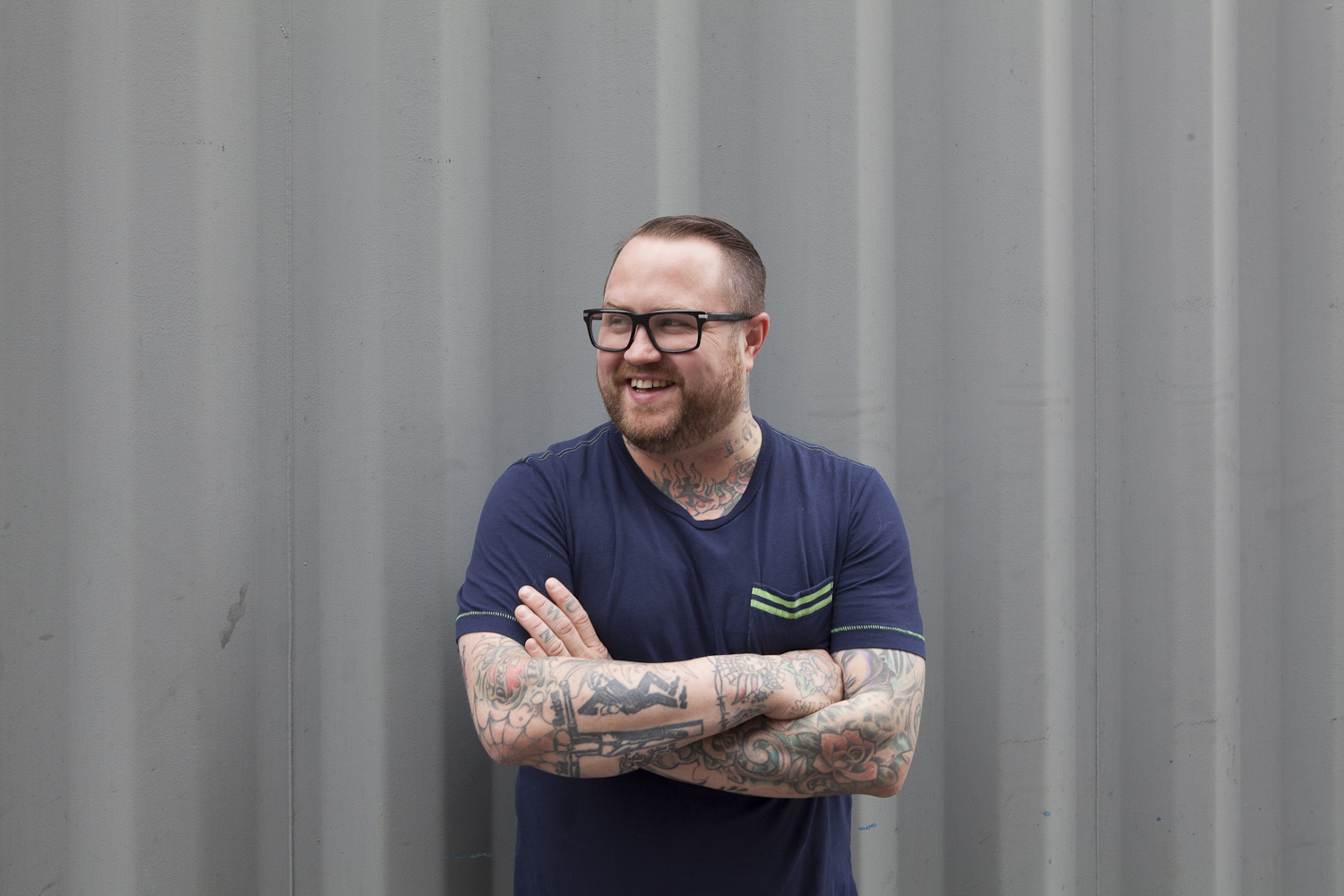 Last week we invited a crew of very busy chefs to stop by the Food Republic Test Kitchen and talk about the challenges — and ultimate successes — of staying healthy while working around plates, bowls, broilers, cutting boards and walk-ins filled with decadent food basically all the time. How do their clothes still fit, you ask? What's this about Muay Thai and Brazilian jiu-jitsu? We got answers from Jamie Bissonnette, Michael Chernow, Daniel Holzman, Alex Stupak and Noah Bernamoff.
Jamie Bissonnette is chef and owner of Coppa and Toro in Boston, and Toro New York — as well as the winner of the highly competitive Cochon 555 nose-to-tail competition. His New Charcuterie Cookbook will be released in the fall. 
At your restaurants Coppa and Toro, you're working with a lot of hams and sausages. It must be tough to stay in shape.
Even just tasting a spoonful of paella – if you sell 50 paellas a night, and I taste 50 spoons — that's 50 tablespoons of paella. I put that in some sort of calorie-tracking app and it's like 1,200 calories. Just a bite. Just from tasting.
And are you logging the bites on an iPhone app?
I am. And I started spitting. It feels weird, but like with the sommelier, they don't like getting drunk on the job. They spit so they don't get wasted. I spit because I don't want fatty liver disease.
When you're feeling the crash in the middle of a shift, 9 p.m. or 10 p.m., what do you do to keep the energy high?
I am an adrenaline junkie. When I was younger, I used to burn myself with spoons. I would get them smoking hot and burn myself to get angry and get the adrenaline rush. I stopped doing that like 10 years ago. Now, usually I slam a water, or a sparkling water. Eat a banana. And just keep going.
Michael Chernow and Daniel Holzman are co-owners of The Meatball Shop, which recently opened its sixth location on New York City's Upper West Side. The pair also co-authored The Meatball Shop Cookbook, which was published in 2011.
Describe your morning routine. What do you do to get your day started? Do you exercise?
Chernow: I wake up between 6:30 and 7 a.m. and typically start my day with a calisthenics routine. I do a bunch of push-ups and sit-ups in the morning, then I do dips and pull-ups. Right after my calisthenics, I sit down at the table, I open up my computer, I have a cup of coffee and my wife makes me breakfast. Lately, I've been on an eggs, kale and sweet potato kick. We hang out, we chat, I do e-mails. I'm typically done with that phase of the morning by 9 a.m. And then, I'm outta there.
Holzman: I hit snooze three to four times, for sure – every single day. And then, well, I usually check my phone and lately I've been checking Instagram. Like, I check to see if the Fat Jewish has put anything funny up. And then I check e-mails, text messages and whatnot, to see if there are any emergencies at the restaurants. I usually don't drink coffee until the afternoon. My brain wakes up just going. I don't really have a real routine. Right now, I'm in an unhealthy phase. So I've been drinking a lot, smoking cigarettes, staying out late, not working out. There are times when I'll, like, soak chia seeds in coconut milk the night before. And I'll wake up in the morning and do yoga. And then I'll cut strawberries and make a pudding with chia seeds and strawberries. But that's not where I'm at right now.
What is your exercise routine like? Do you play sports?
Chernow: I do a lot of mixed martial arts stuff: Muay Thai, Brazilian jiu-jitsu.
Holzman: I train jiu-jitsu, fairly seriously.
Alex Stupak is chef and owner of Empellón Taqueria and Empellón Cocina in New York. The former pastry chef of wd~50 is planning to open a third restaurant this year.
What's your morning routine? Do you exercise?
I wake up around 5 or 6 and try to eat breakfast and go for a run before I look at my phone or computer. I don't even look at e-mail anymore. I've been finding that if I get up earlier, I actually get more work done. Because I have four or five hours of quiet time before everyone else in the company wakes up and starts inundating my inbox or calling me.
How do you keep your energy high during the day?
If I'm going to have a heavy meal with meat, cheese, bread or all that good stuff, I try to do it at 8 p.m. or later. Other than that, I'm in the kitchen so I graze all day. It's pretty easy – you never eat an actual meal. I've found that I'm never quite full during the day, which helps keep my energy level up. I also try to limit drinking alcohol to two days a week. I'll let Friday and Saturday nights be "drink whatever the hell you want, eat whatever the hell you want." The other five days, I kind of discipline myself to not do that. And I find my to-do list gets done better.
Noah Bernamoff is owner of Mile End Delicatessen in Manhattan and Brooklyn, as well as the city's recently opened wood-fired bagel shop, Black Seed Bagels.
What is your morning routine?
I always take a shower in the morning. I set my alarm 20 minutes before I actually need to get up.
Do you work out?
For a while, I was pretty good. I was doing Soul Cycle three times a week. I'd go to the 7 a.m. class with my wife and a friend. I'd take a quick shower after the class and my day started by 8.
So, what happened?
I fell off the routine…
Kept the shower, ditched the Soul Cycle?
The shower's still there! Cleanliness is still a top priority. But unfortunately, in fitness I'm severely lagging behind.
What's the healthiest food you ate in the last day?
It certainly wasn't anything I ate today, because I've already had a burrito with eggs. Last night, I had a bánh mì. For lunch yesterday, I grilled lobster with extremely buttery soft scrambled eggs. And a round of soft upstate cheese with grilled brioche. So, let's go with the daikon, carrots and cilantro in the bánh mì.
This has been presented by our friends at Starbucks.