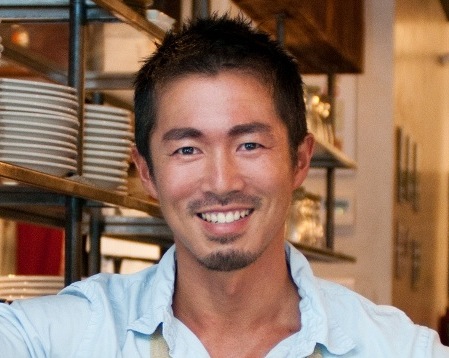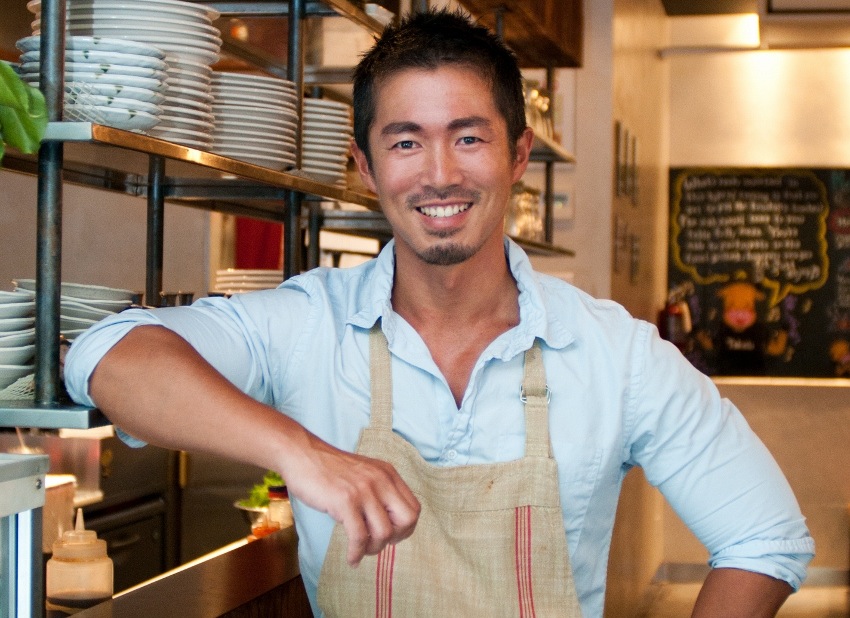 Chefs love to travel — for inspiration, to experience the cuisines of other cultures or just to get away from the heat of their own kitchens. When they return, we hit them with some questions — where'd they stay, what'd they do and WHAT DID THEY EAT?!
Takashi Inoue has spent the past four years encouraging Americans to celebrate the cow in its entirety. His eponymous New York City restaurant specializes in grilled offal meats, highlighting quality cuts of beef that are popular in Japan but not often enjoyed in the United States. So, just what does the man behind this difficult mission eat during time away from his kitchen? Takashi — the recipient of a Food & Wine People's Best New Chef award in 2012 — wrote in to us from a recent restaurant research trip to Montreal. Included on the menu there? Horse sashimi and bacon-wrapped fried foie gras. We were certainly all ears.
Where are you just back from?
Montreal.
Was it business or pleasure?
A bit of both. The business part was about research. The menu at Takashi has evolved from a grill focus, and we're adding more specials that don't have a sole emphasis on beef, which is exciting. I had read a lot about the Montreal dining scene, so I wanted to experience it for myself, and hopefully pick up a little inspiration along the way.
What was the highlight of your trip? 
I was shocked that they eat horse. I thought that was only the case in Japan. Especially that it was horse sashimi. I had this dish at Hotel Herman, which is the name of the restaurant.
Lowlight?
Not having enough time to visit all the restaurants I wanted to!
Where'd you stay and what's your mini-review of the place? 
Hotel Le Crystal in downtown Montreal. We stayed in the penthouse, which had a massive balcony and an open air jacuzzi upstairs. It was a very comfortable and decadent stay.
What was your best meal on the trip?
The foie gras double down at Joe Beef was sensational. It's two pieces of foie gras, deep-fried and wrapped in bacon. So wrong, yet so right! 
What from your trip, if anything, will you incorporate at your restaurant?
I was impressed with the combinations of meat and seafood in a lot of the Montreal restaurants I visited, which has been something I've experimented with at Takashi, but I don't get to see very often in New York. Most people think you can have one or the other, with a few rare exceptions of surf and turf. I was surprised to see it in abundance in Montreal.
We have a few examples of this meat and seafood combination on the menu. Actually, our most popular dish on the menu is the surf and turf-like Niku Uni, which is raw chuck flap and uni on a shiso leaf. People sometimes order it for dessert, so there's no doubt the meat and seafood combination works! We've also been getting good feedback on our House-Smoked Beef Pancetta with Whitebait Fish and Monkfish Liver al Ajillo, Brain Cream with Caviar, the Calf's Brain Cream with Caviar, and the Bone Marrow and Crawfish Dumplings. But I think there's always room for more! So I will probably be adding other examples on the menu in the near future.
Where do you want to travel to next, and why?
Salvador, Bahia in Brazil. From what I've seen their cuisine is so specific and unique, and I'm dying to try it.
Read more Just Back From columns on Food Republic: