Make This Right Now: Brandied Cherries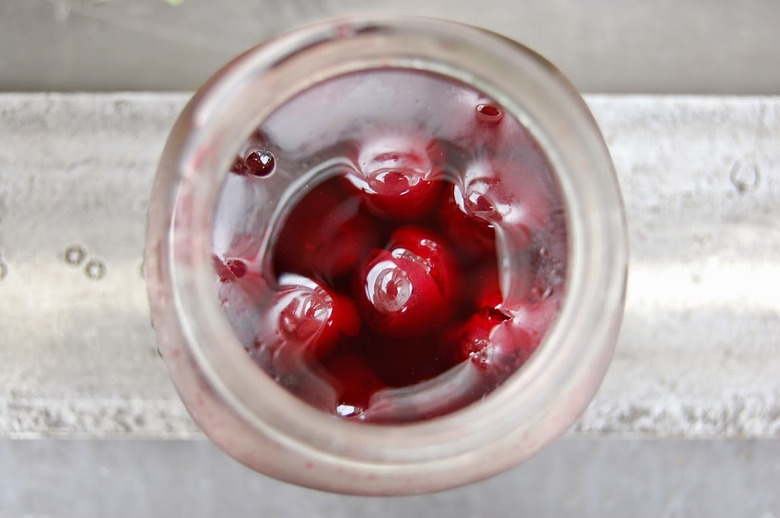 Oh, summer. You make it almost impossible not to eat well every day, supplying us with a bounty of vibrant, delicious produce that needs little embellishment — a drizzle of olive oil, a sprinkling of salt. Summer fruit needs no help whatsoever: peaches, plums and berries are lovely in the season's crumbles, buckles and crisps, but sometimes they're better all on their own. I gorge on fruit from May through September before fall brings its selection of apples and pears.
Like all that's best in life, sweet, juicy summer fruit is a fleeting pleasure. It's easy to preserve cucumbers, tomatoes and peppers via pickling, canning and roasting. But when it comes to fruit, life-extending recipes tend to be limited to jams and preserves. My solution? Douse fruit in booze, the most natural and delicious of preservatives. Many fruits can be stored in alcohol, but my favorite recipe calls for cherries, which I soak in brandy and sugar. My reason? Better winter drinking, of course.
The Manhattan is my cocktail go-to during cold months, but after selecting great bourbon, silky-smooth vermouth and artisanal bitters, it feels like a cop-out to top it off with an industrial hot-pink maraschino cherry. These brandied cherries come to the rescue: dead-simple to make, they last me through the winter, even getting better with age.
You'll want to make these as soon as possible, as cherry season is drawing to a close. Pick out a pound of red beauties — ones that are about to go over the hill are just fine in this recipe — pit them and simmer in brandy, water and sugar. Finish with a dash of vanilla, a couple of spoonfuls of fresh lemon juice, transfer to jars and store in the fridge while you wait for gin weather to fade into bourbon weather. You'll be glad to have these cherries on your bar come November.
Brandied Cherries
Makes 3 cups (plus liquid)
1 pound cherries, rinsed, stems removed and pitted
½ cup sugar
½ cup water
1 cup VS brandy
1 teaspoon vanilla extract
2 teaspoons fresh lemon juice
In a medium saucepan, combine cherries, sugar, water and brandy and bring mixture to a boil over high heat.
Lower heat and simmer for 7 minutes.
Add vanilla and lemon juice to cherries and stir.
Transfer cherries and liquid to a 4-cup glass jar and let cool completely, uncovered.
Cover jar and refrigerate for up to six months.
Need a cocktail for those cherries? Allow us to recommend The Cherry Blossom.
---
More home bar improvement on Food Republic: