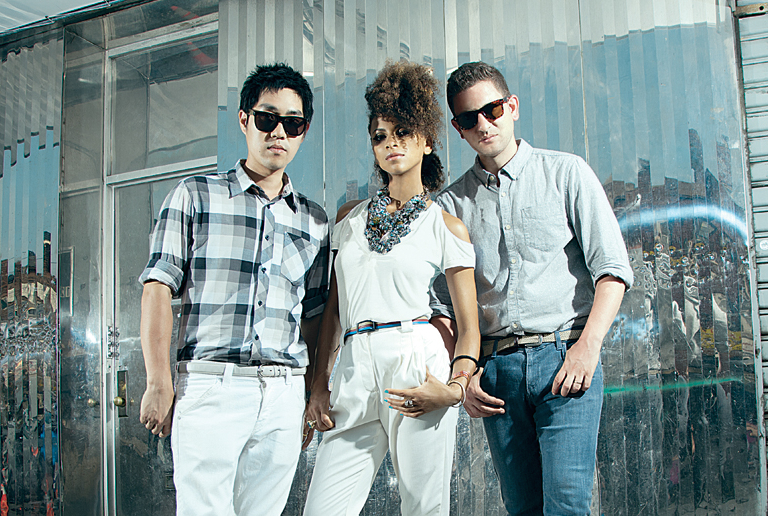 You may think you love a disco beat and are down with the fancy food scene, but talk to Eugene Cho, co-founder of Brooklyn-based nu-disco funk machine Escort, and reassess your life. Half a century after the genre erupted from its jazz roots in a thunderous cloud of glitter, Cho leads a band of 16 (sometimes more, sometimes less) around the world to remind you without a shadow of doubt exactly why you're still dancing so hard.
There's more. He cooks from the Modernist Cuisine cookbook. You want him to make you sous-vide salmon, preferably with disco blasting in the background so loud you can't hear the electric spice grinder. Brush off the "Cocaine Blues" and let's eat some ribs.
You perform live with a massive band. How do you feed 20+ people on tour?
We all like to eat a lot when we're on the road. Sometimes we have nice big meals — when we were in Barcelona I got everyone to do tapas, which was amazing. The biggest sit-down dinner we did was in Las Vegas, we were 12 people and they made a whole Vegas-style buffet for us. Even the vegetarians were happy. We were really excited about those buffets. Our drummer Ben [Herson] was looking into getting a ticket to the "buffet of buffets," where there are…multiple buffets, I guess? He saw this show on Discovery Channel called Las Vegas Buffets and was really intrigued but ended up not doing it because of reviews that said it's not worth it unless you eat 20 pounds of food a day.
I saw a Rolling Stone story that suggests foie gras might be on your tour rider. What's actually on your tour rider?
That was because of [singer] Adeline, she's French. The actual tour rider is mostly beer and alcohol, wine, Stellas, stuff that's easy to drink a lot of. We like to have chips, hummus and pita and fresh fruit.
Let's talk about the opposite of hummus and fruit: disco fries. How do you feel about them? 
Disco fries! I feel fine about them, but I'm actually more of a poutine person. Disco fries are like the Coney Island version of poutine. I've only had the real stuff in Montreal, but it's good all over, there are some chains that seem like they have the game down.
What's on Escort fries?
That's a tough one when you're with a big group of vegetarians and meat-eaters. I've slowly been getting the vegetarians to eat meat, which is not always easy. We're big Austin BBQ fans, so I'd put some chopped brisket on there, and some emmenthal cheese for Adeline.
Hell yeah, Austin BBQ! Tell me an Austin BBQ story.
We played an opening pre-party event at the Austin Wine & Food Festival recently and hung out with local chefs. Louie Mueller's beef ribs were the best thing I've ever had, so he gave us a whole rack to take back with us. It was like, a foot-by-foot brick of meat and bone that he just friggin gave us, so of course we took it on the plane. We were debating if they would still be good the next day because we didn't have a fridge in the hotel.
Say you're in, oh, say New York City and not Austin. Where should you eat right now?
Morgan's BBQ for good authentic barbecue, Uncle Boon's for Thai and definitely Xi'an Fine Foods for noodles, especially the spicy tingly noodles. Get all the spicy tingly stuff. It's so reasonably priced for how good it is.
What's your favorite food city in the world?
Tokyo. Their level of service is incredible, I remember going to a mall and having a very quaint sit-down dinner. The waiter pours you a beer very slowly, it takes him maybe a minute and he takes a lot of pride in pouring it right. It's kind of awkward after like, 45 seconds, but it's also amazing. He also never turned his back on us, he exited the room walking backwards. It felt like there was a lot of pride in the service and quality of food. My wife and I went on our honeymoon and we went nuts. We ate at Tsukiji market in the morning, which was pretty cool. And super-expensive.
What are three things that are always in your fridge?
Some sort of snacky cheese, tons and tons of beer and Sweet Baby Ray's BBQ sauce.
What's the last meal you cooked at home?
I made salmon with mashed potatoes, which doesn't sound very exciting, but I used the fish spice recipe from Modernist Cuisine with coriander, chamomile blossoms and chopped hazelnuts. You heat that up with butter and baste the fish with it. The fish spice mix calls for tapioca maltodextrin, so I ordered some online not really thinking that it only calls for 3 grams. I got, like, a 1-pound package, so I might have to make a bucket of it.
Modernist Cuisine sous-vide salmon! Impressive. Who's another artist you've worked with who's super into food?
Morgan Geist of Metro Area. He's just a huge food fanatic and he's turned me on to a lot of cool stuff. In Chinatown there's a dude who rides around on a bike with a pastry called "dragon's beard" that's like cotton candy, but hand-spun. It turned out to be this mythological thing for him cause the guy's never in the same place. Morgan always keeps an eye out, but it might be months in between sightings, so he buys a ton to prove to his friends that the dragon's beard bike guy exists.
---
Check out "Cocaine Blues," which I've been rocking out to for about four years, and see these guys live the next chance you get.
More Good Food Rocks on Food Republic: