At Mile End Deli's Poutine Fest, Foie Gras And General Tso's Takes Center Plate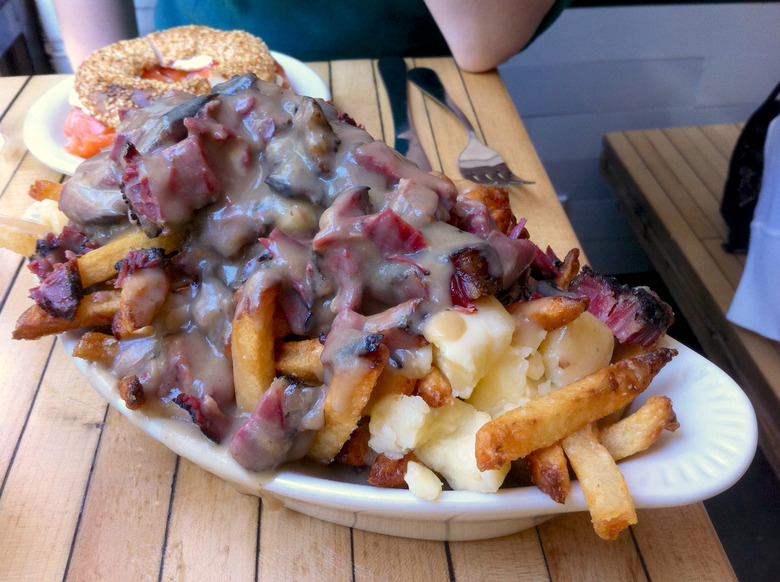 We heard about it on chef Eli Sussman's Facebook page, but that's what the age of information-sharing is all about. Here's Mile End Deli's stacked and loaded poutine menu for the rest of the week:
Chilaquiles Poutine: Crispy beef tongue, red onion, cilantro, scallion, cheese curds, salsa verde, crema
Smoked Meat Burger Poutine: Chopped smoked meat burger, fries, mustard-mayo, red onion, American cheese sauce
Thanksgiving Poutine: Smoked turkey, fries, herb-roasted carrots and celery, cheese curds, gravy
General Tso's Poutine: Panko-fried smoked chicken, fries, red pepper, scallion, General Tso's sauce
Foie Gras Poutine: Fries, shaved foie torchon, cheese curds, gravy
Plus, we talked to owner Noah Bernamoff at our big wild brunch-themed Test Kitchen yesterday, who told us all about his epic culinary brainchild. You shouldn't need reasons to hit Mile End (in Brooklyn or Manhattan) extra-hard this week, but just in case, allow him to convince you:
"The foie poutine – we shave the foie on top so it melts into the gravy – is like a perfect poutine, on steroids." Plus, the Mile End team is offering a punch card with the purchase of any of these poutines. Anyone who manages to try out all five variations will be rewarded with a free large classic poutine. Bernamoff reveals that the staff is betting how many cards will come back full. "There's a monetary reward for getting it correct...they can always convert that to poutine dollars."
More from the glorious world of poutine on Food Republic: