8 Things You Didn't Know About Nut Butters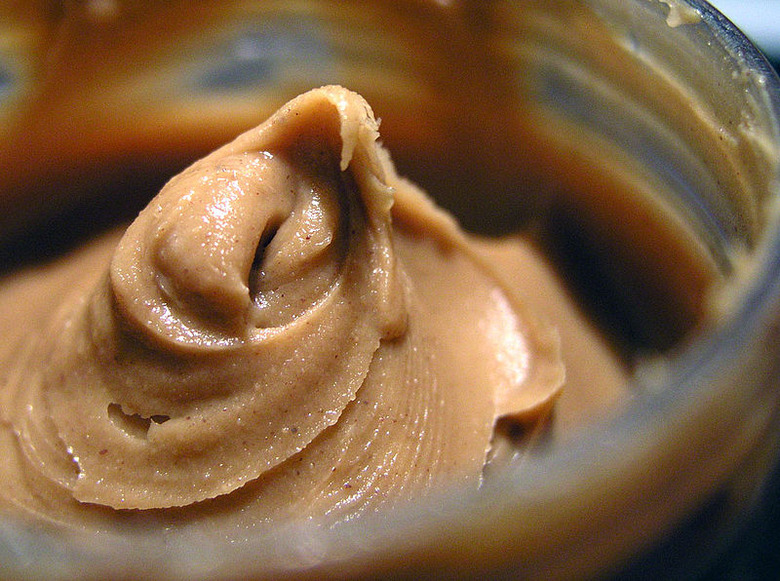 While the plastic jar of Peter Pan is hardly going out of style, some consumers have left the ubiquitous jars of industrial peanut butter sitting on the shelf in favor of a new regime of gourmet brands and exotic sounding nut butters like hazelnut, almond and cashew. And, as more purveyors come on the market, the popularity of this product continues to grow for various reasons. "Nuts are a great source of protein and nut butters make it easy to get a boost of energy along with heart-healthy fats," says Justin Gold, owner of the Colorado-based, 10-year-old organic nut butter brand Justin's. Aside from health aspects, here are nine other delicious facts about nut butter that will help endear it to you even more.
1. Most Nut Butters Are't Actually Made From Nuts
Despite popular opinion, peanuts, almonds, cashews, pecans, pistachios and macadamias aren't actual nuts; they are fruits and seeds, save for the ubiquitous peanut, which is a legume. The only true nut you will find commonly made into a nut butter is the hazelnut. Though, for culinary purposes, all these products are considered nuts, hence the overall use of the term "nut butter" that, by the way, doesn't have butter in it either.
2. Not Just For Spreading
"Nut butters are great for adding an unctuous quality to dish instead of using animal fat or cheese," says chef de cuisine Meghann Ward of Coppa in Boston. "There is also the obvious benefit of a nutty flavor without just using toasted nuts." At the restaurant, Ward uses a house-made almond tahini to add more oomph to the commonly sesame seed–based sauce, and in their pancake mandorla, she puts in almond butter to give it a protein punch and add a deeper flavor. Then, at Lower48 Kitchen in Denver, chef Alexander Figura has also taken nut butters beyond their common purpose and uses them in dishes like the cream cheese parfait, which has homemade pistachio butter, and the smoked peanut butter that he whisks with sherry vinegar and roasted garlic puree, then serves with a scotch egg and smoked coleslaw.
3. Even Big Brands Have Looked Beyond the Peanut
You don't have to go gourmet to get a nut butter that isn't peanut-based. Jif now does smooth and creamy versions of almond and cashew butters. So far the other big guys stick to the cheaper, more assessable peanut. But, as other nut butters continue to grow in popularity, we wouldn't be surprised if they start marking their own soon enough. Until then, go for Jif if you are on a budget, or spend the extra dough for natural brands including Justin's, Once Again Organic, Wild Friends and a slew of other small-batch, organic-based companies.
4. Nut Butter Is Easy To Make
According to Gold, on a small scale, making nut butter is a simple, two-step process. Basically, he says, you put the nuts in a food processor and turn it on. Chef David Santos, who has made an array of nut butters at his restaurant Louro in New York, adds seltzer to the mix. "It helps break down the nuts better and also is filtered to have a little more of a pure taste," he says. Making nut butter on a large scale is a lot more tricky, and Gold claims most are over-processed in large-scale grinders. "We went out and created a proprietary grinding process that allows for a unique texture and mouthfeel that maintains the integrity of the nut without overly processing," he says. But, for you home chefs, grab your food processor and puree away.
5. It Takes Approximately 372 Nuts to Fill a 16-Ounce Jar of Pure Nut Butter
That is, depending on the nut and who makes it. This particular figure comes from Justin's, and we can't imagine other nut butter companies numbers sway too far from this amount. Of course, if you look into some nut butters like Skippy or Nutella (about 50 hazelnuts per 13-ounce jar) they have a lot of fillers like sugar and milk that take away from the nut ratio.
6. Weather Affects Nut Butter
This fact is kind of a given when you really think about it, but most people don't look at a jar of peanut butter and immediately consider the environment. "One of the best components of our products are that they are made with a small amount of ingredients," says Gold. "However, when droughts, floods and consumption spikes in foreign markets affect any of our ingredients, it has an alarming impact on availability, price and quality." He says that one year they even ran out of peanuts due to a short crop, leading to a six-month halt in production.
7. Every Nut Has Its Nuances
Nutritionally speaking, almond, peanut and hazelnut butters are pretty comparable, and the biggest difference you find is in the taste. "A few years ago, we were getting a ton of feedback from our consumers that our Chocolate Hazelnut Butter was just too 'hazelnutty,'" says Gold. "I know it sounds crazy, but hazelnut is a very robust nut that can be overpowering." Based on that input, Justin's decided to add almonds to the mix and that helped round out the flavor profile. On that note, almonds tend to run sweeter than, say, the walnut, which has a woodsy, almost dry taste to it. Cashews are by far the creamiest of the nuts, but despite their rich flavor, it's the macadamia that's the highest in calories, as almost 75 percent of this seed is fat. Pecans are right above the macadamia in the high calorie and fat content, but while the former has a dry, buttery taste, pecans remain more earthy and sweet with supple flesh and a flaky exterior.
8: Honey or Chocolate-Infused Nut Butter is Totally A Thing
You no longer have to choose from just crunchy or smooth — right now it appears everyone is making their own version of honey-tinged or chocolate-fused nut butter. You have options from both Skippy's natural line of peanut butter and the higher-end brand Peanut Butter & Co., which also does a maple blend, a white chocolate option and one with cinnamon and raisins. Jif makes a chocolate-hazelnut spread à la Nutella, Smucker's adds honey to one of their natural blends and Justin's mixes chocolate, honey and vanilla in various incarnations of their almond, hazelnut and peanut butters.
Still on the peanut butter train? Read these stories on Food Republic: