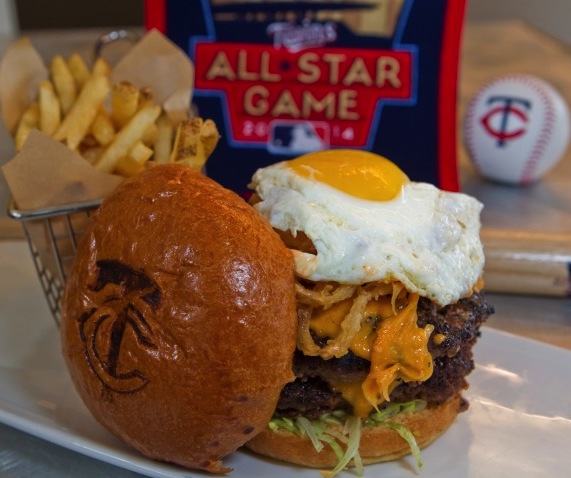 If you're anything like the sports nuts we are here at Food Republic, you're dreading both tonight and Wednesday night this week. Why, you might ask? These are the only two days of the entire year that do not feature any professional sporting games in the United States. While tonight's Home Run Derby offers some solace for us, we're already looking ahead to tomorrow night's MLB All-Star Game to return things to something resembling normalcy.
There are several storylines heading into the annual midsummer classic, held this year at the Twins' Target Field in downtown Minneapolis, Minnesota. It'll be New York Yankees' captain Derek Jeter's last All-Star experience, while breakout young stars such as Yasiel Puig and Masahiro Tanaka get to experience the spotlight for the first time. Ever curious about the culinary offerings, we were particularly excited to hear about the stadium's special "hangover burger" – a bacon cheeseburger topped with a fried egg and Sriracha – which is the perfect compliment for Target Field's new self-serve beer machines. Other items served specifically for the evening will include a "Double Play Sausage" and lobster corn dogs.
In honor of tomorrow's game, we take a look back at our video featuring NYC chefs Bobby Hellen, Ed Cotton, Michael Psilakis, Danny Amend and Joey Campanaro making baseball-style hot dogs for us. Have a look and be sure to let us know which frank looks the most (least?) appealing in the comments section.
Read these baseball stories on Food Republic: