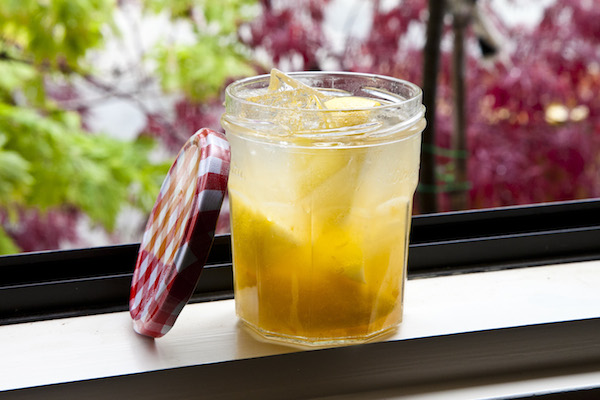 Here at Food Republic we're taking a, shall we say, laid-back look at the California lifestyle with the help of our sponsor Hangar 1 Vodka. This series, Hidden Gems, is an introduction to artists and artisans who produce work that pairs extraordinarily well with Hangar 1 cocktails.
New Yorker and master mixologist Somer Perez gave up Manhattan three years ago for a move to sunny Los Angeles. We caught up with Somer to chat about food shopping in Los Feliz, cocktail trends, and just how far she's come since the reign of Cosmopolitans in the 90s…plus she gave us an original recipe that combines homemade mint simple syrup, Hangar 1 Buddha's Hand Citron, and orange blossom iced tea. It's the perfect drink to sip by the pool this summer.
How and where did you master the art of the cocktail?
I wouldn't say I have mastered the cocktail, because once we stop learning, we stop growing.  But I got all of my training in NYC.  I started off as a bar back for the greats: Audrey Saunders, Danny Nyanu, and Dale DeGroff.  Mixology was just starting to become what it is today, and I honed my skills by cutting limes and stocking glassware. I made my way to head bartender over a seven year period.
What's the most important factor in mixing a drink? Ingredients? Technique? Presentation?
It's all about the ingredients. You can have the technique, you can make a fancy presentation, you can flip a bottle around or light something on fire—but what's in the glass is the most important. If you don't have the ingredients, you don't have a cocktail. 
How do you come up with the inspiration for a new cocktail?
I always start by getting inspired by what's in season.  L.A. has some tremendous farmer's markets and it's hard not to get inspired there. If I'm doing cocktails for a restaurant I'll study the food menu and ethos of what the chef is going for. The spirit, in most cases, comes last for me.  
Which drink is your favorite to create? Most memorable?
I like making straightforward classics.  A well-made Negroni, gimlet, or vodka martini.  Folks who order those really appreciate when they are done right. My mentor made sure that I was completely skilled in making the classics before I moved onto anything else.  Even though it was the 90s and I was begging to learn how to make Cosmopolitans! 
How do you like to entertain at home?
I'm a big home entertainer, as most of my friends will tell you. I can put out a mean spread! If I do cocktails at home, I will usually batch them or have something in a pitcher. For brunch parties there is always a fun Bloody Mary bar. It's all about a theme that guests can "do it themselves" because I don't want to spend all my time in the kitchen!
What's the next big thing in cocktails? As in, do you see any upcoming trends?
I see a lot of trends with classic cocktails available "on tap", which if done right is super cool.  
What's your personal favorite cocktail to drink after hours?
If I am going for cocktails, my go-to is a well-made classic vodka gimlet or a strong margarita.  
What do you love (and loathe) about living in California?
I love the weather and of course loathe the traffic. Coming from NYC and having never driven before, I'm often gob smacked by the amount of cars on the road! 
In your opinion, what's the difference between a mixologist and a bartender?
I think a mixologist has a more keen sense for the whole picture of cocktails and flavor profiles.  A mixologist, much like a chef, can look at an array of ingredients and figure out the puzzle of what can go where. It's important to point out that one is not better than the other. A solid bartender who can execute cocktails in a timely and consistent fashion is invaluable.  
What's the best type of glass to drink a vodka cocktail from? Does the shape of the glass really make a difference?
It's about what's in the glass. Sure, you can find cool glasses for different spirits and say that it makes a difference….but at the end of the day if you have a less-than-par spirit in an expensive glass, the glass won't make it taste any better!

California Somer Iced Tea 

2 oz. Hangar 1® Buddha's Hand Citron
1 oz. Orange Blossom Tea, chilled*
3 to 4 Slices Ripe Nectarine, peeled
1/2 oz Lemon Juice
1/2 oz Mint Syrup**
Club Soda
In a mixing bowl, combine the nectarines, lemon juice, and mint syrup then muddle. Add Hangar 1 Buddha's Hand Citron, Orange Blossom tea, and shake. Strain into a highball glass and top with club soda. Garnish with a mint sprig and a nectarine slice. 
*Brew your favorite Orange Blossom tea and cool to room temperature or keep refrigerated before use. 
**To make your own mint syrup, combine two parts of sugar to one part water in a pan and boil. When the mixture starts to bubble, add two generous handfuls of mint and cover. Let boil for three to four minutes, then remove from heat and discard the mint.