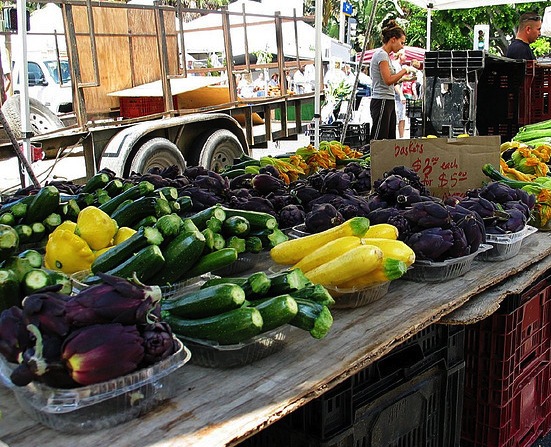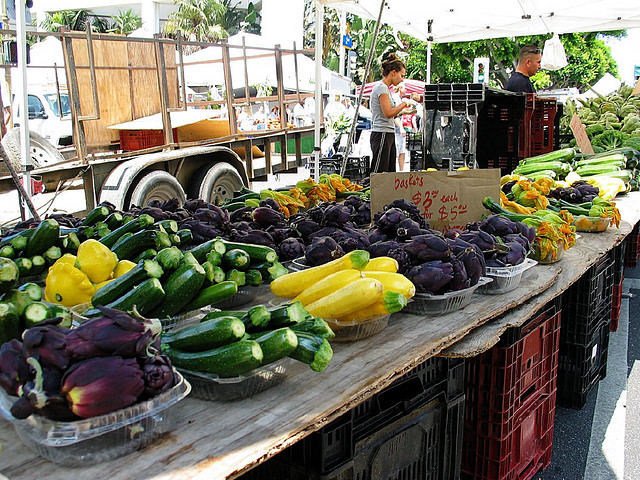 Over the past couple of months we've taken a look at the California lifestyle with the help of our sponsor Hangar 1 Vodka . We've now reached our final series: Farm Fresh. In honor of Hangar 1's fine fruit-infused flavors , this series dives into the sources and products of the delicious fruit grown in California.
Farmer's markets are an ideal place to buy the freshest seasonal produce while supporting local economies and fresh fruits and herbs are ideal additions to Hangar 1 Vodka cocktails—so it's a win/win situation. If you're lucky enough to live in California, you're spoiled by easy access to fresh produce all year long at the following farmers' markets. We threw in some information about food foraging in California, because hey – gourmet eating doesn't always come cheap – but in California, sometimes it's free.
And if foraging or farmers' markets aren't your thing, just drive to Silver Lake and eat at Forage. The chefs there do all the sustainable and farmer friendly shopping (plus the cooking) for you.
Point Reyes Farmer's Market: Point Reyes Station
This market is just outside Toby's Feed Barn and a community garden in Marin County. It doesn't have a lot of stalls but Point Reyes isn't a big town, and the quality is excellent. People drive from all over to buy veggies, of course, but that's mostly a front. They're really in Point Reyes to eat the grilled cheese made with Osteria Stellina organic bread, Cowgirl Creamery cheese, a fried egg and a thick slice of fresh tomato. Live music and bales of hay give the market a down home ambiance. Unlike most farmers' markets in California, this one does close for the winter.
Forage tip: Fruit, herbs and vegetables growing on public property (read: public parks and forests, and trees overhanging a fence or yard onto the sidewalk) are legally up for grabs in the state of California. Just please be careful with the mushrooms and consult an expert.
Santa Monica Farmer's Market: Santa Monica
900,000 shoppers hit the Santa Monica farmer's market every year, but Wednesday is the day that's most popular. Admittedly, this market is a bit of a scene: celebrities are known to shop there and wannabe celebrities dress up in costumes. Prepared foods are big here, as are hip arts and crafts. Cooking demonstrations are regularly held. This summer Betty B's Ranch stall is selling avocados, limes, lemons, Valencia oranges, and rosemary. Yes, that is a petting zoo.
Foraging tip: Weeds like dandelions (you just want the greens, not the flowers) are plentiful and flavorful in salads. Snails were brought to California from France and Italy, specifically to be eaten as escargot – a delicious and cheap invasive species for Californians today.
San Joaquin Certified Farmer's Market: Stockton
If you're looking for a farmers' market that focuses on produce and not the foodie scene, then get to the San Joaquin Certified Farmer's Market. Sunday is the day to scope out lotus root, Chinese melon, and herbs from Southeast Asia. Prices here are lower and you can get homemade tamales and hummus with pita bread. Some vendors sell grab bags of mixed fruit for a few bucks per pound, though you might get the occasional bruised piece. Olive oil in refillable bottles is also a great deal to check out.
Foraging tip: Join a local foraging group like Forage Oakland and become an expert on what grows in the wild, and where. If there's even a zombie apocalypse, these are the people you want as your friends.
The Vegetable Shop at the Chino Family Farm: Rancho Santa Fe
The third-generation of family farmers who run the Vegetable Shop know a thing or two about presentation. Each piece of produce is lovingly presented in a rainbow of colors. Some of the veggies look like a science experiment: red carrots, yellow tomatoes and purple potatoes—but the taste will turn you into a believer. If Alice Waters can make the drive regularly, so can you. The shop is more of a produce stand than a farmer's market. Open daily, but bring lots of cash—prices are steep.
Foraging tip: Herbs are easy for beginners to forage. Look for wild rosemary, bay leaves (fresh packs way more of a punch than dried) and dill. Abandoned garden lots are havens for mint and cilantro gone wild.
The Ferry Plaza Farmers Market: San Francisco
The Ferry Plaza Farmers' Market is open three days a week on Tuesdays, Thursdays and Sundays. The market is actually operated by a nonprofit center and sells both fresh produce and artisanal prepared foods. Everything from regional eggs to wood fired pizza to specialty cheese is for sale. Prepare yourself for long lines (25,000 people visit weekly) and lots of tourists who are there to enjoy views of the bay with their Blue Bottle Coffee.
Foraging tip: If you find yourself in someone else's fiercely guarded morel territory, God help you.