5 California Ingredients To Add Zing To Your Summer Cocktails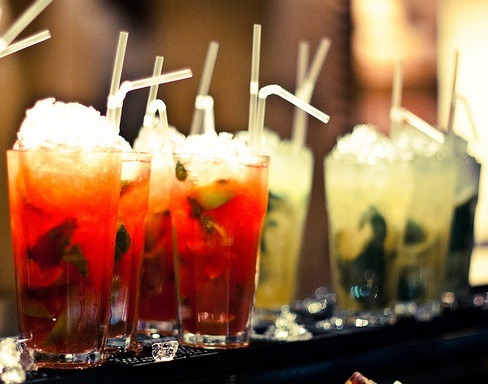 Over the past couple of months we've taken a look at the California lifestyle with the help of our sponsor Hangar 1 Vodka . We've now reached our final series: Farm Fresh. In honor of Hangar 1's fine fruit-infused flavors , this series dives into the sources and products derived from the delicious fruits of the California land.
Summer time and the living is easy—if it's not, you probably need a cocktail. We rounded up six ingredients grown in California (get them at your local farmer's market!), then paired those ingredients with Hangar 1 Vodka to create five sip-able libations. Okay, four cocktails and one alcohol-infused Popsicle—all best enjoyed with a little sunshine.
Strawberries + Hangar 1 Kaffir Lime Vodka = Spiked Strawberry Popsicles
Hangar 1® Kaffir Lime Vodka
Pineapple juice
Fresh strawberries, mashed
Add equal parts vodka and pineapple juice to a bowl, then add strawberries. Stir to combine. Pour the mixture into a Popsicle mold and add a stick. Freeze until solid.
Lemon + Hangar 1 Straight Vodka = Mint Vodka Lemonade
1 1/2 cups Hangar 1® Straight Vodka
2/3 cup simple syrup
1 cup freshly squeezed lemon juice
1 cup chopped mint leaves
Ice and fresh mint sprigs
Combine the chopped mint and simple syrup in a bowl or Mason jar, then stir in the lemon juice and vodka. Cover and refrigerate at least 30 minutes to let the flavors merge. Strain the mixture and pour over ice. Garnish with fresh mint sprigs.
Honey + Hangar 1 Mandarin Blossom Vodka = Drunken Bees Iced Tea
2 ounces Hangar 1® Mandarin Blossom Vodka
2 ounces unsweetened iced tea
2 ounces lemonade
1 tablespoon honey
Lemon wedges
Drizzle the honey into a bottom of a chilled pint glass. Add the vodka, iced tea and lemonade, then stir until the honey is dissolved. Garnish with fresh lemon.
Avocado + Hangar 1 Buddha's Hand Citron Vodka = Avocadotails
1 1/2 ounces Hangar 1® Buddha's Hand Citron Vodka
1/4 ounce simple syrup or agave nectar
Avocado half
1 tablespoon lime juice
Ice and sparkling water
Peel the avocado and remove the pit, then blend in food processor or mash until thin. Combine the vodka, simple syrup or agave nectar and lemon juice in a cocktail shaker filled with ice. Shake vigorously, then strain into a chilled martini glass. Top with a splash of sparkling water.
Mint + Raspberries + Hangar 1 Kaffir Lime Vodka = Fruity Russian Mojitos
1 1/2 cups mint simple syrup (recipe below)
1 cup chilled Hangar 1® Kaffir Lime Vodka
1/3 cup fresh lime juice
1 cup chilled club soda
Ice, fresh mint sprigs and raspberries for garnish
Mint Simple Syrup
1 cup sugar
1 cup water
1 cup packed fresh mint leaves
1/2 cup fresh mashed raspberries
In a small saucepan over medium-low heat, combine the sugar, water, mint and mashed raspberries. Bring to a boil, reduce the heat and simmer for five minutes, or until the sugar has fully dissolved. Remove the saucepan from heat and allow the thickened mixture to cool for 20 minutes.
In a pitcher, combine the mint raspberry simple syrup, vodka, lime juice, and club soda. Pour into ice-filled glasses and garnish with mint and raspberries.