Illustrated Guide: Simple Tomato Tart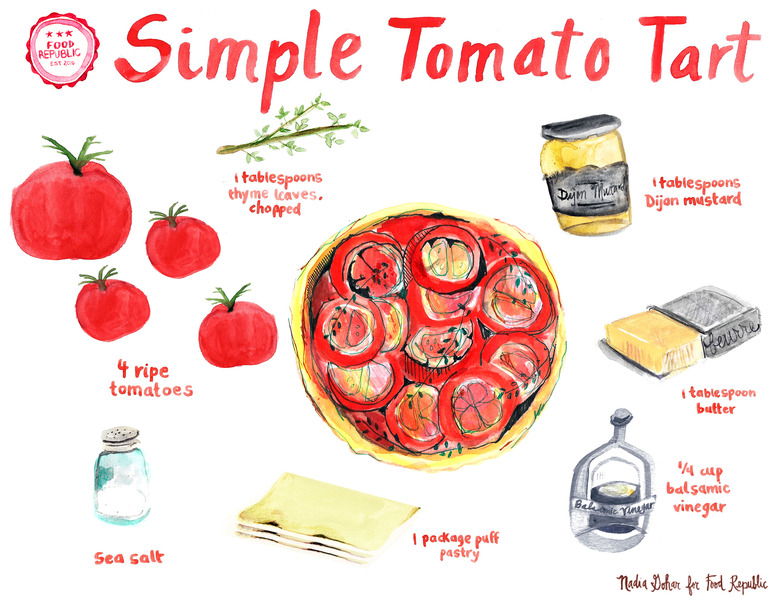 Tomato Week is in full swing on Food Republic, so how about a tomato tart recipe in lovely watercolor form? The recipe calls for store-bought puff pastry, so it's an easy yet impressive dish to bring along to a summer cookbout or picnic. Top the tart with a little goat cheese and pair with a salad for a light, seasonal meal. Finish off the meal with watermelon and basil popsicles to beat the heat.
The original recipe comes from Provence, France and we've tweaked it to make it 100% fool-proof for the home cook. Use medium-sized heirloom tomatoes (the ripest you can find) for best results.
Directions:
Preheat the oven to 400 degrees. Slice the tomatoes in 1/4 inch slices and sprinkle a tablespoon of salt over them. You want the excess water to come out of the tomatoes, which will keep the tart from getting soggy. Let the salt draw out the water for 10 minutes.
Use a paper towel to wipe off extra salt and moisture from the tomatoes.
Butter a baking or tart dish and arrange the puff pasty inside so that it reaches the edges. Poke holes in the pastry using a fork.
Spread the Dijon evenly over the pastry. Add 1/2 tablespoon of thyme, then arrange the tomatoes on top. Add the other 1/2 tablespoon of thyme over the tomatoes.
Lightly drizzle the balsamic vinegar on top, dot with the remaining butter and garnish with a few sprigs of thyme.
Bake for 45 minutes or until the pastry is a deep golden-brown, just before the edges begin to char. Let rest for 15 minutes, cut unto slices or wedges and serve.
More Illustrations on Food Republic: