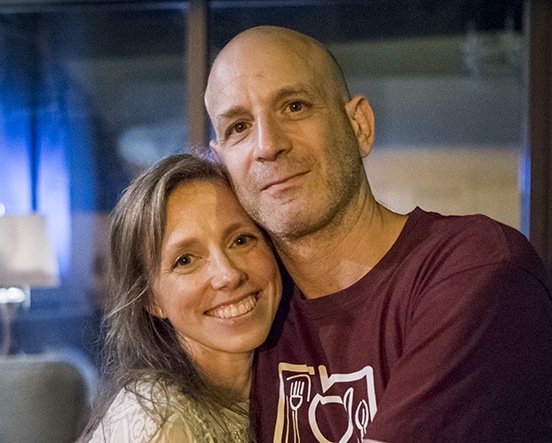 You may adore his food, you may treasure his cookbooks, you may even know that he earned a James Beard Award. But did you know Chef Marc Vetri is a yogi? Yes, in the midst of building one of Philadelphia's most thriving and well-received restaurant empires, Vetri makes time for his wife, three kids and some OMing. We were so intrigued by Vetri's sense of Zen and seemingly limitless energy, we had to ask him how he does it.
What is a typical work day for you, from start to finish?
I usually wake up at 5 a.m. or so. I make time for either boxing, Jiu Jitsu or yoga before I begin the day. I help get my three kids ready for school: I have an 8-year-old, a 6-year-old and a 4-year-old, so they keep me pretty busy. I bring them to school and then hit the ground running at all of the restaurants. I meet with my chefs, I consult on menus, we come up with new things and I make time to mentor and inspire my team in any way I can. I pick up the kids at 2:30 and make time to be with them for a while. We love to read, play outside when the weather is nice and do things as a family during that time. At around 4:30 I jump back to the restaurants and supply what is needed. I usually start off at Vetri and then roam to the others. I make it home at around 10 p.m. Then start it all over again.
How do you sustain your energy for that long?
I work out diligently and make time for myself in the morning to start my day out refreshed. I eat lots of vegetables throughout the day and foods that have a high energy. I like sushi, pho or something quick but healthy. I love espresso too — only the Italian kind, of course. More so for the flavor than to keep me awake.
Anything edible or drinkable that helps you keep moving? 
My wife Megan takes such good care of me. Every morning she makes an incredible veggie juice. She uses carrots, cucumbers, various lettuces, spinach, some ginger and either an apple or pineapple for a touch of sweetness. We met in a yoga class and try to keep each other in-check when it comes to our health. I think the juice and some regular exercise is the key to making my body have energy. I also think being around my kids, the movement of the restaurants, the hustle of it all, drives me forward and motivates me. There is no time to be bored or uninspired.
What personal practices and exercises do you incorporate into your daily life?
I think it's important to have a good balance of the personal and professional parts of yourself. I think staying focused and even is also really important to me. Nothing is or has to be monumental: I like to stay even-keeled and do what is needed to get the job done, and do it well. I also enjoy reading, playing my guitar and keeping my mind inspired, which is just as important as my body.
---
This has been presented by our friends at Starbucks.