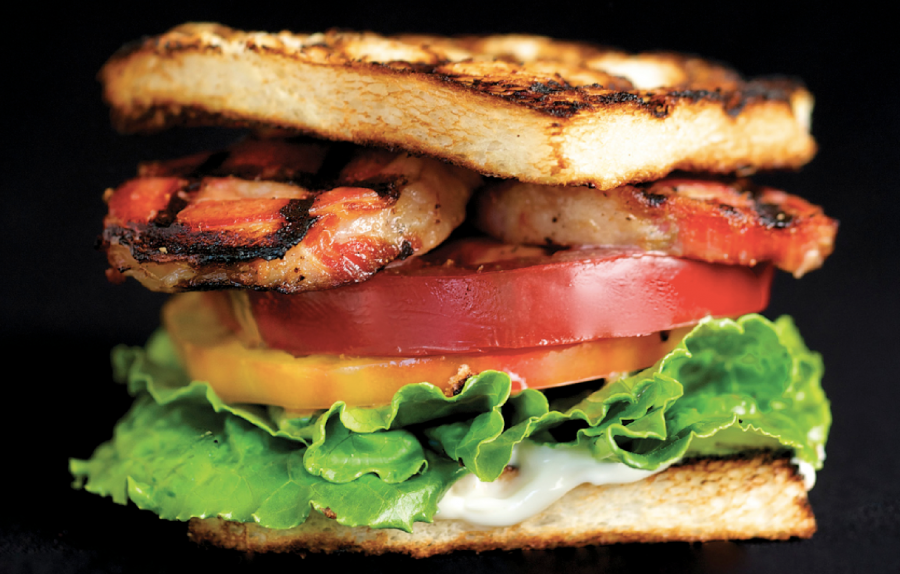 Tomatoes know no bounds. While certain American ingredients are inextricably linked to their geography — here's looking at you, Florida citrus — the versatile tomato inspires cooks and enlivens plates from coast to coast. Served fresh, roasted to perfection, or pickled to a T, tomatoes star in some of the country's most iconic dishes. Here's where to take a bite (or, a sip) out of the top 20 most tantalizing lycopene-loaded treats (in no particular order).
1. New York, NY: Bucatini all'Amatriciana at Babbo
At Babbo, the still-hot-after-all-these-years culinary carriage house in Manhattan's West Village, Mario Batali's most famous dish is one of his simplest. Combining salty guanciale, fresh pasta and spicy, house-made tomato sauce, Babbo's bucatini is edible proof that you need not mess with success. 110 Waverly Place, 212-777-0303
2. New Orleans, LA: Shrimp-stuffed creole tomatoes at Purloo
The Creole tomato, a product so popular it has its own annual festival, can refer to any cultivar of vine-ripened fruit grown in the Bayou's alluvial soil. Nola chef Ryan Hughes, whose popular pop-up Purloo is plotting its brick-and-mortar debut in the new Southern Food and Beverage Museum this September, serves the seasonal stars stuffed with Louisiana shrimp salad. Fridays, 1415 Prytania St. Check Facebook and Twitter for upcoming pop-ups.
3. Portland, OR: Lamb belly BLT at Le Pigeon
We feel strongly about the epic BLT at Gabriel Rucker's uber-creative Industrial City outpost. Made with cured lamb belly, beefsteak tomatoes, lettuce and bacon-infused mayonnaise, it takes high-low cooking to the next level.  738 E. Burnside St., 503-546-8796
4. Austin, TX: Migas at Ciscos
Texans don't mess with migas, the treasured breakfast plate made from crispy tortillas, chopped tomatoes, onions, peppers and eggs. In Austin, traditionalists swear by the hangover-busting plates served at Ciscos, an east side institution for more than 50 years.  1511 E. Sixth, 512-478-2420
5. Miami, FL: Pan con tomate at The Bazaar by José Andrés
Who better than el jefe Andrés to tackle the quintessential Spanish tapa? His version at the buzzy SLS South Beach is served on crusty sourdough, and can be found on pretty much every table in the Philippe Starck-designed space. 1701 Collins Ave., 305-455-2999
6. Richmond, VA: Fried green tomatoes at Julep's
One of the city's first proudly Southern fine-dining restaurants, Julep's elevates the classically Richmond combination of fried green tomatoes and pimento cheese with a piquant Peppadew aioli. Owner Amy Ayers proudly recalls serving the combo to Andre Agassi and Steffi Graf a few years back. Game, set, match. 1719 E. Franklin St., 804-377-3968
7. Chicago, IL: Bacon-roasted tomato at Bavette's Bar & Boeuf
Brendan Sodikoff's retro-chic twist on the traditional Windy City steakhouse serves a modish take on a bleu cheese and beefsteak tomato salad. Bavette's juicy tomato starter is bacon-roasted, bringing smoky, salty flavor to a bed of crisply dressed watercress. Where's the boeuf, indeed. 218 W. Kinzie St., 312-624-8154
8. New York, NY: Shakshuka at Balaboosta
Einat Admony's name is synonymous with modern Israeli cooking in New York, where she has three stellar restaurants, including newly opened Bar Bolonat. Head to NoHo's Balaboosta for brunch to taste her shakshuka, the Israeli staple made with poached eggs, spicy tomato sauce, spinach and grilled sourdough. It is satisfaction in a bowl. 214 Mulberry St., 212-966-7366
9. Baltimore, MD: Tomolive martini at Woodberry Kitchen
Woodberry Kitchen Pantry, the epic canning operation Spike Gjerde operates alongside his award-winning restaurant, preserves thousands of pounds of tomatoes annually. Among these are tomolives, or house-pickled cherry green tomatoes. Restaurant regulars request theirs in Woodberry's "classic" martini, made with icy Philadelphia gin and dry vermouth. Because sustainable agriculture is a drink best served cold. 2010 Clipper Park Rd., 410-464-8000
10. Oakland, CA: Walnut and spiced tomato ice cream at Oliveto
For more than 20 years, this Bay Area standby has hosted weeklong tomato festivals in late summer. The peak-season fruit is featured in all of the 30-odd menu items, but it's the dessert course, like the caramel-glazed walnut and spiced tomato ice cream bombe, that really paints the town red. 5655 College Ave., 510-547-5356
11. Washington, DC: Spaghetti with cherry tomatoes at Graffiato
"Jersey" Mike Isabella's Chinatown restaurant riffs on the classic Italian-American spaghetti dinner with this simple stunner made from hand-cut pasta, olive oil–poached cherry tomatoes and Thai basil. A favorite among Graffiato regulars and fellow Top Chef contestant Angelo Sosa, the pasta is a permanent fixture on the otherwise frequently changed menu. 707 6th St. NW, 202-289-3600
12. Philadelphia, PA: Tomato pie at Sarcone's Bakery
Cheesesteaks may get all the ink, but tomato pie is a Philly staple. Similar to cheese-free Sicilian pizza, the homey favorite is baked to perfection at Sarcone's, a family-run joint that's been keeping South Philly saucy for nearly a century. 758 S. 9th St., 215-922-0445
13. Multiple locations: Spaghetti with tomato and basil at Scarpetta
The signature dish at Scott Conant's ever-expanding Scarpetta is, like many Italian recipes, an ode to its ingredients. His deceptively complex red sauce uses Roma tomatoes, basil, garlic and little else. Bravissimo! New York: 335 W. 14th St., 212-691-0555; Miami, FL: 4441 Collins Ave., 305-674-4660; Beverly Hills, CA: 225 N. Canon Dr., 310-860-7970; Las Vegas, NV: 3702 Las Vegas Blvd., 702-698-7960
14. Charleston, SC: Okra soup at Bertha's Kitchen
Culinary trends come and go, but the okra soup at soul food mecca Bertha's Kitchen is timeless. In this Dixieland delight, stewed tomatoes are thickened with fresh okra and served as a hearty stew with smoky bacon and fresh corn. 2332 Meeting Street Rd., 843-554-6519
15. San Diego, CA: Prawn star bloody mary at Café 21
In sunny San Diego, brunch is serious business. The salt-rimmed Bloody Mary at this Gaslamp spot doesn't mess around. It comes to the table topped with a giant, head-on prawn, as well as an optional skewered grilled cheese sandwich. It is truly a meal in (and on) a glass. 802 5th Ave., 619-795-0721
16. Houston, TX: Juliet tomato tart at Oxheart
Justin Yu diversifies protein-rich Houston at this vegetable-centric Warehouse District dining room. This summer, the talk of the town is Yu's garden fresh dessert course, which combines a juliet tomato tart, green tomato jam and frangipane with vanilla ice cream. 1302 Nance St., 832-830-8592
17. Seattle, WA: Oyster shooters at The Brooklyn
Elliot's is an old-school classic, but the city's Marmot-clad movers and shakers head to downtown's clubby The Brooklyn. Locals belly up to the long copper bar for stiff martinis and unbelievably fresh oyster shooters covered in ice-cold vodka and tangy, house-made cocktail sauce. Bottoms up! 1212 Second Ave., 206-224-7000
18. San Francisco, CA: Michael Mina's Dungeness Crab Cioppino
Mina doesn't currently serve his cioppino at any of his Bay Area restaurants, but his recipe is legendary. Made with Dungeness crab and a briny, garlicky broth loaded with San Marzano tomatoes, the flavor is unmistakably San Francisco – no matter where you cook it. Various locations
19. Winter Park, FL: Heirloom tomato salad at Luma on Park
In hot and tomato-heavy Orlando, locals clamor for Chef Brandon McGlamery's heirloom tomato salad, available only when the chef is happy with the selection from nearby Waterkist Farms. He pairs the heirlooms with seasonal stone fruit, basil and roasted pole beans, and dresses it in a rich burrata vinaigrette. 290 South Park Ave., 407-599-4111
20. Cincinnati, OH: Chili at Camp Washington Chili
James Beard Award aside, Cincy's chili counter is a democratic place. The crushed tomatoes, moderate spices and long-simmered beans can be accompanied by chopped onions, served on a bed of spaghetti or topped with a handful of orange cheese. Or, you can ask for a Coney, which is an all-beef hot dog incorporating pretty much all of the above. The choice is yours.  3005 Colerain Ave., 513-541-0061
Read more about juicy tomato goodness on Food Republic: