What's In Season In Early July: Sour Cherries, Baby Beets And Asian Celtuce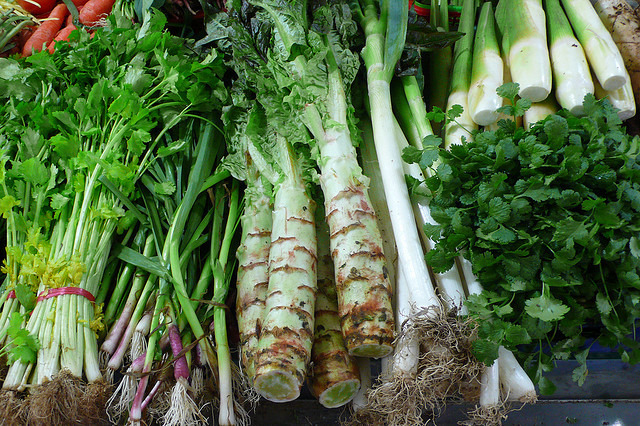 July is finally here and there is no denying the glory of the farmers market at this time of year, no matter where you live. For some areas, it's the official start of summer and beginning of their growing season. "Frankly, there is a whole lot of excitement this time of year in the colder parts of the country, which translates into a lot of enthusiasm for us chefs and cooks when see these baby vegetables," says chef Paul Berglund of the Bachelor Farmer restaurant in Minneapolis. Like many northern states, Minnesota is just starting to see the season's bounty. "It's the beginning of the period of abundance in our neck of the woods, and it's important to us because we don't have the luxury of growing stuff in the ground year round," Berglund says.
One of Berglund's favorite things right now is baby vegetables, which he uses to garnish and make up numerous carefully cultivated dishes at his Nordic-style restaurant. Berglund is also seeing a plethora of tender early lettuces come his way and celtuce, a unique Asian green. Also, while sour cherries aren't prevalent in Minnesota yet, many places are seeing their first crops, so naturally we have to pay homage to them, as well.
Baby Beets: "One of the neat things about this time of year in Minnesota is that nothing has had a chance to grow big yet," says Berglund. "It's the time to celebrate the sweet, baby vegetables like baby beets." Right now, Berglund is getting dime-sized beets from his local farmer, and he flash-cooks them to make a flavorful Nordic-inspired dish with Camembert cheese (see the recipe below). "You have to cook them gently and quickly," he says, adding that you must boil the beet for a minute with the greens out of the water, then immerse the greens for just a second to make them a tender. Serve these tiny root vegetables whole as part of a crudites dish, garnishing a protein, in a salad or even on their own. They are fun, flavorful and they look darn good on the plate.
Sour Cherries: Unlike their sweet cousins, these sweet-and-sour orbs aren't normally eaten by the handful. (Unless, that is, you like the sensation of sucking on Sour Patch Kids.) Instead, take this tart fruit and use it to spruce up your baking repertoire by making pies, tarts, scones and jellies. You can also use sour cherries to create a flavorful sauce for duck or chicken. Some people even use them to make wine. Like all produce, there are many types of sour cherries, including the popular Jubileum and Montmorency, as well as hybrids like Danube, all ranging in color from bright red to purple-black to yellow-orange. To pick the best ones, look for slightly firm fruit without blemishes. Then, store them in your fridge unwashed until you're ready to use. But, don't wait longer than a couple days. Because these beauties are more perishable than regular cherries, you probably won't find them outside your local farmers market. Just make sure to get them soon. The season is short and sweet — or, sour, in this case.
Celtuce: What, you may be asking, is celtuce? Is it a hybrid of celery and lettuce as the name suggests? Or, perhaps it's a strange herb brought over with the Nordic food trend. Nope. Celtuce is a long green vegetable in the lettuce family that has a leafy top and thick stem that you chop up and eat, as well. "It has that sweet bitterness of lettuce and a core that is truly wonderful eaten raw or just wilted and braised with a little bit of butter," says Berglund. "It also has popcorn notes and is nutty and bitter but with a bit of sweetness." At the Bachelor Farmer, Berglund serves celtuce gently wilted with whipped Camembert and crispy cheese croutons made from the cheese's rind. Though it isn't common, you can find this green in some farmers markets marketed under a different name: asparagus lettuce. And, since it's an Asian vegetable, look for it at your local Chinese market, where you might find under the name wosun or woju.
Early Lettuce: Before the weather gets too hot, take advantage of the super tender lettuce greens out there right now. These delicate leaves are picked young and sold in markets across the country. The soft, thin lettuces have a superb sweetness to them that dissipates as they get bigger, which makes them perfect for a hearty salad, or garnishing a lightly grilled fish dish. The best part is, you can incorporate all the fresh radishes, peas, berries, cheese and summer squashes with the lettuce to make a superior summer salad that stands in sharp contrast to the bitter, tougher stuff that appears in August.
Young Beets and Their Greens, Whipped Camembert, Dill, and Pickles      
Courtesy of Paul Berglund, chef at the Bachelor Farmer in Minneapolis
Servings: 4
Our beets are just coming to the market these days and they are small, sweet and have beautiful greens.  They are not winter beets of the cellar.  If the greens are fresh and vibrant, keep them like we do here.
Ingredients:
4 beets the size of golf balls, with their greens
1/4 cup Camembert cheese, rind removed
1/8 cup cream
1 small shallot
1 tablespoon cider vinegar
2 tablespoons olive oil
2 sprigs of dill
About 2 tablespoons of your favorite pickle, sliced thinly
Directions:
1. Bring a large pot of water to a boil and season with salt to taste so that it is very salty, almost like the ocean.
2. Meanwhile, peel the beets and cut them in half from root upwards, in the direction of the greens and separate. If you have kitchen twine, bind the beets together at the stem. 
3. Once the water is boiling, submerge only the roots of the beets in the water. They may be pinned down to the side of the pot with a kitchen spoon, so that you don't have to hold them while they cook.  Once the beets are tender, when pierced with a pairing knife, submerge the greens until tender, maybe 20 seconds. Remove to a cool tray.
4. In a bowl, combine the cheese and cream and a pinch of salt and whisk until it is smooth.
5. Peel and finely dice the shallot. Combine with the cider vinegar and a pinch of salt. Let that sit, or macerate, for 15 minutes. 
6. Add the olive oil. 
7. Prior to serving, finely chop the dill and add it to the shallots mixture.
8. On salad plates or platters, place a couple of dollops of cheese and then the beets, with their greens. Spoon the dill-shallot mixture on and around the beets. Scatter the pickles. (At the Bachelor Farmer, the staff uses pickled carrots, but cucumbers, onions, or even capers work well.) Then, serve.
Pro Tip:
"At the restaurant, we bread the Camembert rinds and deep-fry them for an added crunch," says  Berglund. "Give it a go, if you're feeling adventurous." To do that, first dredge the rinds in flour, then in a simple egg wash of one whisked egg, then in any bread crumbs you have handy. Deep fry them until they are golden brown.
This post is brought to you by our friends at Pure Leaf
Read more Market Watch on Food Republic: