How To Flame An Orange Peel For Cocktails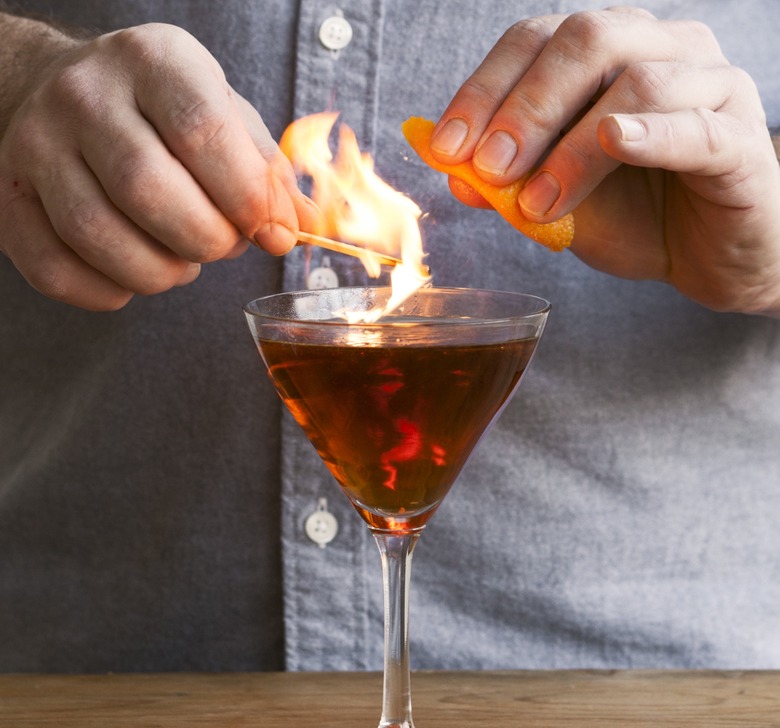 Flaming orange peels allows the fruit's oils to pass through to the drink's surfa
We may receive a commission on purchases made from links.
Jeffrey Morgenthaler is an award-winning bartender and current bar manager at Portland's Clyde Common. His writing and recipes have appeared in publications including The New York Times, The Wall Street Journal and Wine Enthusiast. The following is an excerpt about flaming orange peels for cocktails from Morgenthaler's recently released first book, The Bar Book: Elements Of Cocktail Technique.
The Trick
One popular trick behind the bar today dates back to 1970 in Los Angeles, was revived by Dale DeGroff in New York in the 1980s, and continues to be popular among bartenders everywhere, and that's the flamed orange peel. Reportedly invented by bartender Pepe Ruiz for the flame of love cocktail created for Dean Martin, the trick involves holding an orange peel close to an open flame and briefly igniting the volatile oils over the surface of the drink.
The Process
Begin with a large, thick swath of orange peel, about 1 inches by 2 1/2 inches. Holding a lit match or lighter between the peel and the surface of the cocktail, squeeze the oils so they pass through the flame and onto the drink's surface. From there it's business as usual, wiping the rim of the glass with the orange peel and deciding whether to drop or discard.
The Mystery
You'll often see bartenders "warming up" the peel by heating it first with the fire source, but I suspect that's a lot of show and not much science. The warming is a mystery to me. Flaming the orange peel should be a bit of bar magic—it must catch the guest completely by surprise. The bartender has to execute it in one fluid motion. When done properly, the guest just catches it out of the corner of their eye; then they smell the orange oil. Warming turns it into a science project and makes the guest nervous and uneasy about what should be sleight of hand.
Read more excerpts from Jeffrey Morgenthaler's book on Food Republic: