You Travel, You Eat: North Brooklyn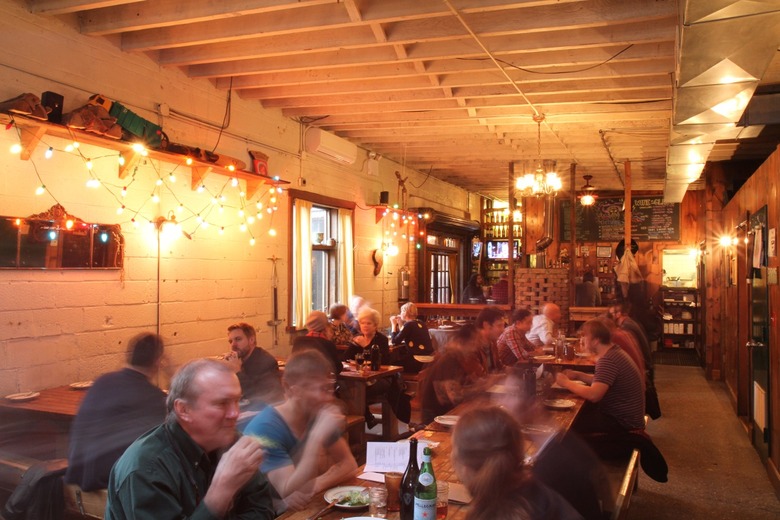 Welcome to Brooklyn, a New York City borough so bountiful we are tackling it in two parts. First up, North Brooklyn. Lifelong New Yorkers and startlingly attractive European ex-pats brave the G, L and JMZ trains to taste the future in neighborhoods like Williamsburg, Greenpoint and Bushwick. Filled with warehouses, factories and Polish– and Italian-American community centers, these formerly industrial districts now launch global food trends, thanks to a constant influx of game-changing cooks, craftsmen and purveyors. Whether you're craving innovative pizza, whimsical soul food or serious single-origin coffee, North Brooklyn never disappoints.
Editor's note: As with all lists, there is a limit to the number of places we can cover — we could have easily added an additional 12 restaurants and as many bars and shops. Consider these selections as some of the most essential. Like if we, the NYC-based Food Republic staff, were emailed by a food-obsessed friend for our "Brooklyn picks," these would be the ones. And now when a friend emails you for Brooklyn list, you now have a link to send.
RESTAURANTS
St. Anselm
Hunger is a liability at this Williamsburg steakhouse, where the wait for a table can extend to Spielbergian lengths. Plan to spend at least an hour or two at the accompanying bar, building your appetite for superlative proteins like the butcher's (hanger) steak with garlic butter, heartbreakingly tender lamb saddle with minted butter, and a mammoth, bourbon-brined pork chop. 355 Metropolitan Ave., 718-384-5054
Okonomi
Ramen master Yuji Haraguchi's tiny new Williamsburg spot serves a set menu of ichiju sansai, which is traditional breakfast fare like miso soup, roasted fish with sake kasu marinade and brown rice with bonito flake okaka — all for a mere $12-15. Opening hours are limited – between 9:00 a.m. and 2:00 p.m. on Wednesday through Friday, and 10:00 a.m. – 4:00 p.m. on weekends – so chart your course in advance. 150 Ainslie St., okonomibk.com
Maison Premiere
Bivalves and beautiful people dominate this elegant oyster and absinthe bar in South Williamsburg. Grab a spot at the massive marble bar during the hangover-crushing brunch or $1 oyster happy hour — and take in the scene with a glass of house stout or one of 25+ absinthes available by the glass. 198 Bedford Ave., 347-335-0446, maisonpremiere.com
Roberta's
In 2008, Carlos Mirarchi did for Bushwick what Magnus Nilsson is now doing in northern Sweden — he transformed an out-of-the-way destination into an epicurean Mecca. Hungry pilgrims head to Roberta's, housed in a complex of banged-up structures, to eat wood-fired pizzas topped with greens from the rooftop garden, hear sessions from the on-site Heritage Radio, or go all out at adjoining tasting room restaurant Blanca. 261 Moore St., 718-417-1118, robertaspizza.com
Traif
Located a few blocks north of South Williamsburg's Hasidic community, cheeky Traif (the name means "un-kosher") specializes in indulgent dishes like prawns with foie gras toast, lobster and sausage risotto and trumpet mushrooms tempura. Request a table on the back patio, which makes the crowded dining room and nearby BQE seem miles away.  229 S. 4th St., 347-844-9578, traifny.com
Marlow & Sons
Farm-to-table before such hyphenates existed, this South Williamsburg mainstay started as an offshoot of Diner next door. It has since spawned a gourmet grocer, Marlow & Daughters, less than a block away. Menus change daily, and include seasonal plates like Arctic char with snap peas and short rib fettuccine with asparagus. 81 Broadway, 718-384-1441, marlowandsons.com
BARS
Tørst
Opened by a Danish brewer and former Momofuku cook in early 2013, this Greenpoint beer den brings a 21-tap bar, cellar of rare bottles and wintry Nordic interiors to a commercial stretch of Manhattan Avenue. On weekend evenings, deejays spin and a lively, earnest crowd of well-dressed beer geeks awaits entrance from 8 p.m. onward. On weeknights, seats at the elegant white marble bar are far easier to attain. 615 Manhattan Ave., 718-389-6034, torstnyc.com
Dram
Home to an innovative drinks list and even more Tinder meetups, Dram is for (cocktail) lovers. The rotating cast of bar stars regularly updates the progressive pours on the menu, but adventurous imbibers should simply tell the bartender their mood (i.e., "thirsty") and leave it up to the experts. 177 S. 4th St. 718-486-3726, drambar.com
The Shanty at New York Distilling Company
Most distillery bars have a decidedly Home Depot–inspired aesthetic, but New York Distilling Company's The Shanty combines warm, brick-lined interiors and ample seating with pours of their excellent craft spirits. Tour the distillery on a weekend afternoon, and stay on for The Shanty's cocktail-heavy happy hour. We recommend the Red Headed Stranger, which combines Dorothy Parker gin, blanco tequila, ginger, cucumber and Angostura. 79 Richardson St., 718-412-0874, nydistilling.com
Brooklyn Oenology
Started as a Greenpoint-based winery bottling Long Island grapes, this 65-seat tasting room opened in a converted Williamsburg warehouse in 2010. The bar specializes in New York State wines, and keeps its low-key crowd smiling with $1 oyster specials and DIY wine flights. 209 Wythe Ave., 718-599-1259, brooklynoenology.com
Noorman's Kil
This dark Williamsburg watering hole pours over 400 whiskies and 12 rotating craft beers. Sustain the spirit with one of Noorman's seven grilled cheese sandwiches, like the double crème brie with local mushrooms — or a dessert sando made from ricotta, Nutella and fruit preserves. 609 Grand St., 347-384-2526, noormanskil.com
Barcade
Craft beer and video games are like Champagne with potato chips: an unusual pairing with unparalleled potential. The 24-strong beer list of this Williamsburg bar skews northeastern, with breweries like White Birch and Queens' own Finback on draught, and 35 coin-operated arcade games keep patrons young at heart. 388 Union Ave., 718-302-6464, barcadebrooklyn.com
Pencil Factory
A Greenpoint mainstay, Pencil Factory is the ultimate neighborhood bar. Bespectacled regulars drink G&Ts and amber ale alongside twenty-somethings wearing vintage (!) Nirvana tees at sunny sidewalk tables, while local CSAs, book clubs and barflies meet for happy hour pints inside. 142 Franklin St., 718-609-5858, pencilfactorybar.com
Spritzenhaus
This Greenpoint behemoth distinguishes itself from countless other Brooklyn beer halls by its sheer size (6,000 square feet) and an unexpectedly creative kitchen. Helmed by Prime Meats chef Rolf Weithofer, the menu includes classic wursts as well as rabbit and veal sausages with mango chutney, and black kale salad with pretzel croutons. 33 Nassau Ave., 347-987-4632, spritzenhaus33.com
COFFEE
Oslo Coffee Roasters
Oslo opened on Roebling in 2002, back when Williamsburg was better known for rough-hewn warehouse parties than epicurean élan. Now, friendly, unpretentious baristas serve Nordic brews at two bright, airy locations across the 'Burg. 133 Roebling St., 328 Bedford Ave., 718-782-0332, oslocoffee.com
Blue Bottle Coffee
The Williamsburg branch of this Oakland-based coffee purveyor is housed in a brick building that dates back to 1910, but the equipment is absolutely cutting edge. All single-origin pours are prepared to order using a Probat roaster, Kyoto-style cold brewers and one lovingly restored, 1958 Faema Urania lever espresso machine. 160 Berry St., 718-387-4160 bluebottlecoffee.com/cafes/berry-st
Cup
Greenpoint does not lack hip coffee shops (Upright, Budin and Grumpy have fair-trade-pour-over-with-a-side-of-wifi covered), but Cup's stalwart service sets it apart. Opened by a former New York City firefighter, Cup serves Plowshares coffee starting at just $2 a pour. 79 Norman Ave., cuponnorman.com
Strangeways
It doesn't get much more Bushwick than this café, which was opened by an Oslo alum and named for The Smiths' final album. Fill your tires at the bike pump out front, then kick back with an espresso made from single-origin beans and a fluffy hibiscus fritter from Bed-Stuy's beloved Dough bakery. 87 St. Nicholas Ave., strangewayscoffee.com
EDIBLE SHOPPING
Smorgasburg
Started as an offshoot to the Brooklyn Flea's stoop sale extraordinaire, Smorgasburg is a bona fide culinary juggernaut. The rotating cast of food stalls spans local institutions Asia Dog and Blue Marble, craze-inducing upstarts like Ramen Burger, and made-in-Brooklyn foodstuffs from McClure's Pickles, The Good Batch and ISH Premium Horseradish. East River State Park (90 Kent Ave. at N. 7th St.), brooklynflea.com
Mast Brothers
Michael and Rick Mast have a thing for single-origin cocoa and statement beards. Come to their Williamsburg shop for a guided factory tour, or swing by to pick up a few bars the elegantly wrapped sweet stuff, which has fans of the likes of Per Se, Stumptown and Dean & DeLuca. 111 N. 3rd St., 718-388-2625, mastbrothers.com
The Meat Hook
Opened by three Marlow & Sons alums in 2009, this North Williamsburg butcher is popular amongst locavores who favor sleeve tattoos. If whole-animal butchery isn't your bag, head a few blocks south to Meat Hook Sandwich, the boys from Billyburg's newly opened counter joint. Meat Hook: 100 Frost St., 718-349-5033; Meat Hook Sandwich: 495 Lorimer St., 718-302-4665, the-meathook.com
Uva Wines and Spirits
Classics majors may recognize the Latin moniker (uva means grape in the world's most prominent dead language), but oenophiles of all stripes seek out this unpretentious North Williamsburg wine shop stocking an impressive 300 labels. 199 Bedford Ave., 718-964-3939, uvawines.com
Bedford Cheese Shop
One of our favorite cheese shops in the country, the Williamsburg flagship store sells an incredible selection of curds and whey on a busy stretch of Bedford. Chatty salespeople freely distribute samples while preparing a short list of specialty sandwiches and Brooklyn-centric gift baskets. 229 Bedford Ave., 718-599-7588, bedfordcheeseshop.com
Whisk
Uva owners Natasha Amott and Jocelyn and Jeffrey Patten opened this clean, well-lighted place in central Williamsburg in 2008. The bright and busy store has globetrotting gear like Kikuichi knives, Chicago Metallic baking pans and colorful Le Creuset cookware, bien sur. 231 Bedford Ave., 718-218-7230, whisknyc.com
COOKING SCHOOLS
Brooklyn Kitchen
The home base for The Meat Hook's celebrity carnivores also houses a kitchenware shop and cooking school. Coursework is a veritable who's who of Brooklyn foodstuffs: there is a Roberta's pizza-making session, pickling how-to's with McClure's, and two levels of knife skills classes taught by New York chefs. 100 Frost St., 718-389-2982, thebrooklynkitchen.com/learn
Toby's Estate
This North Williamsburg room with a brew hosts small-scale cupping, latte art and pour-over classes. Sessions are limited to five students at a time, and, unlike Toby's rarified menu, are remarkably well priced: one hour of cupping instruction will run you just $5 a pop. 125 North 6th St., 347-457-6160, tobysestate.com
Brooklyn Winery
Every Monday, this North Williamsburg winery, bar and flatteringly lit event space hosts tasting classes taught by Brooklyn-based sommeliers, sellers and importers. The popular Wine 101 is a crowd-pleasing bargain that, at $25, costs less than your average Manhattan craft cocktail. 213 North 8th St., 347-763-1507; bkwinery.com
WHERE TO STAY
Wythe Hotel
This 70-key hotel is Williamsburg-by-the-numbers in all the best ways. Housed in a renovated, 1901 waterfront factory? Check. Floor-to-ceiling windows with Manhattan views aplenty? You know it. Polished concrete floors, vintage ironwork and subway-tiled guest baths? Duh. Check out the buzzy Reynard restaurant near the lobby, created with Andrew Tarlow of Marlow & Sons and Diner, or head up to the sixth-floor bar for cocktails on the open-air deck. 80 Wythe Ave., 718-460-8000, wythehotel.com. Rates from $250/night.
McCarren Hotel and Pool
Swimmers and landlubbers unite at this boutique hotel in north Williamsburg. All 64 rooms have Matouk and Frette textiles, Malin + Goetz bath products and views of the titular park or private pool. Take a spin on one of the hotel's Bobbin bicycles, go for a dip in the saltwater pool — and then hydrate with cocktails at the rooftop bar, a vision in chartreuse and chrome. And don't miss the crab doughnuts at The Elm, a seasonal restaurant from Michelin-starred chef Paul Liebrandt. 160 North 12th St., 718-218-7500, chelseahotels.com. Rates from $225/night.