What's The Difference Between Cherry And Grape Tomatoes?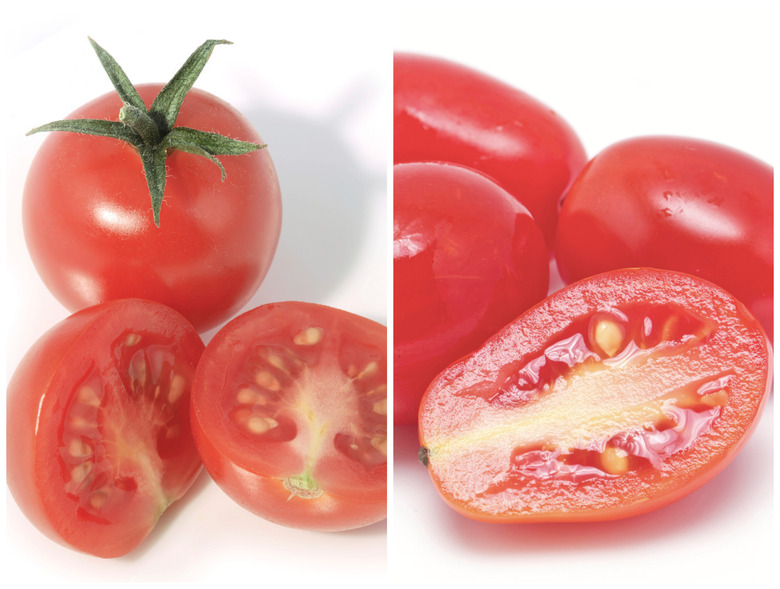 Do you know the difference between cherry and grape tomat
Despite the abundance of grape tomatoes in the grocery store and market, the verdict is out: cherry tomatoes trump their oblong brethren. After talking to numerous chefs and farmers, they mostly agree that for a real dose of bright, tomato flavor, go for a cherry.
"I would choose cherry tomatoes over grape tomatoes any day," says chef Shane Lyons, a partner at Distilled in New York City. "They have a very nuanced flavor and texture, they're sweet and just slightly sour, which make them a perfect raw ingredient in a simple salad with farmer's cheese and roasted bits of rye bread."
But if cherry tomatoes remain the darling of chefs, why does it appear grape tomatoes have taken over the market? The answer lies in durability. The hardier skins of the grape variety help it travel better, hence, this is why supermarkets are full of these small fruits year-round; in the cold months, grape tomatoes are mainly shipped in from Mexico. "Grape tomatoes hold up, they last a long time and ship well, which is why a lot of big growers grow them," says Tim Stark, a farmer at Eckerton Hill Farm and the author of Heirloom: Notes from an Accidental Tomato Farmer. "You rarely see certain cherry tomatoes like Sun Golds in grocery stores because they don't travel well." Keeping this in mind, it's not so much that the public has a craving for grape tomatoes, instead, they are just generally more available, and let's face it, sometimes we are too lazy to go out of our way to find the good stuff.
Not that grape tomatoes aren't good; they have their place too. For example, while Lyons sees them merely as an accouterment to a 1970s-style crudité platter, at The Wayfarer in Manhattan, chef Braden Reardon uses the small fruit in his specialty salads. "Grape tomatoes have a meatier texture, which I prefer to the pop and seediness of the cherry tomato," he says, though he admits to choosing heirloom cherry tomatoes when they're in season. Either way you sway, when talking about these two tomatoes, here are a few nuances to keep in mind.
Physical Differences
As far as looks go, they tend to run about the same size, and at first glance, most pedestrian food shoppers won't notice the subtleties. But look carefully and you'll see grapes have an oblong shape and cherries, which are larger, usually form a perfect orb. Also, you can find this type in bright shades of yellow and orange, whereas most grape tomatoes exude shades of red. The taste too remains unique, and of the thousands of cherry tomato strains out there including Black Cherry, Sungold and Isis' Candy, not one mimics the mere 50 or so types of grape tomatoes (at least not to the seasoned tomato eater or farmer). The skins offer a distinct difference as well, and many chefs find the thick-skinned grapes work better in a sauce, and the delicate cherry either raw or lightly cooked.
Growing the Tomatoes
The grow cycle for both these varietals is about the same, says Stark, though how they produce the fruit varies. Cherry tomatoes come early and in growth spurts throughout the summer. That means you can get a batch every few weeks, which makes them great for the home garden. Grape tomatoes, like their namesake, come in clusters, a fact that benefits larger growers who are looking for a big yield.
Cooking the Two
"Cherry tomatoes are like candy, and in general, I think they have better flavor, especially the smaller varieties or Sweet 100s," says chef Craig Koketsu of General Assembly in New York. "Grape tomatoes tend to be a little meatier and have a thicker skin, but typically aren't as sweet." Because of these differences, Koketsu uses cherry tomatoes in a light, fresh sauce vierge and finds they are a perfect accompaniment for grilled fish. As for grape tomatoes, he discovered they work better as a garnish for a burger or in a quick, thick sauce on top of pasta. At Heartwood in Chelsea, chef Bradford Thompson uses cherry tomatoes in his tomato pizza pie, a choice he goes for because cherries are a little larger and juicier and the grapes tend to be thicker-skinned with less liquid. Overall Thompson says he doesn't find a big difference in the flavor between cherries and grapes, and since they vary in flavor from batch to batch anyway, he doesn't particularly prefer one over the other, he says.
In the end, loving one more than the other doesn't really matter. In truth, it's how you use the tomato that counts, and if cherry tomatoes are in season, pick some up and enjoy. After all, come winter you will have to snuggle up to the good ol' grape if you want a fresh, pop-in-your-mouth treat.
More tomatoes on Food Republic: