Jennifer Oz LeRoy, The Woman Behind Food And Drink Wizardry In Montauk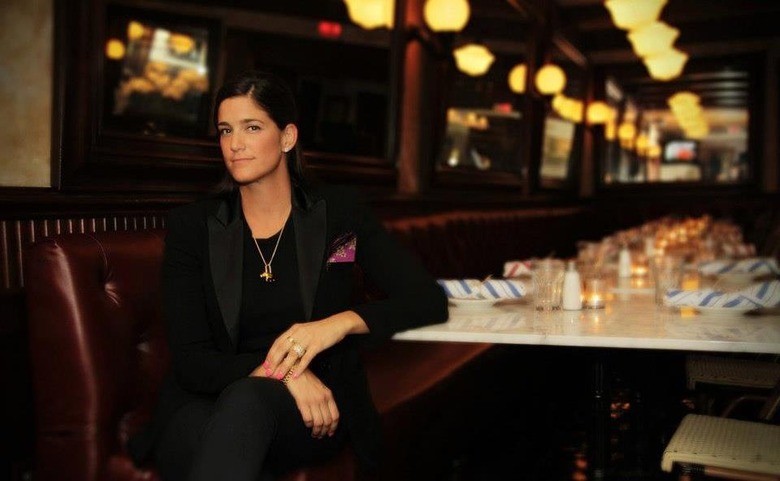 "Entertainment runs in my blood," says Jennifer Oz LeRoy, the daughter of the late, legendary New York restaurateur Warner LeRoy, and granddaughter of Wizard of Oz producer Mervyn LeRoy. "The dining room is your greatest set." LeRoy should know: She recently took on several new dining rooms, not to mention Montauk's only on-the-sand beach bar, as food and beverage director at Gurney's Montauk, the 80-year-old resort that reopened with a major revamp this summer.
But it's a challenge LeRoy is up for. When she was just 22, her father passed away, leaving NYC icons Tavern on the Green and the Russian Tea Room in her hands (she sold the latter in 2002 and pulled out of Tavern, which just reopened in May, in 2007). On a recent jaunt to the Hamptons, we thought it was a good time to chat about Gurney's, her upcoming reboot of Manhattan "singles bar" Maxwell's Plum and, of course, her thoughts about the new Tavern on the Green.
You're calling Maxwell's Plum a singles bar. Can this even exist in our digital age?
We have a lot of creative ideas floating around. There's a lot of stuff you can do digitally, like buying a drink for someone across the bar. You could say that the digital world has taken the singles' bar away, but people definitely still go out to pick up people.
How is the reboot going? Do you have a space?
We're looking into a space in the Meatpacking [District], but haven't announced it yet because we don't want to jinx it. Maxwell's Plum was Dad's first restaurant; it was not only a singles' bar, it also served four-star food. It had this charm — casual yet elegant — that's very hard to pull off. Of course there will be a great bar which will draw beautiful people, but it will also have an old-school New York vibe. You can't rush a project like that. But I think 2015 will be a good year. We have a lot of the design elements in place, a lot of the team.
I hear your parents actually met at Maxwell's?
My mom was sitting at a bar, on a date, and my dad walked up to her and said, "You're the most beautiful woman I've ever seen. I'm going to marry you." Her date said, "Oh if you're going to marry Warner LeRoy, there must be a silver Rolls Royce parked outside." My mom said, "You're both horrible!" and ran out of the restaurant.
My dad had someone follow her to know where she lived. She was a TWA flight attendant — she did the New York to Paris flight. She came home a few days later, and the front steps were covered with chocolates and roses and stuffed animals and a big giant wheel of cheese that said, "If you don't go out with me I'm going to kill myself." My mom is really incredible. She was definitely worth that.
That was your dad's style, right? Over-the-top. Do you bring any element of that to your work?
I think I definitely have the think-outside-the-box feeling he had. You have to be innovative and follow your instincts. My dad taught us to be passionate and believe in what you do, and success will come to you. He certainly had that passion for life that not a lot of people have. Do what you love, work as hard as you can to make it the best that you can. People always say, "Oh, you have big shoes to fill." I certainly don't let it shadow me. I want to lead my employees and inspire them. And I want my guests to be over-the-moon with their experience, and I work at that every day.
Have you done anything here at Gurney's that made you think of your dad?
I think bringing in [Hotel Chantelle chef] Seth Levine is an element of that. Half of the food is about display. If you look at the overall picture of what we'll do for the summer, all the entertainment, I'm creating the experience like my father would have. But also, there's a casualness to Montauk that you have to respect. So while my dad may have had a marching band come on Saturday nights just to flair people, I have this rock-jazz piano player, Elew, who can start off playing something quiet and then end up rocking out to Rihanna at the end of the night. My dad used to say that the restaurant business is like show business, and every day the curtain must go up.
I know you used to come out to Montauk as a kid. Did you ever come to Gurney's?
I actually went to the prom at Gurney's. My high school sweetheart, he lived out here. That was 17 years ago, which is just amazing. And my friends all worked at here at Gurney's for summer jobs — they were lifeguards and totally in the industry, which is so entertaining. I grew up coming to Ammagansett every weekend and every Christmas.
What do you think of all the changes here in Montauk?
You know, it's really nice to drive through Montauk and still see the Pancake House and John's Drive In and Gosman's. Obviously, it's great to have all the new places, and Gurney's is just the next new addition, and probably the biggest one yet. It's a real icon. In Montauk, still, you can't take away the sea; there are no chain stores out here. It's a boutiquey fisherman town; it's great. And it was eventually going to happen: There's only so many people you can fit in Bridgehampton, East Hampton. So here we are. [Laughs]
Of course I have to ask: Any thoughts on the new Tavern?
I haven't been yet. I will definitely go, as soon as the season's over; as soon as I get a minute. A lot of people don't call me and tell me their good reviews, because they think I'm sensitive. But honestly, I'm glad it's open again. New York City deserves that property; it's a part of Central Park. I think I'll be nostalgic. But after the first or second cocktail, I think I'll feel like I'm home again.
---
Read these other stories about New York on Food Republic: