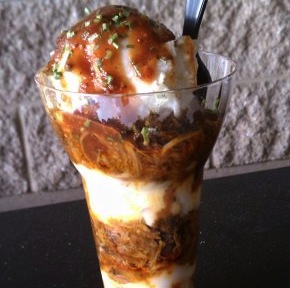 Happy Canada Day! Time to give long overdue credit to our friendly neighbors to the north. It turns out that one of America's most piggish ballpark concessions in modern times may have actually originated in…Ontario?
According to CNN's Eatocracy blog, the "Porkfait" — or, Pulled Pork Parfait — has become such a sensation at Miller Park, home of MLB's Milwaukee Brewers, that the layered combo of pulled pork, mashed potatoes and gravy, served in parfait-style cup, has its own dedicated Twitter and Tumblr feeds.
Related: Peanuts To Artisanal Peanut Brittle: A Modern History Of Baseball Stadium Food
At first glance, the Brewers' gloriously gluttonous swine sundae (ranked No. 8 on Buzzfeed's "16 Most Insane Stadium Foods" listicle) seems like pure Americana — which makes it ideal ballpark grub, particularly in the Midwest.
So, we were surprised to discover that a vendor in Canada was responsible for putting mashed potatoes and pork where ice cream and hot fudge should go even before the Brewers.
Hank Daddy's BBQ, based in Maple, Ontario, bills itself as the "Original Home of the Pulled Pork Parfait." An article in the Toronto Star traces the debut of Hank Daddy's porky parfait back to 2010.
The Brewers' version appeared in 2011, according to a post on the team's affiliate web site; its Twitter persona, apparently, didn't appear until 2012.
Here's a video of Hank Daddy pit master Frank Caputo making his parfait, which also includes beans as a topping, during the Toronto Wine & Cheese Show:
Read more about stadium eats on Food Republic: