Nothing screams summertime louder than summer grilled corn and watermelon. Combine the two and you have a refreshing salad that is easy to make and good for any summer dining occasion from a grill-out to a simple dinner at home. If you've never cooked with pomegranate molasses, there's no better time to start than now.
The Middle Eastern staple is a secret ingredient that our mother used to enhance everything from grilled fish to desserts. The syrup — actually not molasses at all — is made from concentrated pomegranate juice and sugar. It is thick, sweet and very, very tart, and can add a unique, pleasant zing to almost any dish. Pick up a bottle at your local Middle Eastern store (we've also spotted it at Whole Foods from time to time).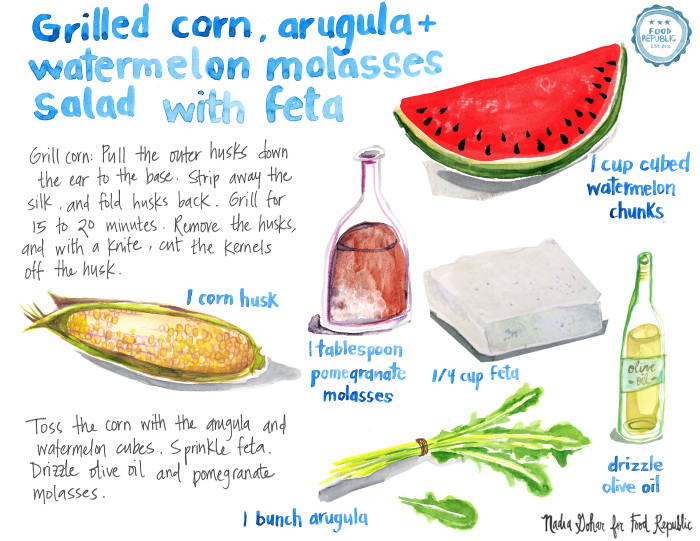 Summer Grilled Corn Salad with Watermelon And Feta
(serves 2)
Grill the corn, preferably on an outdoor grill, by pulling the outer husks down the ear to the base and folding the husks back. Grill for 25 minutes, or until cooked.
Remove the corn from the grill and allow to cool down.
Once the corn is cool, separate the kernels from the cob using a knife.
Toss the kernels with the arugula and the cubed watermelon.
Sprinkle 1/4 cup of feta, then drizzle olive oil and one tablespoon pomegranate molasses.
Add salt and pepper to taste and serve.
More Illustrations on Food Republic: