The Sweet Side Of Life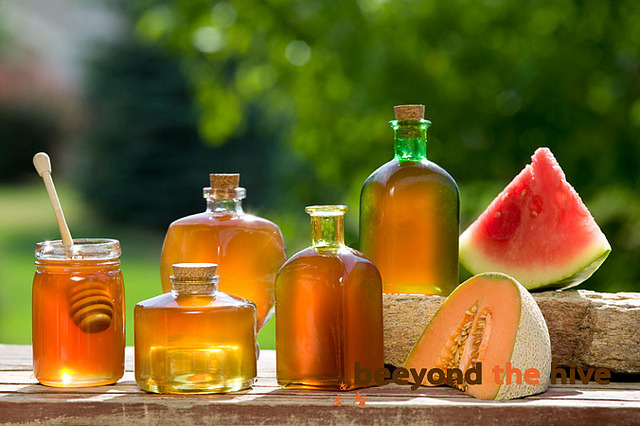 From artisan pickles and extraordinary salts to the art of winemaking and food photography, this series is dedicated to the masters behind culinary craftsmanship and is brought to you by our friends at Bridlewood Estate Winery, whose award winning wines are crafted with care and passion by dedicated artisans on California's diverse Central Coast. In our previous posts we spoke with Bridlewood's Mark Williams and food photographer Michael Harlan Turkell, today we're talking to the creators of some the sweetest honey around.
Not everyone is lucky enough to inherit a world of sweet and sticky golden goo, but for sisters Jacy Johnston Eylar and Jamie Johnston, honey has been a way of life since they can remember. "We were born with an affinity for it," said Eylar who, as a little girl, hand-bottled the sugary substance in her dad's warehouse in southern Colorado. "By the end of the day I would have eaten so much honey I would feel like I was about to explode." Yet, that didn't stop her from doing it again and again, and to this day Eylar still craves the stuff. "It's very rare if a day goes by and we don't eat honey," she said, which is part of the reason she and Jamie, who lives in Salida, Colo. with her wiener dog Kaiya, launched Beeyond the Hive in 2005.
"We started the business for the main reason of carrying on our family legacy as well as putting a young and modern spin on an old-school industry," said Eylar, who lives in Elizabeth, Colo. with her two young sons and cowboy husband. To make honey a contemporary subject, they have incorporated it and the beeswax into an array of sweet smelling lotions and soaps, crystallized honey "pearls" and three types of raw honey harvested from their 2,000-plus hives. Though they have more contemporary products than their father did, being physically involved remains important to the sisters and they still hand bottle and label all their products. As for the honey itself, Jacy says it's all in the bees.
"There really aren't any special techniques that we do to make our honey the best," said Eylar. "It's all in the hands of a healthy hive and placing them in areas that are free of pesticides. We fully believe that healthy hives leads to great honey." Yet, because they pay attention to where the bees are going and let them pollinate almond orchards in the winter and clover, alfalfa and wildflowers in the summer, all pesticide-free, their product shines. It helps too that being a beekeeper is a very hands-on sort of job with natural harvest times, and they can't just leave it to machines.
"The life of a beekeeper is challenging yet rewarding," said Eylar. "We have always considered our bees apart of our family so we have worked hard to keep them healthy and thriving." To do this, the sisters must travel many miles with their brood throughout the year, and, like a farmer, they have to try and anticipate Mother Nature. "The rewarding aspects are seeing those healthy hives flourish and being able to work outside rather than in the city stuck in an office."
This love for honey came naturally to the sisters; after all, their family has been in the honey business since 1908 when their great grandfather Walter Leckenby started beekeeping. At the time, not many people in Colorado had taken on this task as a profession, and as his hives grew, so did the popularity of the honey he fished out of them. From a wagon parked outside his house, Leckenby sold fresh honey to anyone who happened to come by, and when he finally decided to hang his net and retire, his son-in-law Arthur Johnston took over. He in turn passed the Johnston Honey Farms down to his sons and subsequently, Eylar and Jamie started their spinoff company.
"Our honey products have been fun to play around with, and it's never been a sticky mess because the honey just blends in perfectly with all the other ingredients," said Eylar. You can apply the honey raw, mixed into tea, smeared on meat to make a glaze, used as a sugar substitute, and drizzled on slices of piping hot bread. It tastes great no matter how you eat it, plus, honey also contains plenty of medicinal facets. For example, honey is an antimicrobial, which means it kills bacteria. It also works as a natural moisturizer and is a natural component in beauty products, something the sisters capitalize on with some of their merchandise.
Aside from lotions and soap, you can find their clover-alfalfa honey mixed in to Noosa yogurt, and in artisanal shops all over Colorado. And, since they ship nationwide, Beeyond the Hive has garnered fans in other states too. "Once someone tries our honey they usually stick with us for a lifetime," Eylar said, humble yet proud of her bees.
           This post is brought to you by our friends at Bridlewood Estate Winery.