David Bull Transforms A Power Plant Into A Grill-Lover's Heaven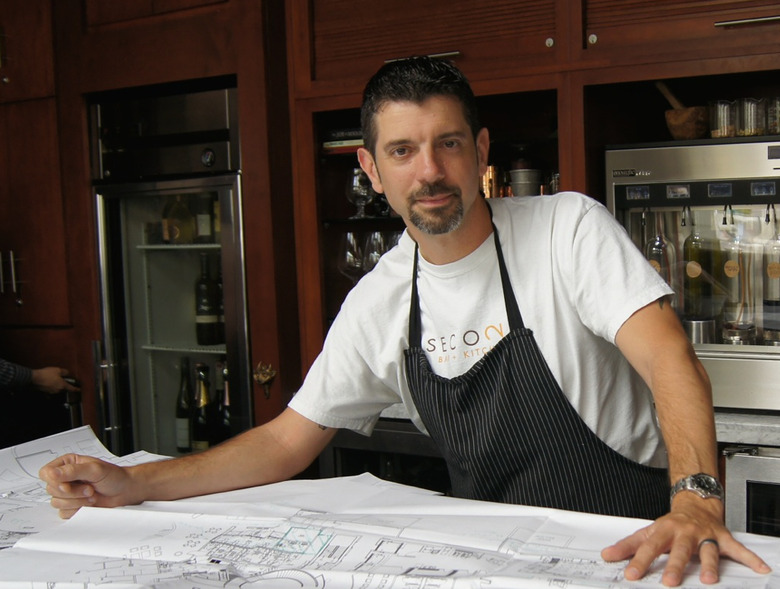 After several years of focus on a trio of connected Austin restaurants, chef David Bull is preparing for his next act. Bull and his partners in the La Corsha group have announced plans for both a boutique hotel in East Austin and an ambitious project in Austin's former Seaholm Power Plant. Boiler Nine Bar + Grill is projected to open in late 2014, and like his current restaurants Second and Congress, will feature multiple spaces with different menus and hours. The restaurant's theme revolves heavily around outdoor grilling and smoking – an idea both international and intensely local. We spoke with Bull about how a restaurant moves from business plan to reality, changes in Texan dining habits and methods to improve your summer grilling.
Boiler Nine is more than 10,000 square feet on multiple floors. Which came first: the idea or the physical space?
The space. That's how we work. I've got concepts in my head that are pretty expansive and elaborate, but we attempt to base the inspiration on the space, location and demographics. In this case, the physical structure of Seaholm Power Plant inspired us.
When did grilling become the central theme?
There's literally a smokestack in the location! Seaholm used a fire-driven process and employed huge fires to boil water, so we thought fire should play in. It's a concept my partner Scott Walker has wanted to do and it seemed like perfect timing to bring that to fruition. It's a natural fit for the location and history of the building. You can see where they used to build the fires and the smokestacks above the water.
There is some Francis Mallmann inspiration in this concept. Is the menu going in a South American direction?
It's going to be all over the place. We'd be fools not to research the South American style. They have great equipment, style and experience. We're working on how you do that in a fast-paced, large restaurant. You can't just have whole sides of cow, you have to make it functional. We don't want to be limited to South American food or French or Italian. We've got everything from chicken wings to crudo to oxtail — it's what we like to eat and cook, using a massive fire deck to produce the core flavor.
How does the idea get from a blueprint to the plate? What are you doing behind the scenes this summer to develop the idea?
We're doing research on other wood-fired establishments throughout the world. We try to understand their success, then incorporate our style and audience. You need to understand why your customers will be there – for example, business lunches or after-work drinks. We take that and then start with the essential categories. You think about charcuterie, pickles, greens, and vegetables. Then we work in the idea of meat and fish coming off the grill. You start broad. We've written the menu a hundred times already and it's still not ready.
You think of portion size, restaurant scope, and logistics. Can this station produce ten dishes? Can we store it? Do we have the prep team? The simplest restaurant will have five dishes and make a lot of them. That's not the case here. Writing a dish is easy. How it fits in with everything I just described, that's the challenge. If diners are only willing to pay $12 for a dish, that significantly limits our choices.
When in the process do you actually start testing out the menu with your investors and your staff? Does the revision happen at the end?
Yes. The logistics happen first, then you write a menu that fits those requirements and limitations. We know there will be pickling and charcuterie. We can't open six months from now and hope to have product. We're ordering summer vegetables now to begin pickling and preserving so we're ready then. We have to just dive in. We're starting some charcuterie in-house now, because some of it needs six to eight months to cure properly. We also experiment at charity events — we did a roasted rack of pork with blood caramel recently, because the event host had the right equipment. Recipe testing will only happen once the design is confirmed. Then the entire team will sit down and rip everything apart.
How much of the menu will have grilled or smoked components?
Most of it. Our stocks and soups and the bulk preparation will have kissed the grill in some way or another. We've also got a large smoker. Our onions will be charred and grilled before we make the vinaigrettes. Very few things won't have some kind of component that has seen some smoke or char.
When you are out with friends for a barbecue, or watch others grill, what does the home chef do wrong most frequently? What are a couple of things that somebody can correct to improve their summer grilling experience?
Patience is one. Everybody is in too big of a hurry. When you deal with wood, charcoal and fire, it's time, temperature and getting the heat right. People like to mess with everything, but the art of grilling is about allowing it to happen, not lifting the lid and turning everything. You allow it to work at the right temperature with the right amount of heat and smoke on larger cuts.
Do you have a personal favorite vegetable or fruit that you feel is ideal on the grill for the summer?
Yes, lots, but recently we did a radish and grape skewer for an event. We had house lardo that we draped over it and it was fantastic. So the idea of grilling radishes and grapes was pretty unique but extremely simple. If you don't have lardo, any fat component will work. Pre-blanch the radishes then put them on the skewer. The pop of the grape and the bitter radish was really something special. Anything can be special on the grill!
Do you have beverage pairings that you gravitate toward in the summer?
I find beer and grilling to be a natural combination. Certainly rosé and margaritas, anything ice-cold. The temperature of the beverage is more important than anything else, like a michelada, drinks you can get super-cold that cut through all the grilling heat.
You work in Central Texas, which is a carnivore capital, but also a hot weather climate. Are your diners cutting back on protein portions and ordering more vegetables? Are you seeing the ratios change?
Absolutely. At Second, diners tell us exactly what they are looking for and we have responded. People know they can come in and several gluten-free dishes and they can get vegan dishes without feeling like a pain in the ass. We'll absolutely do that at Boiler Nine, because people live in downtown Austin for that lifestyle. Obviously we'll have meat. You'll smell the oak — it's a given. But we'll also take vegetables and treat them like large cuts of beef. We'll have carrots we ferment for months and then do a slow roast on the grill, or char them buried into the coals. We'll incorporate several techniques. Even if you aren't a carnivore, you still have the grilling experience and exceptional flavor. It's not just grilled zucchini. We'll have bars above the grill where we'll hang bunches of carrots and radishes and allow them to smoke. Then we'll serve them with a dip.
At Congress, you created three spaces: a casual restaurant, a cocktail bar and a fine dining restaurant. Will that tiering happen at Boiler Nine?
There are four levels and each will have a dedicated theme. Each has a different menu that will appeal to times of day and how you like to dine. We certainly found success with that at Second and Congress. We want you to come in for multiple reasons. You can experience Boiler Nine in different ways based on what you choose to be a part of, so we'll highlight that and make them completely different experiences. I think it will be really special.
Boiler Nine Bar + Grill will open in late 2014. For more information, visit the Seaholm Development site.
More chef talk on Food Republic: