It's Tiki Week In Texas! Break Out The Rum. And, Of Course, The Mole Bitters.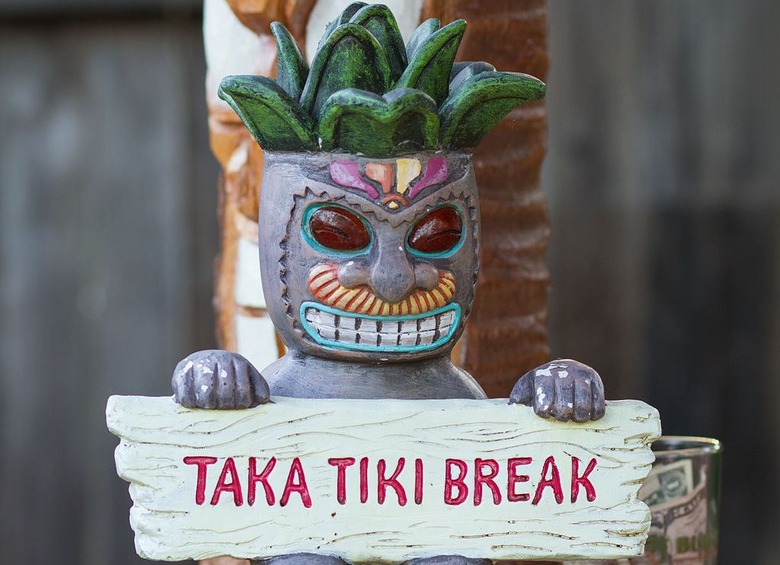 For the third year in a row, bartenders across Texas are getting tipsy for tiki this week.
Texas Tiki Week — a seven-day extravaganza celebrating all things rum — started in Austin in 2012 when the local bartender's guild organized a series of events and special menus surrounding rum expert Ed Hamilton's visit to the city.
Over the past few years, bartenders across the state started to "drink the curacao," says Jessica Sanders, co-owner of Austin bar Drink.Well and president of the U.S. Bartenders Guild (USHG). Bars in Dallas, Houston, Austin and San Antonio will participate again this year with a mix of parties, educational seminars, special menus and live music.
Texas is no stranger to tiki — Trader Vic once had an outpost in Dallas, and Don the Beachcomber set up shop in Houston during the peak of tiki's national popularity in the 1950s and 1960s.
Today, USBG's Sanders sees the revival as a natural progression for the current cocktail movement, as many bartenders are gravitating towards the sense of escapism that defined tiki for so many years prior.
"Tiki is an interesting antidote to all of those years where cocktails were starting to feel precious and overdone," says Sanders. "From a bartender's perspective, even though it's super cool and over the top and gaudy, to do tiki well is hard because it's really a heightened level of the craft. To the guests, it's more relaxed and less stuffy than the brown bitter and stirred stuff."
Sanders says that while the event was originally driven solely by the bartender's guild efforts, this year it's started to take on a new life of its own, pushed forward by interest from the bars themselves and the guests who are flocking to partake. Since just last year, the event has tripled in size, Sanders says. And, at this rate, she believes there's a good chance for the event to stand on par with other national cocktail weeks and festivals in years to come.
A series of notable tiki personalities from around the country took notice and made the trip down to participate this year, including Chicago-based Rhum expert Chris Morales; Ryan Liola, of former rum-centric bar Lani Kai in New York; Joe Swifka, beverage manager at Los Angeles Cuban rum joint La Descarga; and Brian Miller, formerly of New York's Death & Co. and Pegu Club. Also, Mindy Kucan of Portland's Hale Pele tiki bar is making the trip for a few guest-bartending nights around Austin.
Part of what makes the event unique to the Lone Star State is the locals' audacious approach to tiki. Bartenders are crafting menus with a distinct sensibility of regional pride and no fear of risk-taking.
"What's cool about Texas is that people are willing to step outside of the classic regimen pretty easily," Sanders says. "For so long, it was beat into our heads that we had to stick to tradition. But, with tiki especially in Texas, people take chances with ingredients, like house blue falernum, and things like that."
Agave spirits, mole bitters, ancho liqueur and pecan syrups all deviate from the tiki norm and bring a dash of the Southwest to the tropical rum-centric category. And, bartenders are going whole hog this year with elaborate garnishes (think: limes carved into snakes and pineapples cut into glass-sized parrots) to add that zany touch of visual interest, as well. While there are a few traditional Mai Tais on menus across the state, the majority of the drinks do not follow the classic tiki framework.
Check out the recipes below, which can be found at participating bars in Texas this week:
Tiki Tejano by Houston Eaves (The Esquire Tavern, SA)Ingredients:
1.5 ounces Reposado Tequila
3/4 ounces Fresh Carrot Juice
1/2 ounce Fresh Lemon Juice
1/2 ounce Amontillado Sherry
1/4 ounce Creme de Cacao (Tempus Fugit)
1/4 ounce Espadin Mezcal
Directions:
Shake all ingredients and strain into a rocks glass with crushed ice. Garnish with pickled carrot and crated nutmeg.
Creole Coffee Colada by Jessica Sanders (Drink.Well., Austin, TX)Ingredients:
1.5 ounces Aged Rum (Angostura 1919 works very well here)
1 ounce Unsweetened Coconut Cream
4 ounces Cuvée Cold Brew Coffee
1/2 ounce Coffee or Espresso Liqueur
3 drops Pure Vanilla Extract
2 dashes New Orleans "Chicory" Coffee Bitters
Directions:
Combine all ingredients with 6 oz of crushed ice in a blender. Pour into a coffee mug or tiki glass. Top with whipped cream and garnish with some grated cinnamon on top.
Read more about spirits on Food Republic: