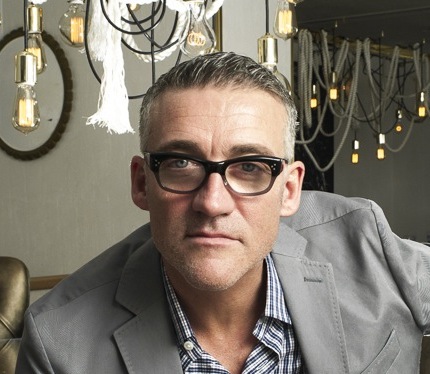 We're taking a, shall we say, laid-back look at the California lifestyle with the help of our sponsor Hangar 1 Vodka.  This series, #Influencers, dives into conversations with people who embody the California lifestyle – that is to say a life that is filled with passion, chilling, freedom, creativity and enjoyment. These are likely best read with Hangar 1  cocktail in hand – may we suggest a cocktail recipe from our Grilling It Up Series?
A native of Germany, Thomas Schoos of West Hollywood–based Schoos Group is known for designing chic hospitality spaces around the globe. Meet the prolific man who is at once artist and entrepreneur.
What made you first fall for California and want to make a home here?
On one of my first visits here I went to the northern part of Zuma Beach and it seemed like perfection. When I got back to Germany, I couldn't stop thinking about it. Not just the beauty, but the freedom of the California lifestyle. I had to come back.
How do you think your hospitality design work embodies a California aesthetic?
A major element of my design aesthetic is creating an indoor/outdoor vibe, which to me is a big part of the California lifestyle thanks to our amazing weather. This open, natural vibe finds its way into many of my projects– in one project I tore part of the roof off of an old warehouse to create a true indoor/outdoor courtyard with a retractable awning. But that's only part of it: inside there are six 100-year-old olive trees that create an indoor arbor. I love that. During another project, I broke through the wall of the restaurant to create a bar that serves both indoors and out, breaking the barrier and creating a flow between the dining room and the patio. On the patio, there are several outdoor 'living rooms' with panoramic views of LA.  It just feels like quintessential California.
What are your favorite California pastimes/activities?
I love food, both preparing it myself and dining out. There are so many great restaurants in LA with new ones opening all the time. I also find it relaxing to spend time in the sun, especially on my rooftop patio.
What are your favorite ways to chill when you're in "down time" mode?
Spending time with my animals and friends. Between my home and studio, my pets include two dogs (a bulldog and a shepherd mix), two cats (a Mokave Jag and a mixed breed), two Hyacinth Macaws, three desert tortoises and around 60 Koi in my Koi pond.  
What are your favorite out-of-the-way destinations to hit in California?
It's amazing that in just one hour and forty-five minutes from LA you can be in Big Bear, an alpine resort with incredibly fresh air, pine trees and a mountain lake, which I find so refreshing and serene. Being surrounded by nature is essential to me for restoring balance and stimulating creativity. I can also get my nature fix of a different kind at the seashore. My favorite spots for beachy atmosphere are Santa Barbara and San Diego, which are very different but have their own unique senses of style.
Tell us about your new café, Beach Nation, in West Hollywood.
California is all about the beach: blue sky, nature, sexy people, the freedom to create. It's the way the world sees California; it's part of our image, our mystique. So I wanted to celebrate these feelings about California in my own way, with an eclectic, modern twist on a traditional beach house. It's a laid-back attitude with a progressive sense of style. But mostly, it's a chance to enjoy a beach right in the heart of the city, including getting sand between your toes in our giant sand box.
Somehow, you find the time to create artwork, too. What is your main source of inspiration for your art?
Most people describe my art as eclectic and whimsical, qualities I think are definitely inspired by California. I use cultural references from all over the world in my work, but the freedom to let loose, experiment and create are a direct result of living and working in California, a place that encourages freedom and openness to new ideas.