Here Is The Culinary Lineup For The Life Is Beautiful Festival In Las Vegas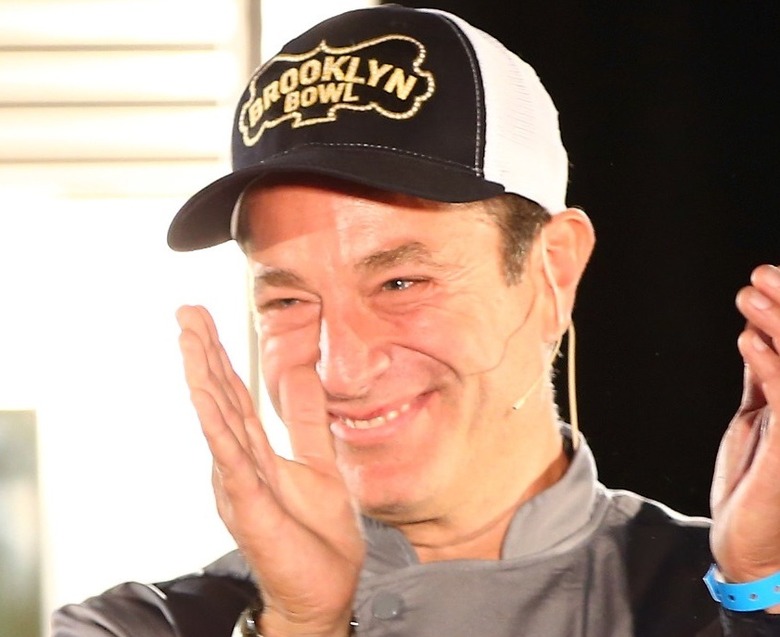 Entering only its second year, Las Vegas's Life is Beautiful Festival has already made a name for itself. Just ask our own Simon Ford, who had the foresight to attend the inaugural celebration last year and file this report. Featuring a world-class collection of musicians and artists (last year's headliners included Kings of Leon, The Killers, Beck, Imagine Dragons and Alabama Shakes), the three-day festival also attracts more than 40 of the country's best chefs. We spoke with Blue Ribbon Restaurant co-founder – and co-chairman of the festival's culinary advisory board – Bruce Bromberg to talk about what's new as Life is Beautiful enters its second year this October 24-26. Food Republic is also honored to exclusively break this year's culinary lineup (below the interview, and update, music lineup is below too).
Is food the main aspect of this festival?
It absolutely started the concept for this festival. Food and music are on an equal plane – it's not a great music festival with food or a great food festival with music.
How did you develop the culinary program?
It began when I worked with Rehan Choudhry at the Cosmopolitan. We started talking about doing a food festival and I had my views after 20-something years of participating in many, many of them across the country. I thought, "If we could do something really different, I could be part of it." It could go back to a more visceral kind of fun, with a little bit more freeform, like a big party – like a party that chefs really throw – fun and spontaneous. So we started to put together a team and a board of chefs who I thought were those types of thinkers. Not only those who are super accomplished, but also people who I thought had a deep passion for food.
So Life is Beautiful is unique as a festival because it's spontaneous?
Yes. I think it's about the moment, about the situation and where everyone is comfortable. Somehow, I always look uncomfortable at a festival grand tasting. It just really doesn't capture the essence of who we are, what we are all about and it started to become something I didn't really find exciting to do anymore. I feel that's the defining difference.
Last year, we had this moment we called "the tuna moment" at our kickoff festival, called Grills and Guitars. We wheeled out 180 pounds of bluefin tuna – unannounced to anybody – on a huge ice slab. My sushi chef started to carve the thing up. The look on everyone's faces! It started an hour of mayhem, with people eating toro out of the palms of their hands.
What is Grills and Guitars?
It's a 'thank you' to our sponsors, a kick-off to the festival and a way to get musicians and chefs to come and party. It incorporates food and music on a high level – you have these awesome bands playing in an amazing environment. Last year, we had 12 chefs from the advisory board cook, and our message to them was, "Just do something silly and fun. You don't have to make that one little taste, carve up beef and talk to people about it. Just make it big and bold and show your personality and really have fun." It was a super fun, freeform, flowing night with musicians, chefs, festival governors, sponsors and everyone just rebelling at one in the morning!
So what's different this year from last year, from a culinary aspect?
Last year was super-spontaneous. We started the planning of the entire festival eight months out – which is pretty unheard of – especially since none of us had prior festival knowledge. Last year we ran in circles and it all went amazingly.
This year, we've had a little bit more time and [we have] a fantastic festival director. We all want to take part in the festival a bit more and have more fun with it. 95% of the chefs on the advisory board are back, and we have a couple of new ones, like Giada de Laurentiis and Jose Andres. We've also had more time to develop the Las Vegas restaurant scene.
Is the Vegas restaurant scene growing?
2014 Life Is Beautiful Culinary Lineup
Scott Conant (Scarpetta – Board Member)
Hubert Keller (Fleur by Hubert Keller – Board Member)
Giada De Laurentiis (Giada)
José Andrés (minibar by José Andrés)
Cat Cora (Co-Founder of Chefs for Humanity – Board Member)
Nancy Silverton (Mozza Restaurant Group)
Spike Mendelsohn (Good Stuff Eatery)
Marc Forgione (Restaurant Marc Forgione, American Cut)
Jonathan Waxman (Barbuto NYC, Adele's Nashville – Board Member)
Duff Goldman (Charm City Cakes)
Rick Moonen (RM Seafood, Boiler Room – Board Member)
Kim Canteenwalla (Honey Salt, Buddy V's, Made.LV – Board Member)
Jet Tila (Kuma Snow Cream, Pakpao Thai – Board Member)
Donald Link (Cochon, Herbsaint, Butcher, Peche – Board Member)
Mary Sue Milliken (Border Grill Restaurants & Truck – Board Member)
Susan Feniger (Border Grill Restaurants & Truck – Board Member)
Frankie Pellegrino Jr. (Rao's Restaurant Group)
Larry Forgione (Conservatory at Greystone, Culinary Institute of America)
Shawn McClain (Sage and Five50 Pizza Bar at Aria)
Sam Marvin (Echo & Rig)
Bryan Forgione (Buddy V's)
Mike Minor (TruckUBarbeque)
Grills & Guitars VIP Event
Kim Canteenwalla (Buddy V's)
Cat Cora (Chefs for Humanity)
Marc Forgione (Restaurant Marc Forgione)
Nancy Silverton (Osteria Mozza)
Hubert Keller (Fleur by Hubert Keller)
Sam Marvin (Echo & Rig)
Shawn McClain (Sage at Aria)
Mary Sue Milliken and Susan Feniger (Border Grill)
Frankie Pellegrino Jr. (Rao's)
Jet Tila (Kuma Snow Cream)
Palm Restaurant
Music Lineup
Foo Fighters

OutKast
Arctic Monkeys
Skrillex
Lionel Richie
The Flaming Lips
The Weeknd
Girl Talk
Alt-J
The Roots
Broken Bells
TV on the Radio
A-Trak
Kacey Musgraves
Fitz & The Tantrums
Phantogram
The Head and The Heart
Panic! At The Disco
Matt & Kim
Neon Trees
Jenny Lewis
G-Eazy
OK Go
Tycho
Mayer Hawthorne
Switchfoot
tune-yards
MS MR
RAC
Holy Ghost!
Dizzy Wright
St. Lucia
Trampled By Turtles
Galantis
St. Paul & The Broken Bones
Ryan Hemsworth
Mø
DJ Mustard
Vintage Trouble
J. Roddy Walston and The Business
The Orwells
Ásgeir
M4SONIC
Sleeper Agent
The Preatures
DJ Cassidy
MisterWives
ASTR
holychild
Night Terrors of 1927
Nostalghia
Catfish and The Bottlemen
Paper Route
Rusty Maples
Moksha
Ekoh
Sabriel
American Cream
Rabbit!
and more, plus a special performance from The Beatles LOVE by Cirque du Soleil with members of the Las Vegas Philharmonic orchestra.
Read these stories about Las Vegas on Food Republic: