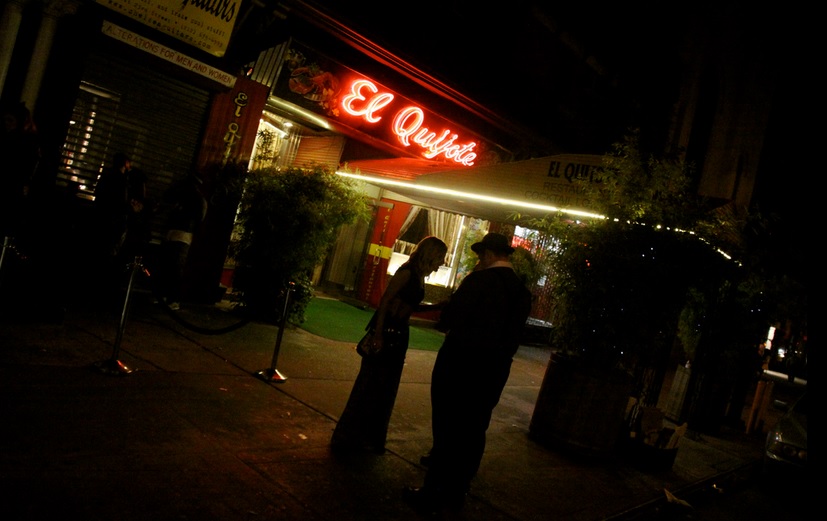 New York's venerable El Quijote restaurant has been around for decades, serving as a sort of Spanish-themed cafeteria for the landmark Chelsea Hotel which houses it, and the many artsy denizens, both famous and not, who stayed there over the years.
We know from reading Sherill Tippins' 2013 book, Inside The Dream Palace: The Life and Times of New York's Legendary Chelsea Hotel, that El Quijote is where pop artist Andy Warhol used to hold court with author William Burroughs and where singer Janis Joplin "could generally be found causing a scene."
Opened in 1930, the venue originally carried the more generic moniker Hotel Chelsea Restaurant before a group of refugees from Franco's Spain took over the lease around the middle of the century and rebranded it in homage to Don Quixote novelist Miguel de Cervantes.
Spainish cuisine has taken tremendous gastronomic strides since then, but not El Quijote. Its old-school approach to paellas and tapas is about as far from modernist as you can get; elBulli it's certainly not.
Walking into the joint, with its antique brass cash register, black jacket-clad staff and kitschy Cervantes murals, is like stepping into a time warp. The place has seemed entirely immune to change (with the notable exception of a recently advertised gluten-free menu) – even as a whirlwind of redevelopment has transformed the neighborhood that surrounds it.
For those of us who like a side of culture with our dinner, it's comforting to know that you can still saddle up to the long wooden bar or slide into one of the many red booths, and order up the same shrimp in green sauce that fueled the wild visions of avant-garde filmmaker Harry Smith back in the 1960s.
Yet, in recent times, that enduring legacy has also carried an undercurrent of uncertainty.
This past February, with rumors swirling about the future of the place, owner Manny Ramirez (for whom the restaurant's seafood-heavy garlic-bomb Ensalada A La Manny is named) told this reporter that he'd received several buyout offers over the past few years. But, he always said no. Then, with a wry grin, he added: "Unless they come back with the right number."
Now, it appears that Ramirez finally got his magic sum. According to Eater, the longstanding restaurant has been acquired by its landlord, Chelsea Hotels, which is presently renovating the rest of the iconic building.
Terms of the deal have not been disclosed, but you can bet that it's a pretty penny.
One of the reasons that El Quijote has survived despite so much real-estate upheaval over the past decade is because of a sweetheart lease agreement that Ramirez struck with the hotel's prior owners back in 2001. Among other things, that document, which is on file with the city, guaranteed El Quijote a relatively low rent for such a large restaurant (presently $10,500 per month) and significant longevity (renewal options lasting through 2048). It also bestowed some significant protections, notably including a non-compete clause that prevents the hotel from renting space to another third-party restaurateur. (That restriction alone prompted one prior management company to abandon talks with acclaimed chef Jean-Georges Vongerichten about bringing his culinary talents to the Chelsea.)
In an interview with the New Yorker last fall, Chelsea Hotels CEO Ed Scheetz expressed his interest in opening a second restaurant at the property. Buying out El Quijote certainly makes that project more viable.
So far, Scheetz has said all the right things about upholding "the signature look and feel of El Quijote (classic Spanish) while maintaining its authenticity and history." His rep tells Food Republic that El Quijote's Ramirez fielded multiple offers from other operators but ultimately went with Scheetz because of his promises to preserve the integrity of the place.
It's the same sort of romantic rhetoric that Scheetz has used with regard to redeveloping the Chelsea as a whole, about retaining the artistic spirit of the hotel while realistically seeking nightly room rates more suited to affluent bankers than penny-pinching painters.
Sort of Quixotic, in other words.
The proof, we suppose, will be in the paella.
Read more about New York restaurants on Food Republic: