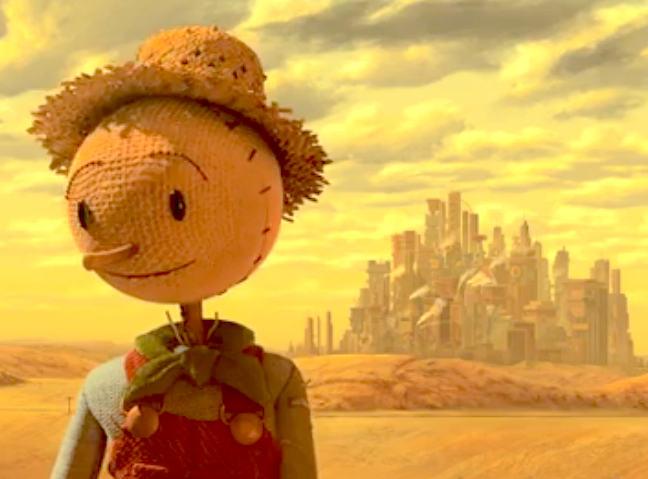 Congratulations, Chipotle! You've joined the ranks of Pulp Fiction and Apolcalypse Now! Okay, maybe their short film "The Scarecrow" didn't take home the coveted Palme d'Or award, but they did snag the top prize in the PR category at the Cannes Lions International Festival of Creativity on Monday. Burritos and high-fives all around!
The award goes to the brand with the best "creative use of reputation management by the building and preservation of trust and understanding between individuals, businesses or organizations and their publics and audiences," according to the organization's rules. The film and its companion game app, produced by Creative Artists Agency in Los Angeles, takes aim at food corporations while promoting natural ingredients and sustainability to Fiona Apple's cover of "Pure Imagination" from Charlie and the Chocolate Factory.
Some critics pointed out that Chipotle itself is a large corporation with the overarching goal of selling burritos, not saving the world. The film's imagery, which stereotypes the concentrated farming operations that produce the majority of the country's meat, is pretty harsh. Nobody locks cows in metal boxes and not all scarecrows are depressed vegetarian suburb-dwellers, that's also a Hollywood myth. But it's hard to argue with the world's friendliest Mexican fast-casual point.
This isn't Chipotle's first win in the category — in 2012 they took home the same award for "Back To The Start," their short film about a farmer and his piggies, which of course sported Willie Nelson's cover of Coldplay's "The Scientist." Beyond good guac, Chipotle also clearly boasts solid taste in music, animation style and corporate rib-jabbing. Congrats on a job well done. Can we request that your next film slamming Big Food feature James Murphy covering "Burning Down The House?"
More Chipotle on Food Republic: