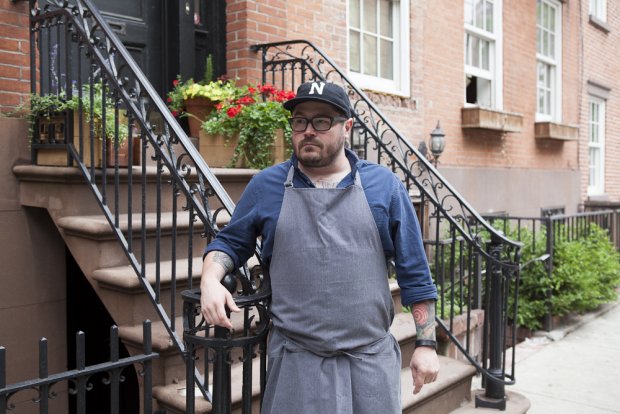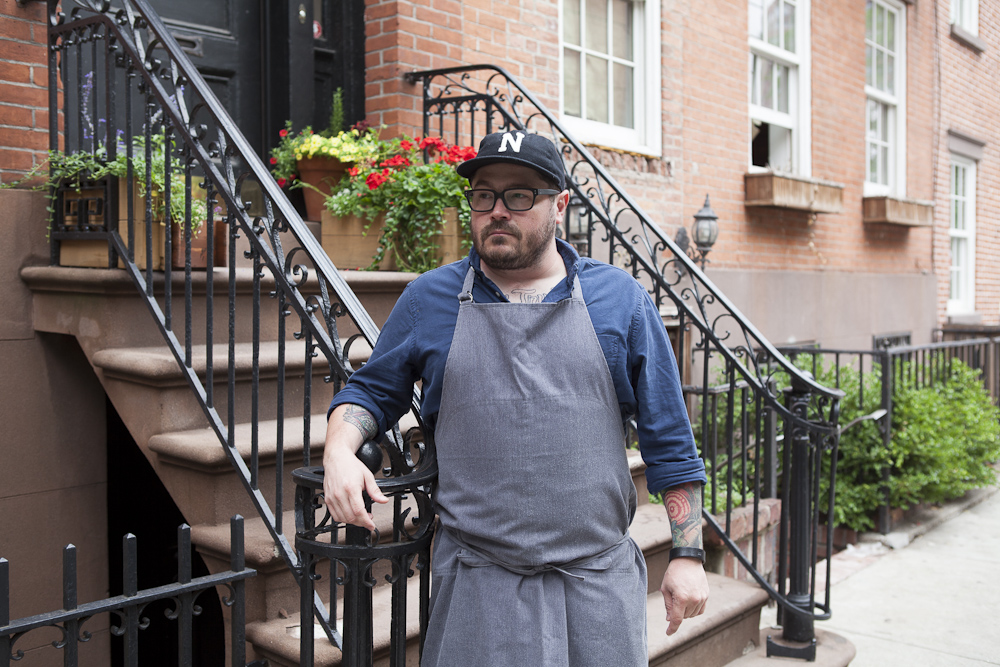 Last week we invited a mess of Southern chefs — both visiting from the South and transplanted in New York City — to stop by the Food Republic test kitchen and talk about the state of Southern food in America. The conversations were enlightening. We found out about some of the more overlooked cities in the great American South (Richmond, the Florida panhandle), as well as how Southern products are being showcased throughout the country, and the world. The chefs were in town for the New York City stop of the traveling Music To Your Mouth festival. — George Embiricos, Matt Rodbard and Chris Shott   
Sean Brock is the James Beard Award – winning Executive Chef at McCrady's and Husk restaurants in Charleston, South Carolina, as well as a second Husk location in Nashville. His first cookbook is scheduled for release in October 2014 from Artisan Books.
Define Southern food in three sentences or less.
How about three words? Culture, ingredients and soul. I would argue that the South has the only true cuisine in America. Cuisine is based on two things: cultural influences and the ingredients that thrive in that region. You can take that and you can break down Mississippi, you can break down Tennessee, you can break down Alabama. Look at their crop rotation practices and you'll see their pantry right before your eyes. For me, Southern cuisine is a million things, and it's completely different everywhere you go.
Thinking beyond fried chicken, what do you consider the South's most iconic ingredients?
For me, it's corn. Think of all the important things it's responsible for — first and foremost, the most important thing in the entire universe: bourbon [laughs]. Second is dried corn. Think about the products that come from dried corn: grits, corn bread and hominy. When you close your eyes and someone puts a slice of cornbread that just came out the pan up to your nose, if you're from the South, that takes you home immediately; same thing with grits, same thing with hominy. Obviously, rice is very important, but rice won't grow everywhere. Corn will.
What's the trick to bringing authentic Southern cuisine to a non-traditional Southern audience?
Two things: showcasing the extraordinary ingredients and their stories. If you have the stories but you don't have the incredibly delicious ingredients, then you lose your audience because it doesn't taste good. But, if you have the incredible ingredients but you don't have a story, you might as well be in California. The combination of the storytelling, the historic significance, the hopes for the future; and the flavor of those ingredients and their uniqueness to a particular region—that's what captures people's attention.
Rob Newton is chef/owner of the Vietnamese restaurant Nightingale 9 and Seersucker, an intimate neighborhood spot inspired by the food and hospitality of the South. Both are located in Brooklyn. Newton hails from Arkansas.
Define Southern food in three sentences or less.
Southern food is the original American food. It is much more diverse and complex than people give it credit for. I think it is the original market cuisine, in that every family down South had a garden. A lot of them still do and now we have markets, of course. When you want to talk about market-driven cuisine, Southern food is definitely it. Out of necessity, not out of being "cool."
What is the South's great undiscovered food city?
Asheville is doing a lot of interesting things. There are a lot of things going on in West Virginia that people don't know about. The Appalachian stuff is going to become more and more popular: all the canning and pickling, and all the vegetables. I think Birmingham's a great city, although I wouldn't call it undiscovered. People know about Athens, too. Jackson, Mississippi is another one. I think Oxford, Mississippi and Richmond, Virginia are great towns. And the whole Raleigh and Durham triangle area. These are all really great food cities.
Sarah Simmons is the owner of City Grit, a New York City culinary salon that hosts pop-ups and guest chef dinners, many featuring Southern chefs. She's working on opening her first restaurant.
Who taught you the most about Southern food identity?
Growing up, Southern food was just food. I was small minded I guess, and I didn't realize that everyone in the country didn't eat the same things we ate. When I started thinking about cooking professionally, I wanted to steer away from Southern food, because in a lot of people's minds, it was all just fried chicken and overcooked vegetables. And I wanted to make something different. And then my mom got me Frank Stitt's Southern Kitchen for Christmas, and that book changed my entire viewpoint on Southern cuisine and how I cook. To this day, I attribute it to reading that book.
What is the South's great undiscovered food city?
Richmond, Virginia is so great. I went there to see the Rappahannock Oyster guys and ended up staying an extra day. I was blown away. I did not eat one thing that I didn't love while I was there. Lee Gregory, from the Roosevelt, is wildly talented. And I love Peter Chang and this bakery called Sub Rosa. That is such a great food city.
Brandon Carter is Executive Chef of The Inn at Palmetto Bluff in Bluffton, South Carolina. The Atlanta native previously worked at The Ritz-Carlton in Naples, Florida.
Define Southern food in three sentences or less.
Southern food is a culmination of community and place and history. You have the past and everything that's led us up to this point, and you have what's in front of us in the present. And I think it's just a natural thing that happens.
What would you consider to be the South's most iconic ingredient or ingredients?
I would have to say hominy and grits. And peanuts. Peanuts are a major cash crop.
How do you bring authentic Southern cuisine to a non-traditional audience?
I think that you have to get past the stereotypes and the walls that people have put up. And you have to show people that Southern food is product-driven. It's all about perfect vegetables that are picked in the season, at their peak. That's really what Southern food is. Sure, it is fried chicken. But it's not always fried chicken.
Jeff McInnis, a former Top Chef contestant, is the executive chef and partner of the soon-to-open Southern restaurant root & bone in New York City.
You grew up on the panhandle of Florida, which you call the Redneck Riviera. What's the cooking like there?
It's amazing. Very seafood-driven. I lived in a little fishing village that was known for its shrimp and oysters and everything for the better 18 years of my life. It's the kind of place where you take your boat out all day, then pull the boat up to a dock and go in and you know you're getting some of the best seafood around.
When you think of Southern ingredients, you think of…
Corn. It's one of my favorite vegetables, I think because it has a high sugar content. It's so versatile. You can dry it out to make polenta, grits and corn meal. And then using it raw is pretty incredible. We have a dish where you take a raw corn puree and painting it on a plate and taking a blowtorch to it and making this brulee on top. It's so much fun.
Who taught you the importance of Southern food and Southern culinary identity?
My mom's side of the family had a very, very large farm in Tunnel Springs, Alabama and my great-grandmother had chickens. And not just a few, they had a ton of chickens. Guinea hens, geese, quails – all in one very large pen. I remember at a very young age, watching her kill and pluck a goose. It was this little old lady taking this goose and doing it from toe to beak, just the whole thing, and roasting it. That was Southern food.
The Food Republic test kitchen was hosted in partnership with our friends at Music To Your Mouth.