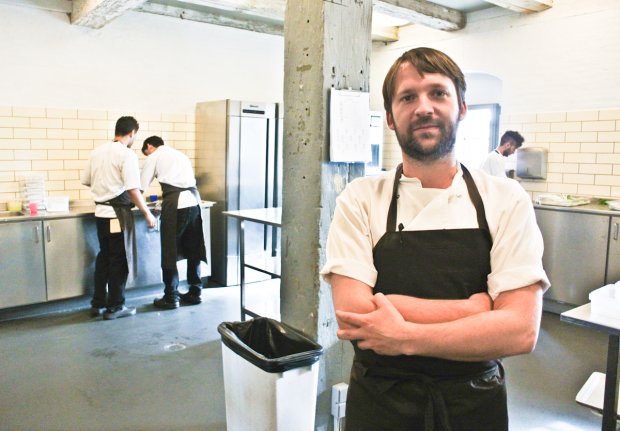 When Copenhagen's Noma was awarded the heady title of world's best restaurant during a splashy ceremony in April — the fourth time in five years — it once again anointed chef-owner René Redzepi as keeper of the most-exclusive reservation book on the planet. Reserving a table at Noma can be like scoring a bottle of highly prized Pappy Van Winkle 23. Money alone won't necessarily get the job done — there's luck and connections involved. So when it was announced that Noma was literally taking its show in the road for a month-long residency in Japan, there was great excitement to figure out what, where…and how much.
Now we know a few more details. The exclusive pop-up will be taking place at the Mandarin Oriental in Tokyo's Nihonbashi neighborhood January 9-31. Like in Copenhagen, the menu will feature products pulled exclusively from the local waters, stream, fields and orchards. "We have already begun to learn about the richness of Japanese food and culture with the team in Tokyo as they've taken us to Tsukiji and the vegetable markets, and introduced us to some special purveyors over the last few months," says Redzepi in a statement. The lunch and dinner menus will be the same, in terms of scope and scale, and are priced at 39,000 JPY (about $382), not including tax and service. The number of courses served and alcohol pairings have yet to be announced.
So, how do you score a reservation? There are two ways. Beginning June 23, reservations for lunch and dinner can be booked online at noma.dk/japan (as of this writing, there is no word about the time reservation lines will open). Alternatively, dinner reservations can be made by booking a package through the hotel. For 149,500 JPY ($1,467) guests will receive two-nights accommodation and dinner for two at Noma — plus breakfast and a gift. A back door entry into one of the world's most exclusive restaurants? We think so. Reservations for the Noma Package can be booked at mandarinoriental.com/tokyo/hotel-offers/noma.