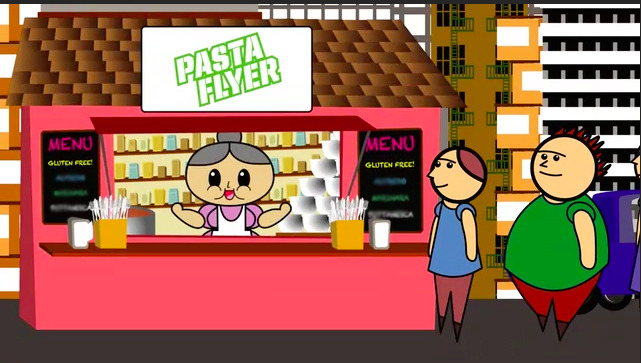 At this stage in the gluten-free game, plenty of restaurants offer wheat-free pasta and noodle options. You can get gummy brown rice penne to ruin your nice puttanesca or substitute rice noodles in your ramen because it's just as satisfying. Right? Wrong, says NYC chef Mark Ladner, a longtime master of the fine-dining Italian scene and Executive Chef at Del Posto, where Mario Batali dubbed his gluten-free pasta the best he's ever had. Ladner believes every pasta experience should be noteworthy, so let's cheer on his fresh new concept, Pasta Flyer, hurtling towards a pop-up near you.
Pasta Flyer was inspired by rural Italy's leisurely pasta lunches (prepared by seasoned grandmothers such as their endearing, UFO-journeying mascot Nonna Farina) and urban Japan's bustling, quick-service ramen shops. Their pasta bowls will sell for under $10, or you can get a bento-style "Bene Box" with pasta, salad, protein and a snack of the day for about $15.
"This is the best bowl of quick-service pasta you've ever tasted," says Ladner, in a strong statement we immediately and unconditionally believe. "Starting Pasta Flyer is a way for me to share my love for delicious pasta dishes with a wider community." Every pasta, sauce and topping is interchangable, which wider communities will definitely appreciate.
Did we mention Momofuku's David Chang said he never thought he could like gluten-free pasta until he'd had Ladner's? This is some weapons-grade rotini, folks. Throw away the brown rice stuff, chuck it right the hell out and don't look back.
A pop-up tour of D.C., Philadelphia, NYC, Providence, Boston, San Francisco and Chicago kicks off in the fall of 2014 following extensive R&D and the construction of dedicated gluten-free facilities, followed by a brick and mortar location next year. If you've missed rigatoni and those awesome little stars — two shapes damn-near impossible to find in the gluten-free pasta market — you're in luck. You can also buy bags of their signature "3-minute" pasta at the pop-ups.
Check out the animated tale of Nonna Farina, and donate to the future of restaurant-quality, healthy Italian food on the go. With 22 days of crowdfunding to go, we're already tucking napkins into our shirts. 
Editor's note: I live near Del Posto. I might have to establish a pasta budget (and stick to it). Please, Pasta Flyer, save me!
More Kickstart This on Food Republic: