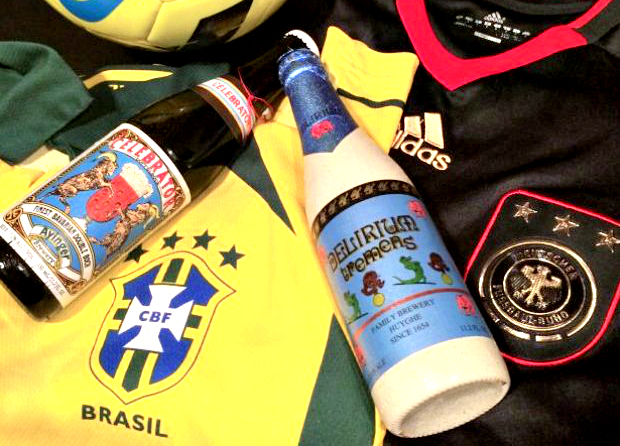 Today marks the beginning of the biggest sporting event in the world. You might be thinking, "the Super Bowl isn't until February, idiot." I'm actually talking about the 2014 FIFA World Cup. Simply put, there is no sporting event like it; it takes an impossible long and arduous journey of nearly four years to make the cut. There are plenty of famous players whose teams didn't qualify, like Sweden's Zlatan Ibrahimovic and Wales' Gareth Bale. But 32 teams did make it, from nearly every corner of the world.
In 2010, over 3 billion people tuned in to the games, with an estimated 700 million watching the final between Spain and the Netherlands. Even more viewers are expected to tune in this time around. This year's host country has an insatiable appetite for partying, so we were going to list the best suds from Brazil…but in the spirit of competition, here are beers representing each of the 32 teams in this year's festivities. We've got you covered no matter what team you're rooting for, but as beer nerds it would be awesome if Belgium won.
Group A
Brazil — Cervejaria Colorado: Vixnu Imperial IPA
So everyone's gonna be slugging back Brahma lager for a few weeks…or maybe even Budweiser, as the official sponsor has touched down in Sambatown. What might surprise you is that Brazil has a growing craft beer scene — Evil Twin just released a limited brew just for the Brazilian market. If you're in Brazil (or if you look hard in the U.S.) you can find this outstanding Double IPA – yes, I'm serious, this exists and its label sports a picture of an extremely chill-looking Vishnu-esque bear with four arms. As for the team, it's pretty self-explanatory. No country in the world lives, breathes and longs for the title more than Brazil, and the pressure is on for them to deliver. What remains to be seen is if Barcelona starlet Neymar is ready to take them to the Promised Land.
Croatia — Zagrebačka Pivovara: Tomislav Tamno Pivo
All the attention in Group A seems to be on Mexico and Brazil, but Croatia poses a credible threat as well. Bayern Munich starting forward Mario Mandžukić and Real Madrid attacking midfielder Luka Modrić lead the way on an impressive roster, which we should note, includes Brazilian-born striker Eduardo. Traditional, authentic Baltic porters are awesome and underrated, just like this team, and Tomislav Tamno Pivo is a hearty, delicious example of the style.
Mexico — Cerveceria Minerva: Imperial Tequila Ale
Corona is a vehicle for limes. If you like limes, have at it. However, if you want a really good Mexican craft beer, Imperial Tequila Ale pays homage to the country's national pastime. It's a strong ale aged in tequila barrels with a nice sweet malt flavor, oak, tequila and decent hop presence. The fact that Chicharito isn't starting on this team is a big surprise. He'll probably need one or two of these watching from the sidelines.
Cameroon — Les Brasseries du Cameroun: Beaufort
One of the most successful African nations in World Cup history, Cameroon has talent sprinkled across their roster (but probably not enough to get out of Group A). Chelsea striker and team captain Samuel Eto'o stands out as the most talented and recognizable face, but Barcelona's Alex Song should also find a way to contribute. They got beat pretty badly in 2010 in South Africa, losing all three games. Let's hope they don't repeat, but if they do, you could do a lot worse than Beaufort pale lager, with decent bready malt flavor and floral hops.
Group B
Spain — L'anjub Cervesa Artesana: Juliett Extra Stout
La Roja are the favorites once again as they enter the tournament ranked number one in the world. It's hard to argue with a ranking like this considering they won the World Cup in 2010 and the Euro Cup in 2012. A team with strength at every position needs a strong beer to match it.  L'anjub's Juliett is one of the best stouts in Europe, with hints of chocolate, coffee, licorice and roasted malt. They're not my pick to win, but I'd be happy celebrating with a couple of these if they did.
Netherlands — De Molen: Hel & Verdoemenis (Hell & Damnation)
The Oranje got so close in the last World Cup but finished as the runner-up to Spain. Expectations are obviously high, but a dismal display at the Euro Cup has many wondering if the Netherlands is finished. Sure they're old, but clearly still play at a high level. Age is also a good thing with De Molen's killer stout, which is a delicious Russian Imperial Stout with huge flavors of dark chocolate and coffee.
Chile — Kross Microbrew Beers: Golden Ale
You might be surprised to know that Chile is home to quite a few microbreweries. Kross is definitely one of the better ones, with an emphasis on European styles. This English pale ale is extremely drinkable and just a touch hoppy with a sweet caramel malt flavor. Unfortunately, Chile's team isn't as stacked as many of their South American brethren. Look for Barcelona forward Alexis Sánchez and Juventus midfielder Arturo Vidal to make an impact, but given the group they're in, they may be sent packing after three games.
Australia — Little Creatures Brewing: Pale Ale
Like their downunda brothers in New Zealand, Australia grows great hops that make excellent beers. Little Creatures Pale Ale uses Cascade and Galaxy hops to produce delicious tropical fruit flavors. Unfortunately, they didn't fare so well in their group draw. I've had the pleasure of watching veteran star Tim Cahill play for the Red Bulls in NY (actually in NJ) but the rest of the squad doesn't quite bring the quality needed to advance. I'm guessing it'll be a short trip to Brazil.
Group C
Colombia — Bogota Beer Company: Septimazo IPA
Colombia will be without their best striker, Radamel Falcao, for the World Cup. This is a blow for the tournament and for Colombia, but all hope is not lost. They have Jackson Martinez, who scored 20 goals in 30 games for FC Porto, and talented wingers Fredy Guarin and James Rodriguez. While soccer is a huge part of Colombian culture, so is beer, and a recent microbrewery movement has produced some impressive offerings like this IPA from Bogota Beer Company, which features grassy, citrusy hops and a toasted malt finish.
Greece — Donkey Santorini Brewing Company: Crazy Donkey IPA
This is a tough group and many are calling for Greece to be the odd team out here, but before we go and do that, let's remember Euro 2004 when Greece stunned Portugal (and the world) to become champions. Several of those players still remain, including Giorgos Karagounis and Kostas Katsouranis. It would be crazy if Greece advanced, but crazy is good as demonstrated in the deliciously crazy Greek IPA Santorini Crazy Donkey, which features Nelson Sauvin hops, adding to the white wine flavors. This is a fruit-forward IPA with minimal bitterness.
Côte d'Ivoire — Solibra: Mamba Premium Lager
This is pretty much your premium malt liquor with some decent hop content. You can find this stateside, but don't expect too much. On the other hand, I like the Ivory Coast's team. With Colombia's misfortune of losing Falcao combined with good play from a team brimming with veteran scorers like Yaya Touré, Didier Drogba and Solomon Kalou, they could find a way to get through the group.
Japan — Kiuchi Brewery: Hitachino Nest White
An underrated beer, and an underrated team. This is hands-down one of the best witbiers in the world and a winning pairing with sushi. The team might not have many big names, but Manchester United's Shinji Kagawa and A.C. Milan's Keisuke Honda will make things interesting for the group.
Group D
Uruguay — Fabricas Nacionales De Cerveza
In another land of mainly light lagers, this porter sticks out as a major winner with a nice rounded flavor profile of caramel, chocolate and roasted malts. It's really easy to drink at under 6%, too. As a Liverpool fan, I'll have a blast watching goal-scoring menace Luis Suarez go head-to-head against six of his teammates on England, but he's not all this tough group has to worry about.  Edinson Cavani and Diego Forlan are both top-level goal scorers and should make Uruguay one of the top-scoring teams in the tournament.
Costa Rica — Costa Rica's Craft Brewing Company: Segua Red Ale
This appropriately named little craft brewery only makes two brews, but both are great. The winner here is Segua Red Ale, which has a really nice hop profile and tasty bready malts. Unfortunately, as is the case with Honduras, there is little chance of them going far, but it's great to see this tropical nation in the tournament.
England — The Kernal Double Citra
England has as much a chance as any team in the tournament to catch absolute fire and ride it to a victory, but their reputation for tournaments won't do them any favors as they have become perennial losers on the biggest stage. Look to youngsters like Liverpool's Raheem Sterling and Daniel Sturridge to lead the way while the old guard, captain Steven Gerrard, adds veteran presence. Newcomer brewery The Kernal is leading a revolution in England from stuffy low-ABV bitters to bitter citrus bombs like this wonderful Double IPA.
Italy — Birra Del Borgo Duchessic
This brewery is like Dogfish Head's Italian counterpart. They collaborated on a cross-continental version of imperial pilsner My Antonia, but their best collaborative effort is with Belgian sour beer masters Cantillon in their Duchessic saison/lambic hybrid. Yes, Cantillon's lambic is blended into this Italian saison with remarkable results. There's lots of berry, sour lemon, mustiness and of course, the trademark funkiness. Italy is a sexy World Cup pick – Buffon, Pirlo, De Rossi and Motta are all back in the squad, but they too must embrace the funk if they want to win. I'm talking about Mario Balotelli, who at just 23, has caused more trouble than most of us combined. After successful but tainted stints at Inter Milan and Man City, he's been in torrid form, scoring in more than half the games played at A.C. Milan.
Group E
Switzerland — Trois Dames: La Tentation
FIFA President Sepp Blatter is Swiss, and with all the alleged corruption charges aimed at FIFA (most recently in a brilliant rant by John Oliver) it's sort of hard to imagine just exactly how they got ranked SIXTH overall in the world – Italy, England, France, Holland, Belgium and yes, the U.S. are all ranked lower. There's not many goals to be found here, but keep your eye on 22-year-old wunderkind Xherdan Shaqiri, who's probably bound to do something special against a group lacking in strength. Swiss brewery Trois Dames is doing some interesting stuff with fermentation, and this saison is fermented three times: first on Belgian Dupont yeast, then on witbier yeast and finally on apple yeast, then aged in oak barrels. I really enjoy the vinious character and tart flavor.
Ecuador — Cerveceria National Ecuador: Club Premium
The team looked a lot different and substantially more lethal last year before tragically losing Christian Benetiz to respiratory failure last July. Tens of thousands of fans and professional players attended his funeral in Quito. As you can imagine, this will be an emotional ride for teammates like Manchester United's Antonio Valencia, who sports a tattoo of Benitez's face on his arm. Due to the strength of the group and clear motivation, I could see them topping the Swiss as the second team out of the group. Ecuador has a few nano/microbreweries, but the pale lager game is still tops in Ecuador, and this one isn't terrible. It's decently malty with some mild hops, and pretty refreshing on a hot day.
France — Au Baron: Cuvée Des Jonquilles
When it comes to fermentables, as in old things sitting around for way too long, the French National Team has excelled in the past. However, expect a youthful makeover by France at this World Cup. Featuring talented forwards Karim Benzema, Loic Remy and Olivier Giroud. Also to watch are breakout star midfielders Paul Pogba and Antoine Griezmann, who might just help Les Blues forget about the whole Zidane headbutt debacle (though in truth, that was a French style we can all admire). Another to admire is the Biere De Garde, which has a lovely unique yeast profile similar to Belgian yeast with hints of spice, apple, clove and banana.
Honduras — Cerveceria Hondurena: Cerveza Port Royal Export
When in Honduras, stick to cigars and rum. This beer is fine as a chaser and it's better than Bud.  I'm glad to say the Honduran team isn't so devoid of flavor. Veteran strikers Jerry Bengston of the New England Revolution and Carlo Costly, along with veteran Stoke City midfielder Wilson Palacios might give these guys a fighting chance, but the depth and experience of the other teams in the group will likely prove too much.
Group F
Argentina — Antares: Imperial Stout
Argentina's remarkable squad likely represents the biggest gap between a top team and their competition in the group stage. Lionel Messi is likely to run riot, but he has help from gifted strikers Kun Aguero, Ezequiel Lavezzi and Gonzalo Higuain. There's also a ton of depth at defense and midfield including exciting Real Madrid star Angel di Maria. If you were surprised Brazil had an awesome IPA, you have to try this Imperial Stout from Argentina's Antares brewery, which is really nice and smoky with hints of dark chocolate and roasted espresso.
Bosnia and Herzegovina — Sarjevska Pivara: Sarajevsko Premium HS
Bosnia and Herzegovina has been through the ringer and come out with a decent light brew. It's not really all that premium, but it's good enough for a victory drink, since I expect them to advance. I have to admit, plenty of people are throwing away this team's chances without respecting its talent. Strikers Edin Dzeko from Manchester City and Vedad Ibišević pose serious threats to the group stage, and even beyond.
Iran — Iran Bartar Industrial and Agricultural Company: Bartar Castle Brau
This beer contains, predictably, zero alcohol and for what it is, it's not terrible. Seriously, there are worse brews out there. The team is better than the brew, but not by much. Nearly the whole team plays inside Iran. Look to Ashkan Dejagah of Fulham and Reza "Gucci" Ghoochannejhad to be the catalysts. If this team can figure out how to put up a goal or two, they could battle for second but the quality on Bosnia and Herzegovina and Nigeria may prove too strong.
Nigeria — Guinness Nigeria: Foreign Extra Stout
The Republic of Ireland didn't make the World Cup, but Guinness will be representing through some unlikely nations. Nigeria has a history of brewing one of the best versions of the brew, made with sorghum, maize and wheat. It's much sweeter and heavier at 7.5% ABV. Another unique touch is garnishing the beer with mint leaves. This is a fine brew to rep the Super Eagles and I like them finishing second in this group, even if they may meet their match in the round of 16. Keep your eye on speedy midfielder Victor Moses and Emmanuel Emenike, who has scored in nearly half of the his games with the national team.
Group G
Germany — Brauerei Aying: Celebrator Doppelbock
Germany has consistently been a threat at the international level for many years, and this year is no different. Just when strikers Miroslav Klose and Lukas Podolski start to show their age, a strong crop of German midfield maestros rear their head in the form of Mezut Ozil, Andre Schurrle and Thomas Muller. I like Germany's chances this year, and I like their beer even better. Can you imagine a league tournament named after a beer glass where the champion gets drowned in beer? This is exactly what happens in the German Bundesliga. How cool is that?! This team is concentrated and calculated, not light and fizzy. It's dark, rich and full of flavor. This team is the Celebrator Doppelbock.
Portugal — Sociedade Central de Cervejas e Bebidas: Sagres Preta
Sagres Bohemia is fine, but Sagres Preta is better. It's always surprising to see a rarer style like the roasty schwarzbier produced by Heineken, but this one is actually good and super-drinkable at just 4.3%. As for football: Cristiano Ronaldo will probably score a bunch of goals and complain about a ton of things. Portugal always seems to disappoint, despite a good deal of quality on the squad.
Ghana — Guinness Ghana Breweries Grou: Foreign Extra Stout
Ghana has a very strong team and the U.S. unfortunately knows that all too well – they've been eliminated by Ghana for the past two World Cups. Look for striker Asamoah Gyan and veteran midfielder Michael Essien to make things difficult for the other teams in the group. Ghana also makes another awesome version of Guinness Foreign Extra Stout with a very different recipe than Nigeria. It's cut with a lighter sorghum lager and unlike its Nigerian counterpart, contains no wheat.
United States — Carton Brewing Company: Regular Coffee
Fun Fact: New Jersey has a rich soccer tradition and the current U.S. team features four Jersey boys: goalkeeper Tim Howard, forward Jozy Altidore, midfielder Alejandro Bedoya and midfielder and team captain Michael Bradley. Coach Jürgen Klinsmann shook things up quite a bit with the decision to leave Landon Donovan home, but sometimes you have to take things to extremes to make them work. Carton's Regular Coffee is very much a New Jersey extreme that works. Clocking in at 12%, this coffee-laced cream ale is bursting with flavor and tastes spot-on as Jersey "Regular Coffee" with cream and two sugars. As far as advancing from the "Group of Death," let's just focus on beating Ghana, which would be a huge victory for the red, white and blue.
Group H
Belgium — Brouwerij Huyghe: Delirium Tremens
They might not be the most obvious or sexiest, but I'm picking Belgium to go far in Brazil. They have quality at every position, with most coming in as English Premier League starters like Manchester United winger Adnan Januzaj, Chelsea's Eden Hazard and Everton's striker Romelu Lukaku (who's also got a sense of humor). Most underrated of all might be goaltender Thibaut Courtois, who helped Atletico Madrid claim the La Liga title in Spain. Delirium Tremens is a strong Belgian ale with massive flavor from their signature yeast which includes apples, clove, banana, coriander and some hoppiness. For an 8.5% beer, you can't get much more drinkable – a beer fit for champions, and yes, they are my dark horse prediction.
Algeria — Tango Bière Blonde
You won't find beer everywhere in Algeria, but it does exist if you look in the right places. Tango is owned by Heineken, but that doesn't make this beer great. It's not bad – it's a refreshing lager but it's not well constructed, sort of like the Algerian team. As for team talent, watch for Valencia midfielder Sofiane Feghouli who was linked with a move to Manchester United and Liverpool last summer. We wish the beer had his quality.
Russia — Baltika Brewery: Baltika 6 Porter
You can battle till the end of time between Russia and Poland on who has the best vodka, just like you can with who has the best Baltic porter. No matter where you stand, this is an awesome example with a delicious profile of chocolate, coffee, licorice and dark fruits. As for the team, it doesn't get any more patriotic than this. Russia is the only national team where the players play entirely for homeland clubs. Watch out for youngster Alan Dzagoev in the midfield as well as veteran goalscorer Aleksandr Kerzhakov. Purists, please don't get on me for not choosing a kvass (low-alcohol beer made of rye bread). They serve it to kids.
South Korea — Oriental Brewery Company: OB Golden Lager
YES! Someone secured the name Oriental Brewery Company! Best Engrish name ever! In other news, this beer is pretty good for a pale lager. It's really drinkable at just 4.5% — I've had it many times with Korean food, and it pairs great. This beer is refreshing, just like their team. Seriously, South Korea has a damn refreshing team, which doesn't have any big names but always somehow comes out with a good result. Arsenal's Park Chu-Yong has scored in just under half the games played for the national team but look for Ji Dong-Won of Borussia Dortmund to lead the attack.
Need some tunes to go with that victory celebration? Hit play on ultra-hip sports journal Victory Journal's Liquid Futebol Master Mix by DJ Monk-One and get back to the party.
More World Cup on Food Republic: