The Case Of The Unknown Lobsters: A Play In One Short Act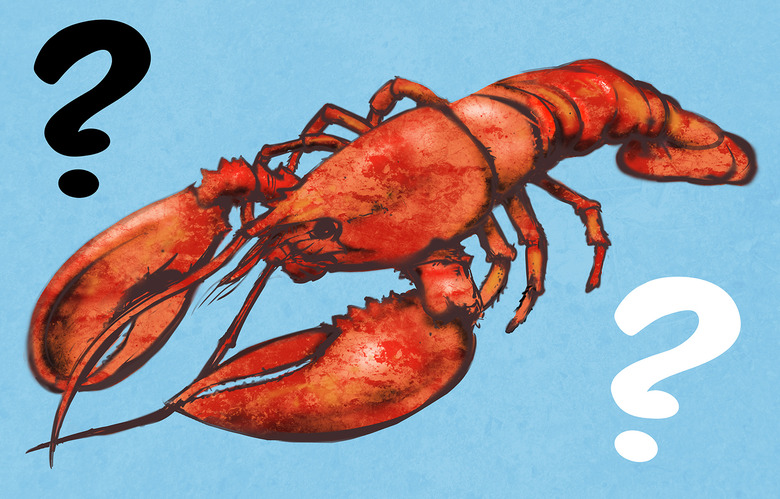 The Case of the Unknown Lobsters
Richard, Editoral Director
George, Assistant Contributing Editor
Eva, Senior Marketing Director
Mike, Illustrator/Magician
Chris, Contributing Editor
Matt, Contributing Editor
INT. FOOD WEBSITE CONFERENCE ROOM, DAY
Five editors, a marketing director and an illustrator sit around a table, basically just interrupting each other about the tomatoes yet to be in season.
A sudden awkward pause.
Jess
We have live lobsters coming today.
Richard
We do?
George
Yeah.
Richard
Why?
Jess
I don't know.
Richard
Where are they coming from?
George
Maine.
Richard
How many are there?
George
Four.
Eva
Yum.
Richard
What are we going to do with them?
Jess
I'm going to take one.
Richard
And do what?
Jess
Kill it. Cook it. Eat it.
Related: Why Do Lobsters Turn Red When You Cook Them?
Richard
You are?
Jess
I was going to go to that thing after work, but now I'm going home to kill these lobsters.
Richard
You're going to eat four lobsters?
Jess
No, just one.
Related: (Infographic) How To Eat A Lobster
Richard
Who else is taking one?
George
I will.
Richard
I'll take one. You want one?
Mike
No.
George
Chris said he wants one.
Chris
I'm good actually, I don't want to smell like lobster on the way home.
Related: Testing The Lobster, Passionfruit And Rye Bread Perfumes So You Don't Have To
George
But you just said you wanted one! You were all about it.
Chris
Okay, okay, I'll take one. But that's how you get cats following you.
Richard
When are they arriving?
Jess
No idea.
Related: How To Store Live Lobsters Before The Delicious End Result
Matt
OK, so tomatoes.
END SCENE
They never did crack that case. In next week's installation, the team feverishly digs one of their own out of the avalanche of cookbooks that finally collapsed their bookshelves. Will the unfortunate editor remain entombed in Caribbean potluck recipes forever? Who won the pool on how long the bookshelves would stay up? You'll have to tune in to find out.
More riveting moments in Food Republic Headquarters history: