Apparent 'Parmigianapocalypse' Perhaps Not So Apocalyptic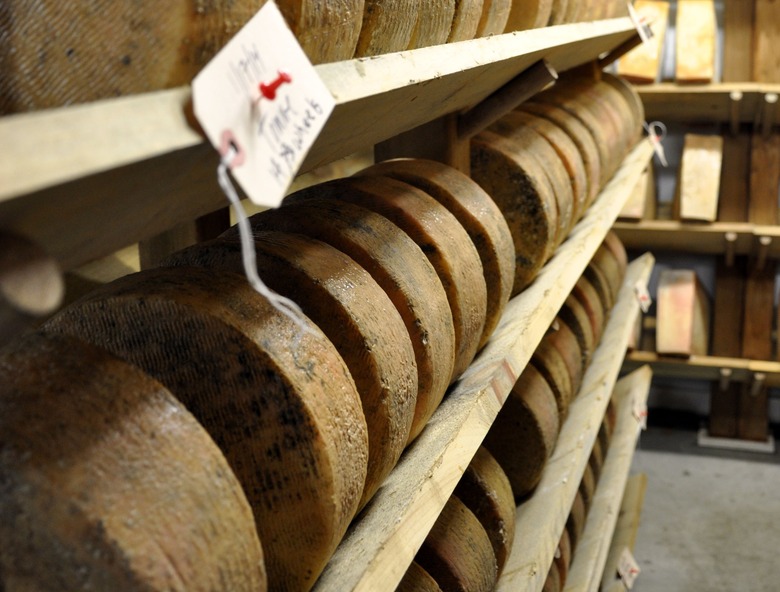 Brie buffs may breathe a little easier today. Turns out, earlier reports about an apparent federal crackdown on artisanal wood-aged cheeses may have been overstating things. A bit.
Previously: "The FDA Is Going After Your Beautiful Wood-Aged Cheese"
In a statement issued late Tuesday, the U.S. Food and Drug Administration (FDA) emphatically denied taking any official policy against the centuries-old practice of aging cheese on wooden shelves — a process that defines a whole bunch of cheese styles, including Beaufort, Comté and Parmigiano Reggiano. Such a ban could have sweeping implications, both for domestic cheese-making and imports.
That said, the agency also stated that it remained concerned about the safety of the practice.
The issue is bacteria — the same porous conditions that make wood boards so good for cheese production also makes them susceptible to contamination. Regulators and industry officials seem to disagree on whether proper sanitation efforts are adequate enough to rid the surfaces of any potential danger.
A statement from the American Cheese Society notes that no known foodborne illness outbreak has been found to be caused by the use of wood as an aging surface.
Not everyone is satisfied with the FDA's response to the ripening controversy. In an interview with the New York Times, Vermont Congressman Peter Welch called the FDA's statement "wishy-washy." Welch also said he would push legislation to prohibit the agency from enforcing any sort of ban on wood-aged cheese. A report in the Wisconsin State Journal noted that representatives from that famously cheese-producing state were also mobilizing in response.
As of Wednesday morning, more than 3,500 people had signed an online petition, calling on the White House to ease up on the country's artisanal cheese-makers.
Here's the full statement from the feds:
The FDA does not have a new policy banning the use of wooden shelves in cheese-making, nor is there any FSMA requirement in effect that addresses this issue. Moreover, the FDA has not taken any enforcement action based solely on the use of wooden shelves.
In the interest of public health, the FDA's current regulations state that utensils and other surfaces that contact food must be "adequately cleanable" and properly maintained. Historically, the FDA has expressed concern about whether wood meets this requirement and has noted these concerns in inspectional findings. FDA is always open to evidence that shows that wood can be safely used for specific purposes, such as aging cheese.
The FDA will engage with the artisanal cheese-making community to determine whether certain types of cheeses can safely be made by aging them on wooden shelving.