9 Things You Probably Didn't Know About Poutine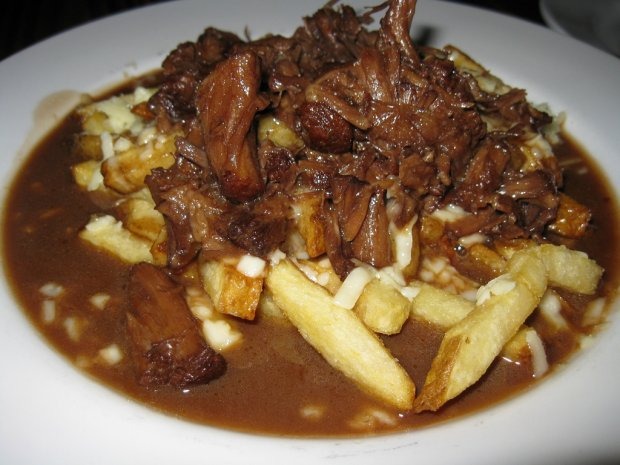 Poutine, the unofficial national dish of Canada, is made with three very specific ingredients: cheese curds, French fries and gravy. Put it all together and you have a devilishly rich dish perfect for late-night binges (ideally after drinking), emotional eating and to give you strength to explore Montreal (poutine's ancestral home). But while we all know that this dish hails from Quebec, there is a lot more going on than a bowl of comforting junk food. With that, here are eight things you probably didn't know about poutine.
1. Three Places Claim To Have Invented Poutine
As with most food Genesis narratives, several people have claimed the honor of creating the dish. The first one arrives in 1957 from the now defunct restaurant Le Lutin Qui Rit in Warwick. As the story goes, a regular named Eddy Lainesse begged the owner to add cheese curds to the fries they served. With the simple request, poutine was born. But, according to Le Roy Jucep (a restaurant in Drummondville), the owner trademarked the dish in 1964 and was serving it in his eatery. Then we have the 1966 case of poutine at La P'tite Vache in Princeville. Here they had access to excess cheese curds from the Princesse Cheese Dairy and took on the dish after a customer started mixing his fries with the fresh curds.
2. Poutine May Be The Only Truly Canadian Food
"Poutine has grown beyond the borders of Montreal," says Canadian-born chef-owner Noah Bernamoff of Mile End, a delicatessen with two locations in New York. "And when it comes to Canada, people don't really know what Canadian food is." Thus, he says, "poutine has become the unofficial, though official, national dish of [Canada]."
3. Poutine Loosely Translates To "Hot Mess"
And oh what a tasty one it is. "I don't think it was a word that existed prior to the thing it is," says Bernamoff. Alternatively, the name poutine also could have come from the word poutiness, which is what other dishes comprised of potatoes in the country are referred to. A big part of that mess is the gravy, which is a mix of chicken and beef stock thickened with flour, according to journalist Steve Dolinsky who has reported on the poutine craze.
4. Poutine Is Not Safe From Innovation
At La Banquise, located in Montreal's Plateau neighborhood, there are over 30 different types served piled with many things like ground beef, pulled pork, coleslaw, vegan cheese (what?), pepperoni and other ingredients that sway from the original recipe. Then there is Smoke's Poutinerie, a chain found all over the country that serves poutine with caramelized onions, double-smoked bacon, green peas and jalapeños among other things. Canada isn't alone in their quest to change poutine. At The Gage in Chicago, they add duck confit, pickled red onions and jalapeños to the mix. And at Shopsin's in New York, aside from the classic and vegetarian versions, you can get a version of poutine made with sweet potato fries, pumpkin gravy and coconut toasted marshmallows.
5. You Can Order Poutine In Many Canadian Fast Food Joints
At the beginning of 2013, McDonald's announced they would start selling poutine in their Canadian locations, and they made good on that promise. Each cardboard box of classic Mickey D's fries comes topped with a brown gravy that looks kind of like their barbecue sauce and bright-white cheese curds. They sell it for $3.99, and in case you wanted to know just how bad this side dish is for you, each order packs 30 grams of fat, 510 calories and 1010 milligrams of sodium. You can also get poutine at Wendy's, KFC and Burger King, with or without bacon added.
6. Poutine Is Best When Eaten In The Country
Most Canadians accept that poutine was created in rural Quebec, probably in a small village housing a food genius. You can find this dish across the province, usually in casse-croûtes, or small snack shops. "The local greasy spoon, the local diner; that's where the life of poutine lives," says Bernamoff. "It's not the trendy places, it's really a country side, rural thing." You can also find poutine as street food at cabanes à patates ("potato shacks") and at every hockey arena throughout the country.
7. American Chefs Have Recently Become Obsessed
Poutine isn't just for Canadians. In Chicago they started a Poutine Fest, where guests can sample the dish from numerous restaurants, including Troquet and the Green Door Tavern — the latter establishment spikes their poutine with Italian beef gravy and giardiniera. In Los Angeles, poutine at the Seoul Sausage Company is topped with cheese curds, avocado-lime crema and pickled kimchi onions. At Frank in Austin, Texas, poutine is served with waffle fries. "It's odd to me how people treat it in America, where it's kind of lauded," says Bernamoff, adding that sometimes it's taken too seriously here. Aside from Bernamoff's restaurant, New Yorkers can find poutine at Corner Burger, Pomme Frites and Sheep Station.
8. Poutine Has Gone Official
In May, poutine was officially added to the Merriam-Webster dictionary. Pretty nice for a little old French food word.
9. Poutine Is All Canadian Chefs' Secret Weapon
In 2011, a version of poutine made with lobster won chef Chuck Hughes fame on Iron Chef America when he beat out Bobby Flay.