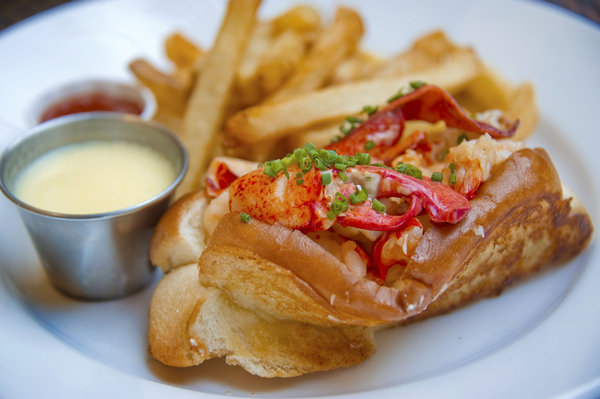 Last night I went to Tasting Table's 5th Annual Lobster Rumble, which benefited national anti-hunger organization Share Our Strength. For a true lobster fan like myself, that's about as close to heaven as it gets: 24 competitors from around the country throwing down their best lobster rolls. Some were amazing, some were okay and some were little more than a well-meaning attempt…but what really fell short was me, because of the butter.
Don't get me wrong, I love butter. Love it. But at a certain point, 18 or so rolls deep, I hit the butter wall (think The Wall from Game of Thrones, but with butter instead of ice). No more lobster roll would go in, but I did have some favorites. Oh, and congratulations to last night's winner, Thames St. Oyster House — that was one hell of a specimen. There were plenty of notable others, though. Really, no shortage.
Best classic lobster rolls
Greenpoint Fish & Lobster Co.
Old Port Lobster Shack
These guys both went classic and executed them perfectly with buttery grilled buns, buttery lobster and not much else. Tried and true is rarely a bad thing.
Best almost-classic lobster rolls
The Mermaid Inn
Cull & Pistol
The Mermaid Inn was almost in the previous category, but a little Old Bay seasoning sprinkled on top added extra flavor that didn't distract from the lobster flavor. Cull & Pistol's had crisp, refreshing lettuce which contrasted nicely with the butter.
Best non-classic lobster roll
Definitely not classic; it reminded me of a banh mi. There was also arugula and some other interesting non-butter flavors. It didn't strike me as a lobster roll, but it was a really delicious lobster sandwich.
Not-so-much rolls:
I'm not going to name any names, but I feel the need to address a few things as we hurtle head-first into prime lobster roll season.
The Mayo Monster
Man, this just looked like a pile of mayo and not unlike the "seafood" salad from a certain sandwich chain. You eat with your eyes first, so this didn't get me hungry.
The Lemon Girl Scout Cookie
…is what this tasted like. I don't know what kind of lemon extract they squirted in there, but it was weird.
The Almost Made It
I sort of liked the one bite I took, but I didn't want more, and definitely couldn't see eating a whole roll. It had some strong herbs on top that were really overpowering.
Props to all the restaurants that came out last night to support a very worthy cause and ring in the hot weather with one of the most important treats of the summer. Now that I know how much butter I can handle, I can go into my next lobster roll binge better prepared.
More lobster rolls on Food Republic: