The Secret To A Great Grasshopper Burger: Duck Fat, Of Course!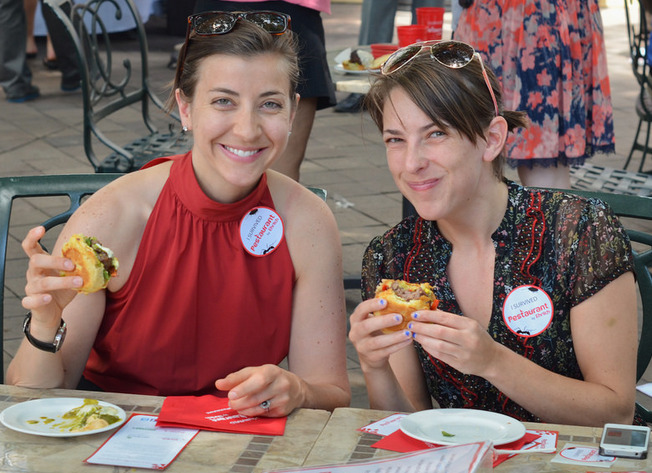 When developing the recipe for an all-new kind of plat du jour this week, Rodney Scruggs didn't merely step outside his usual comfort zone. He hopped.
His selected protein: dehydrated grasshoppers.
It's the first time that Scruggs, executive chef at the historic Occidental Grill in Washington, D.C., has experimented with such insectual ingredients. To be fair, it wasn't really his idea. Organizers of a charity fundraiser first approached him with the concept. The planned "Pestaurant" pop-up — sponsored by the international pest-control company Rentokil and benefitting the local anti-hunger organization DC Central Kitchen — would include all sorts of edible bug-themed treats, including crispy BBQ mealworms and scorpion lollipops.
"We wanted to do something cool on the grill," says Scruggs. So, he settled on a burger.
On Wednesday, Scruggs and his crew served up some 550 of the offbeat bugs-on-a-bun to event-goers. The sliders, made with both grasshoppers and crickets, were a big hit. "We were live on Channel 5, and the anchor, that guy ate one, and he loved it," Scruggs says proudly. "I had one, too, and I'll tell you what, it's not bad."
Later, Scruggs spoke with Food Republic about his creative process in coming up with the critter-heavy recipe. "When working with [insects], you've got to open your mind, you've got to have fun," he says.
In terms of its gustatory attributes, Scruggs likens the grasshopper to a dried mushroom — "earthy, musty," he says. The chef and his crew decided to use ground turkey as a base because of its "neutral" flavor. "If it's bison or lamb, it's going to be too strong," he says.
With the first bag of grasshoppers, Scruggs opted to toss the whole thing into the Robot Coupe, grinding them down into a sort of Panko-style breadcrumb texture. "You need a binder when you're making turkey burgers," the chef explains.
Structurally, anyway, the grasshopper crumbs did just the trick. Yet, the first patties to come off the grill during testing were clearly missing something. Scruggs notes that a lot of the guys in his kitchen come from other countries, where insect dishes are more common; the international crowd pointed out a glaring omission. "One of the guys, he was being a bit of a wise guy, he goes, 'Hey chef, there's no crunch. I don't taste grasshopper,'" says Scruggs.
So, the next batch included crispier, crunchier whole insects, too.
Another problem: the first burgers were a little dry. Luckily, the Occidental had just received a gallon of duck fat. Problem solved! "All of sudden, by adding that, it was moist, it was juicy, and it was slammin'," Scruggs says.
Additional seasonings included za'atar, aleppo pepper, parsley and caramelized Vidalia onions, he says.
For a little mid-Atlantic flair, Scruggs chose to serve the buggy-turkey patties on sweet potato rolls. And, for extra insect zip, he tossed some chopped-up old-school iceberg lettuce together with crickets and fresh lime juice. Rounding out the toppings: a smooth avocado mousse and spicy diced piquillo pepper.
In hindsight, Scruggs believes his bug burger would have paired nicely with a glass of musty old French wine.
Maybe next time. But, will there be a next time?
Scruggs sounds pretty convinced the grasshopper burger is just a one-shot deal, though he eagerly anticipated the question: "Would we put that on the menu? I don't know if we're going there."
Read more exotic food stories on Food Republic: