The Cold One: We Pick The Best Brews For Your Stanley Cup Enjoyment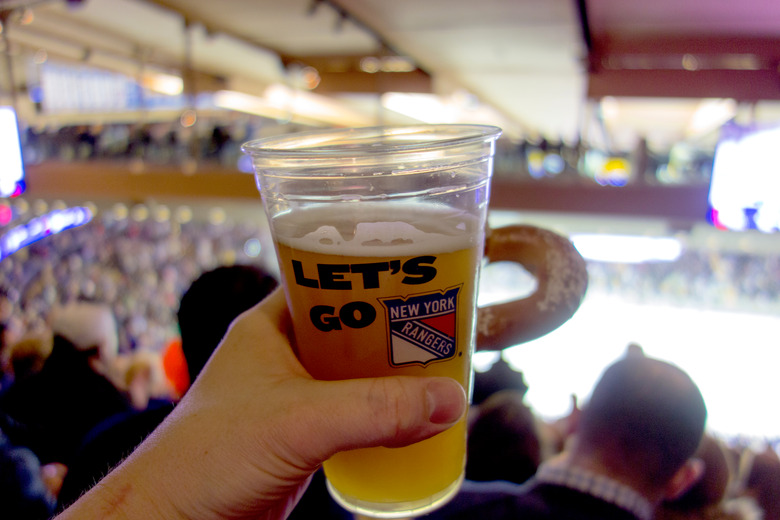 The Rangers lost the first game of the Stanley Cup Finals. This might seem traumatic if not for the fact this team has battled back from every sort of deficit imaginable, both on and off the ice. Sure, they lost the first game and it hurts, but it was away in L.A., perhaps the only team that matched their toughness and grit. L.A. came back down 3-0 games against the Sharks in the first round and continued to play all seven games in the following two series against the Anaheim Ducks and Chicago Blackhawks. Make no mistake, the Kings are good but they have been pushed to the limits before. This series is far from over and man, I need a drink.
For those of you living under a rock, this is the first time in 20 years the Rangers are in the finals. The last time was 1994, with Captain Mark Messier making his legendary prediction and ending a championship drought of 54 years. The Kings have fared much better as of late, hoisting the cup back in 2012. Their championship team sported several of the best skaters still on the team today like gifted playmaker Anze Kopitar, dependable scorer Jeff Carter and human brick wall, goalie Jonathan Quick. They also have former NY Ranger goal-scorer Marion Gaborik.
Despite the fact they're called the Broadway Blueshirts, the Rangers have less superstar scoring power and have relied on full team effort and remarkable goaltending to get past the Philadelphia Flyers, Pittsburgh Penguins and the Montreal Canadiens. A second championship in as many decades will likely rest on the play of goalie Henrik Lundqvist, who has played his heart out. They're a working man's team. These guys definitely drink beer.
As much as I hate to admit it, are the L.A. Kings are pretty much a hard-working blue collar team, too. They have superstars but they're not the flashy kind – flashy doesn't necessarily mean good, as Wayne Gretzky couldn't even bring a cup to L.A. back in the 80s and 90s. They definitely drink beer, too.
LA
The secret to keeping a Double IPA drinkable is awesome hops and this one has Citra and Nelson Sauvin – two of the most tropical citrus fruit-forward around. It still has some resiny notes on the back, but the fruity flavors makes this 9% a great choice – and an underrated one in the crowded West Coast IPA market.
Golden Road Brewing: Hefeweizen
There's nothing like a nice tallboy (16-ounce can) of Golden Road's hefe on a hot day – it's even better for watching an ice-cold hockey game! It sports delicious banana and citrus flavors, and at 4.6% you can put back a few without worrying about an ice-cracking hangover the next day.
Beachwood BBQ: Tovarish RIS
Even in the heat of LA there's a time for a good ol' Russian Imperial Stout, especially to calm those nerves when you've been in as many game sevens as the Kings have during this year's playoff run. This is a no-frills imperial with coffee added. It has a creamy mouthfeel and huge notes of bitter coffee, chocolate and a little vanilla. A stout fit for a king....or a czar.
Eagle Rock Brewery: Yearling
Yearling is one of the newer brews from Eagle Rock, but it's also one of the best. This impressive take on the sour Flanders Red style has notes of cherry, vanilla, oak and overall funk from a year spent aging in wine barrels.
Monkish Brewery: Selah
Selah is a saison with a twist — it's dry hopped and has a good dose of brettanomyces added, which impart tropical fruit notes like pineapple and tangerine, plus lemongrass and pepper. Monkish ships their brews in 750-ml bottles, so they're perfect to share for the next game on Saturday.
Brouwerij West: Dog Ate My Homework
It's hard not to want the refreshing taste of fruit in your beer When summer comes around. The problem is, most are either way too sweet or very sour. If you want something right in the middle, the sweetness and subtle tartness of blackberries in Dog Ate My Homework is a perfect bet.
---
New York
This delicious cream ale posts at a drinkable 5.2% with an awesome blast of floral hops. It's now in six-packs after a recent switch from tallboys. But that means more for everyone!
SingleCut Beersmiths: Kim Hibiscus Sour Lagrrrr!
What does this name even mean, you ask? It's actually an awesome little Berliner weissbier at just 3.5%. Refreshingly tart from a blend of hibiscus and black currants, this may give Peekskill's Simple Sour a run for its "beer of the summer" money.
Barrier Brewing Company: Bumble
Described as a pale wheat ale, this bad boy drinks more like a double IPA. If you're expecting a summery brew with a ton of citrus hop flavor, this has all the elements. Except for the 8% ABV, of course, which is bound to lay you flat on your ass like a bruisin' check into the boards should you drink too much.
Brooklyn Brewery: Brooklyn Lager
Perhaps the Henrik Lundqvist of New York City beers, this lager's not flashy but it's always dependable when the game is on the line. With hearty toasted malt and a pleasant hint of hop bitterness – this is the standard for what craft lager should be.
Other Half Brewing Company: All Green Everything
Their style has been far more associated with West Coast IPAs, but this hugely hopped giant brew clocking in at 10.5% is surprisingly drinkable given its heft. I declare it one of the best IPAs on the East Coast, and a must-try. I've been trying to get Senior Editor Jess Kapadia to order it at our favorite local craft beer bar, but apparently the ABV is "discouraging." Accept this challenge.
Bronx Brewery: Pale Ale
While so many breweries try to launch a million experimental brews, Bronx has chosen to focused on providing the NY area with a really solid pale ale. They deliver bigtime with citrus and pine flavors, plus enough bready malt to balance it all out.
More beer on Food Republic: