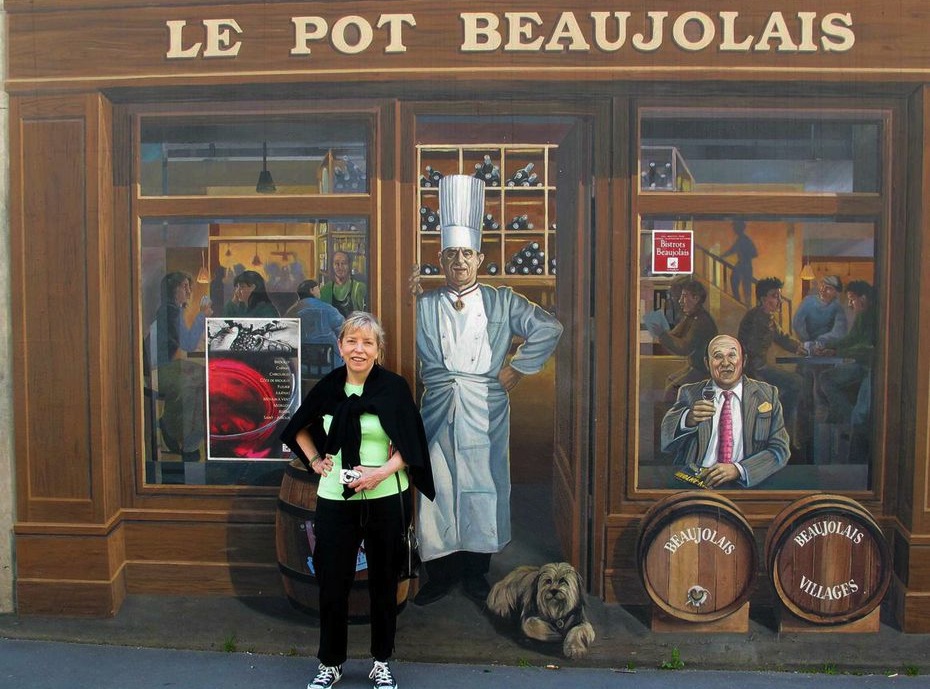 Chefs love to travel — for inspiration, to experience the cuisines of other cultures or just to get away from the heat of their own kitchens. When they return, we hit them with some questions — where'd they stay, what'd they do and WHAT DID THEY EAT? Up next, Sara Moulton.
Few culinary personalities are as recognizable as Sara Moulton. The chef and cookbook author was the on-air food editor for Good Morning America for 15 years, in addition to acting as Executive Chef of Gourmet magazine. In a storied career that stretches back to becoming friends with Julia Child while working on public television's Julia Child & More Company in 1979, Sara has hosted several popular shows on Food Network over the past few decades. In addition to currently writing a weekly column for the Associated Press titled "The Healthy Plate," she will debut the fourth season of her home-cooking program Sara's Weeknight Meals on PBS on June 18. Sara recently returned from a cruise in Lyon, France, where she took time out to write in –  and photograph –  a journey full of amuse bouches, fresh produce and lavender fields.  
Where are you just back from?
A cruise on the Rhône River on a boat called Stella (one of the A-ROSA boats), from Lyon up to Chalon-sur-Saône, down to Ardèche and back up to Lyon with many stops in between.
What was the highlight of your trip?
A visit to the lavender museum in Ardèche. I loved the ride there through all these sleepy little towns and fields filled with rows of almost-budding lavender. Full lavender season is at the end of June/early July and although I would love to see the plants in full bloom, I would not want to be there at that time of year, when all of France is packed with tourists and it's sweltering hot. I had no idea there were so many strains of lavender with various medicinal applications. Our tour guide was a local with an English accent and a great sense of humor.
I also loved visiting two Les Halles (covered markets). I saw the famous one in Lyon, named after Paul Bocuse (like Eataly on steroids) and a second one in Avignon, which was conveniently located right next to an open air flea market where my husband looked through books and records while I ogled the produce and cheese.
Where'd you stay and what's your mini-review of the place?
We spent three days in Lyon and stayed at the Charlemagne, a Best Western hotel. Our room was on the 7th floor and had a lovely view of the church next door, which seemed to ring its bells every half hour, and a small park which was always filled with little children. However, the staff (with the exception of the concierge, Katherine) was quite rude and unhelpful. It was in the center of town but on the wrong side of the train station Perrache. I say wrong side because in order to get anywhere else in town (and we walked everywhere), we had to spend 10-15 minutes just getting through the train station.
Just for the record, except for that hotel, we found all of the French people on our trip very friendly.
After Lyon, we stayed on the boat for a week. Our cabin was a nice size for a boat with a well-designed small bathroom and had floor-to-ceiling windows, which meant that we could see everything pass by on the shore right from our room. At night we opened the double doors to the window and pulled down a screen so we could breathe the extra fresh country air all night long. After our first night on the boat, my husband woke up at sunrise and took this lovely picture.
When we weren't off exploring a new town or taking an excursion, we sat on deck, ordered a rhubarb spritzer (very tasty) and just watched the world go by, all these little country towns. It was so relaxing.
What was your best meal on the trip?
I am so sorry to say that I found the food mostly very disappointing. I love France, I am a complete Francophile, but it seems to me that they are arrested in time. In Lyon, which is supposedly the gastronomic capital of France, we found that most of the restaurants served the same six or seven entrées. We ate at several very nice "bouchons." At Daniel et Denise and Café Comptoir Abel – classic casual restaurants only found in Lyons – we enjoyed the saucisson, pâté, andouillettes, rognons, quenelles and Lyonnaise salad.
We also ate at a very old brasserie where they made their own beer.
So many dishes were covered in cream sauce, though. And aside from the excellent green salads tossed with perfect mustardy vinaigrettes, and skillfully cooked ubiquitous potatoes (Lyon, after all, is known for its potatoes. The word "Lyonnaise" indicates that a dish contains potatoes), there was barely a vegetable in sight, even though I found plenty of beautiful candidates at the market.
Our best meal was at Paul Bocuse. We were served amuse bouche de l'auberge – chilled pea soup, gratin of foie gras and sautéed local mushrooms. We also had cassolette of lobster à l'Armoricaine and then filet of beef Rossini with Sauce Périgueux.
How will you implement what you saw/ate in your work in the U.S.?
I want to play around with the chestnut liqueur (see below) and reproduce a very tasty Alsatian dish we were served on the boat – flammekueche or tarte flambée, sort of like a quiche lorraine pizza.
What, if anything, did you bring back?
A bottle of chestnut liqueur, "Liqueur de châtaigne," which is produced in the Ardèche. When we visited the grotto area (sort of like a very mini Grand Canyon), we stopped at a café for the local drink – chilled local white wine mixed with a splash of this liqueur – and I fell in love with the combo.
Where do you want to travel to next, and why?
I would love to go back to Spain for the tapas and fish, Greece for the simple rustic food and because it is so beautiful, Italy because I have not spent enough time there and I know I would not get a bad meal, Costa Rica because I want to see the rain forests and Alaska for the wildlife.
Read these stories about travel in France on Food Republic: